Toyota owners can have their cars sanitized in dealerships for free
Have a safe and worry-free ride with Toyota's 'Welcome Back' promo.
As the country is slowly transitioning from enhanced community quarantine to GCQ or MECQ, more and more dealerships are putting up ways for them to welcome back their customers.
With that being said, Toyota Motor Philippines (TMP) is offering free vehicle interior sanitation for its valued customers with the use of Toyota Bactaklenz.
The Toyota Bactaklenz is an anti-bacterial treatment designed to eliminate 99.99% of bacteria, molds, and fungi inside the vehicle. One of its key ingredients, Sage Oil, is said to be an effective component in reducing the spread of common colds and influenza.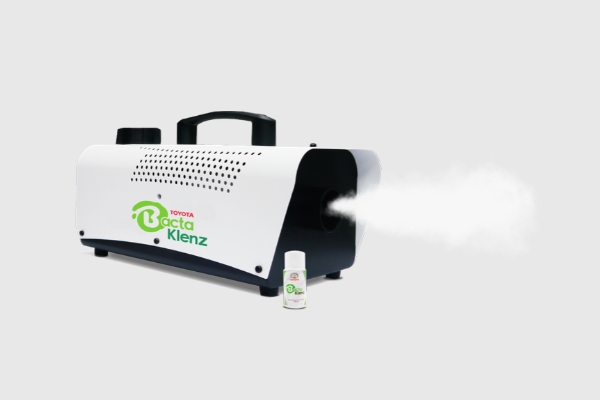 The Toyota BactKlenz uses an environmental-friendly misting system
>>> Related: Toyota PH wants you to buy your own car with flexible promos, free PMS
Moreover, it eliminates bad cabin odor and provides a slight pine scent. Herbal extracts are included in the Toyota Bactaklenz so it is completely safe and non-toxic. Its effectiveness can last up to three months.
Toyota Motor Philippines provided the following mechanics for its 'Welcome Back' promo:
Promotion duration is from May 11 to June 16, 2020.
Toyota owners will be entitled to one free Toyota BactaKlenz Vehicle Interior Sanitation Treatment when they avail of any or a combination of the following services: Periodic Maintenance (PM), General Service (GS), and Body & Paint (BP).
Vehicles that will avail Toyota Bactaklenz Treatment only as General Service will not qualify for the free sanitation.
The free Bactaklenz Treatment is non-transferrable to other vehicles.
A vehicle is limited to only one free Bactaklenz Treatment regardless of the number of times that vehicle availed any of the services.
The free Bactaklenz must be redeemed within 60 days after availing of any of the eligible services.
The free treatment is not for sale, not convertible to cash, and cannot be availed together with other promos.
TMP is ensuring the safety and well-being of its valued customers especially in times of a global health crisis. For that, you can use Toyota's online tool called 'MyToyotaPH' to book service appointments safely anytime and anywhere.
Here at Philkotse.com, we value your interest in the automotive industry. You can visit our website to find out more.
Author

Rex found his passion for cars at a young age. He loves anything with an engine – which includes cars and planes. Right now, he is pleased to impart that passion for cars to a professional level under Philkotse.