The car will be powered by ethanol - a 100% renewable fuel from plants.
The first hybrid flexible-fuel vehicle (hybrid FFV) in the world is being showcased by Toyota in Brazil. And the Toyota Prius was chosen to be the base model for the prototype which will be tested on actual roads in Brazil for durability, reliability and engine performance of the system.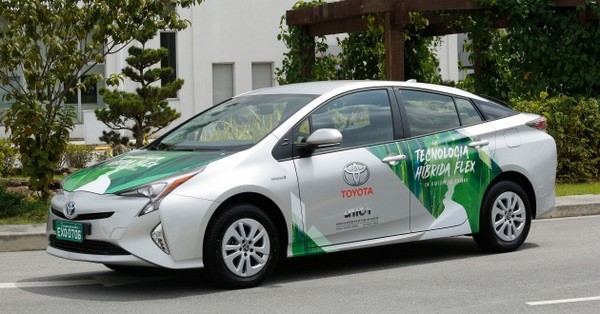 The first hybrid flexible-fuel vehicle (hybrid FFV) in the world is being showcased by Toyota in Brazil
A hybrid flexible-fuel vehicle is built to decrease CO2 emission levels by utilizing the hybrid systems' benefits (low emission and high power efficiency) and ethanol's CO2 reabsorption ability. As its name evokes, the fuel system is flexible and the engine can also be powered by regular petrol if ethanol is run out.
Early studies show that a hybrid VFF delivers better performance than a standard unit when it comes to environmental influences on the environment. This is based on the test with CO2 emissions which begin with raw materials' extraction, through its delivery at the fuel pumps to the car's ignition during its combustion. These findings are even more strengthened when using solely ethanol from sugarcane - also dubbed E100 fuel.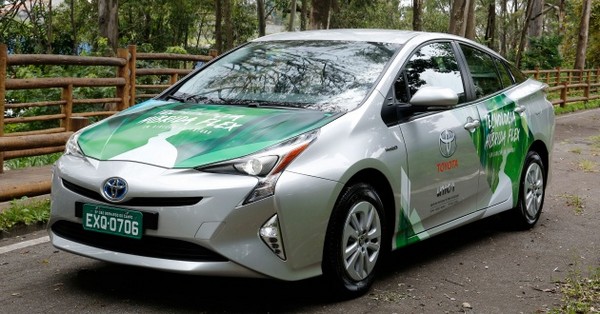 A hybrid flexible-fuel vehicle delivers better environmental performance than a standard unit
The development of a hybrid flexible-fuel vehicle is known as one of Toyota's efforts to reach its goal - "Environmental Challenge 2050" which targets at reducing CO2 emissions in cars by 90% compared to 2010 by 2050. Another goal of the Challenge is to erase CO2 emissions entirely from the lifecycle of the vehicles including manufacturing, parts and materials.
>>> Click here to catch up with latest car news worldwide

Know more about Toyota Prius 2023

The Toyota Prius is a hybrid compact sedan which helped catapult hybrid powertrains into popularity the world over.Toyota Prius Philippines price is ₱2,339,000 with 1.8 Hybrid CVT as the only available variant
Under the hood, the Philippine-spec Prius uses the 1.8-liter Hybrid Synergy Drive. At maximum, this powertrain can produce a combined output of 121 horsepower and 163 Nm of torque. Power is then sent to its front wheels via an electrically controlled variable transmission (eCVT).
Size-wise, the 2023 Toyota Prius is 4,540mm long, 1,760mm wide, and 1,470mm in height. It also has a wheelbase length of 2,700mm, and a ground clearance of 130mm.
Locally, the Hyundai Ioniq Hybrid is the Toyota Prius' sole competitor in the compact car segment. Then again, there's also the Toyota Corolla Altis Hybrid.
Recent posts