With a 6:47.3 lap time, the GT2 RS is now officially the fastest 911 ever built.
Last July, Porsche launched what is arguably the best 911 ever – the hybrid Porsche 911. In the meantime, the Porsche 911 GT2 RS 2018 also makes a surprise world debut at the Goodwood Festival of Speed. The new range-topping 911 GT2 RS is equipped with the most potent road-going 911 engine ever made. The more powerful engine puts out more than 480kW of power and 750Nm of torque, allowing it to blast from a 0-100km/h time of under 3 seconds and reach a top-speed greater than 300km/h.
According to latest car news, not so long ago, the German car brand put its money where its mouth is as it recorded Nurburgring lap in 6 minutes 47.3 seconds, with Porsche stating the benchmark for a street-spec vehicle. In detail, the new Porsche GT2 truly tackled the most popular circuit of all time in the world in a blistering time of 6 mins 47.3 secs last September 20, 2017.
911 GT2 RS world record at the Nürburgring Nordschleife
For context, the new benchmark is 10 seconds faster than the 918 Spyder and almost 5 seconds quicker than Lamborghini's Huracan Performante, which posted a speed record of 6:52. The 6:47.3 mark is just shy of the scintillating lap time (6 mins 45.9 secs) featured in the electric Nio EP9. However, the Nio EP9 dons special tyres and probably is a bespoke racing car than a road-approved car.
>>> Check out full Porsche 911 Philippines price list to catch up with the lasted update
Vice President of Porsche's GT car division, Frank-Steffen Walliser shared that its original ambition was to build a GT2 RS that could race its way around the Green Hell to set a lap time under 7 minutes and 5 seconds. So you can just imagine Porsche team's sudden rush of emotion when the speed record went beyond expectations by a large margin.
With a record time of 6 minute, 50 second average time in the hands of the race-ready icon – Lars Kern, there is no doubt that the GT2 RS is not only the strongest, but also the fastest 911 ever made.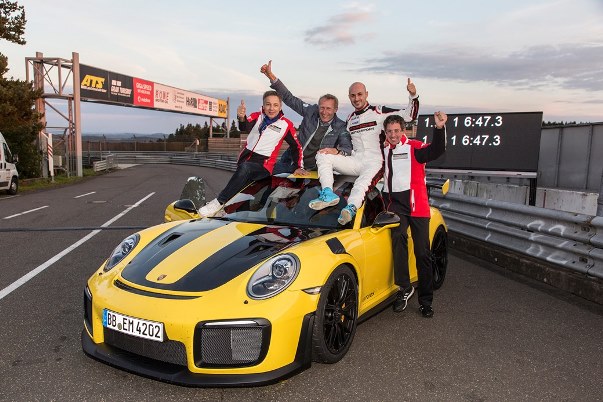 Porsche 911 GT2 RS 2018 breaks Nurburging record in 6:47.3