Looking back at the Lancer Sedan's cooler coupe sibling. 
Back in the late 1990s to the early 2000s, Mitsubishi was very different. Back then, Ralliart was still a thing, and the Lancer Evolution was still being sold. In the context of the Philippine market, the marque had some interesting models like the Lancer GSR.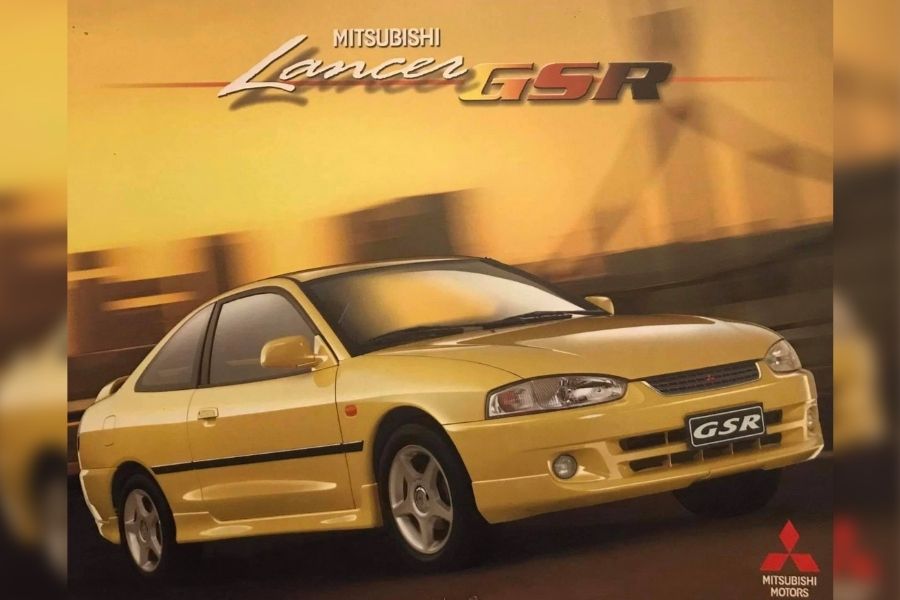 The 2000-2002 Mitsubishi Lancer GSR [Photo: Car Brochure Collection PH] 
Being discontinued in 2002 however, there isn't much material about the GSR online. Thanks to the Car Brochure Collection PH Facebook page we got to learn more about the said coupe thanks to their huge collection of genuine car brochures for historical Philippine-spec models. 
The Lancer GSR was sold locally from 1997 to 2002, with a facelifted version being released in 2000. Unlike the regular Lancer, this particular model assumed a two-door 4+4 coupe configuration. To this end, it is just like how the variants of US car models are set up: there's a main sedan version, then there's a two-door coupe version. Take for example the tenth-gen US-spec Civic. 
Contrast that to the modern car manufacturer, which opts to make purpose-built sports cars/coupes. As it turned out though, Mitsubishi nowadays leans more towards providing more practical models.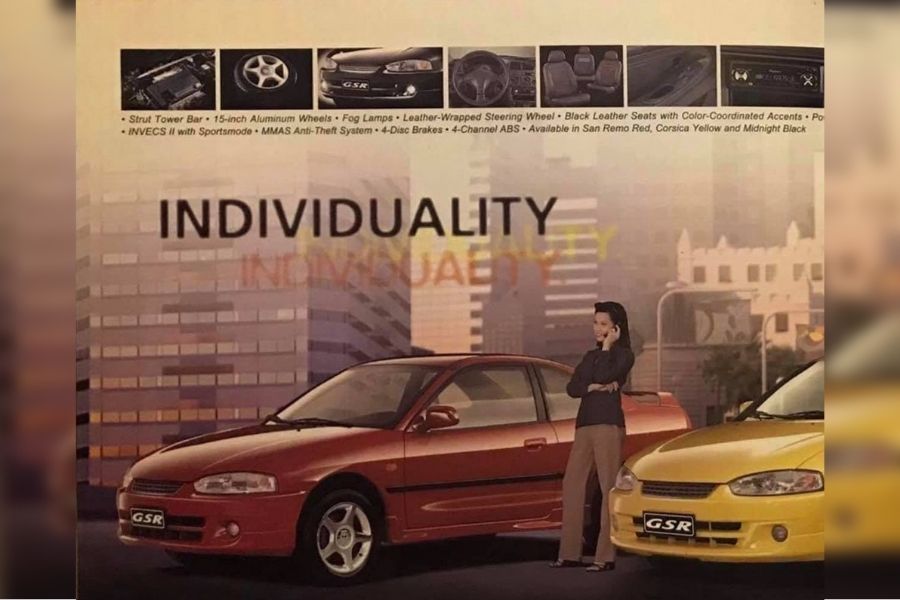 Most folks back in the day used it as a peppy, and snazzy-looking daily [Photo: Car Brochure Collection PH]
As a coupe, the Lancer GSR looked more compact than its sedan counterpart. To be specific, it has a length of 4,230mm, which is 40mm shorter in length compared to the 1993 Lancer it was based on. It does however share the same 1,690mm width. It was also shorter than the sedan as Mitsubishi also gave it slightly less ground clearance as a sporty coupe. 
Inside, it didn't have much in the way of amenities. It did have a 2-DIN entertainment system, and the facelifted version released in 2000 was given leather seats. Moreover, it was a whole lot safer with the addition of dual airbags, and antilock braking. Of note, the earlier 1997 Lancer GSR and Lancer sedan didn't come with those safety features, and it only had seatbelts. 
Mechanically, the Lancer GSR doesn't stray too far from the 1993 Lancer sedan. It used the same chassis, and it even shared the same 1.6-liter inline-4 4G92 engine. At different iterations of the GSR however, the said engine came with different tunes and transmissions.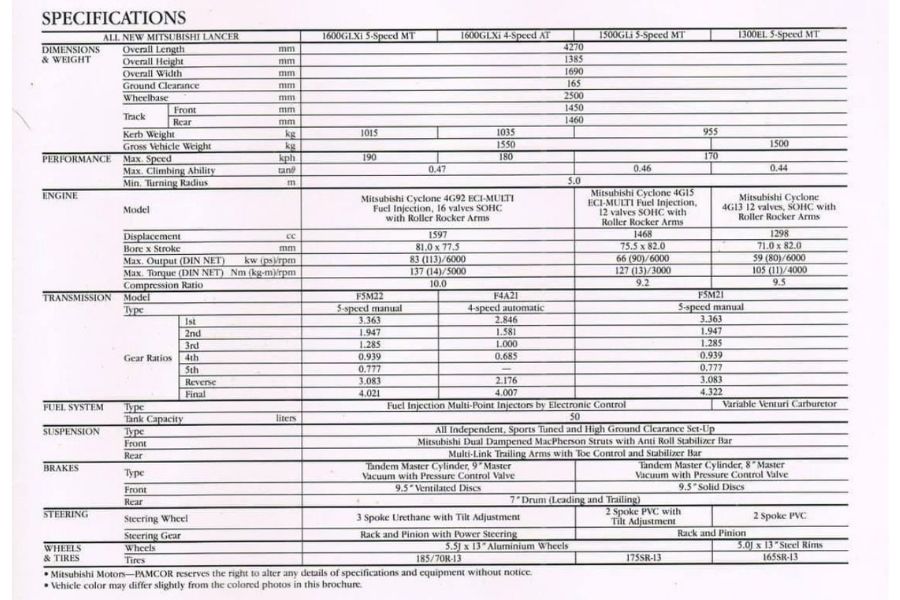 The specsheet of the 1993 Lancer. Mechanically, the 1997 to 1999 GSR was similar to the 1993 Lancer sedan GXLi variant
For the earlier 1997 to 1999 versions, it made 115 horsepower and 138 Nm of torque. That's exactly the same figures as the top-spec GLXi Lancer sedan released in 1993. For the facelifted 2000 model though, Mitsubishi managed to squeeze out 124 horsepower and 151 Nm of torque from the said engine. Sure, that's still incomparable to modern cars, but do consider that the Lancer GSR only weighs 1,040kg.  
As for transmissions, the two-door Lancer initially came with a five-speed manual. The facelifted car however was given a four-speed automatic transmission.  
On top of the zippy engine, the Mitsubishi-made coupe used a multi-link rear suspension and a MacPherson strut front end. Comparatively, compact modern cars are usually kitted out with torsion beam-type rear suspensions. They're less costly to produce and are easier to package. Torsion beams are less flexible than multi-links and allow for individual wheel movement. That said, multi-links provided better driving characteristics.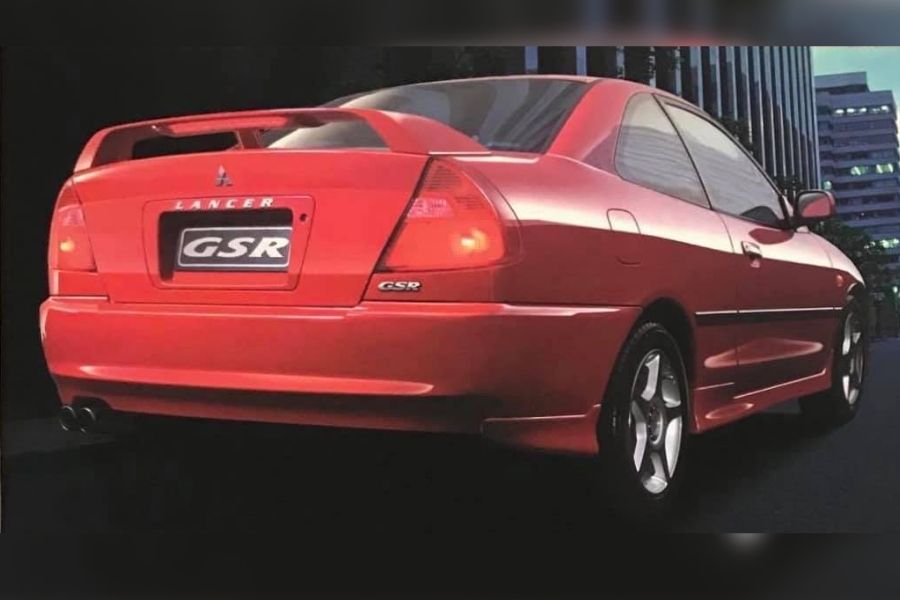 Keen eyed dudes and gals can still spot one or two GSRs on Philippine roads today [Photo: Car Brochure Collection PH]
So yeah, the Lancer GSR was simple, but it did have some qualities that driving enthusiasts wanted. Moreover, the 4G92 did and still has good aftermarket support. One can still get performance parts for the said engine, and accessories for the GSR itself. 
To sum it up, the Lancer GSR was a gem of a bygone era in automotive history. A time when carmakers could afford to make fun cars, and car buyers were happy enough to play around with small, spartan models. Then again, Mitsubishi has recently revived the Ralliart marque, so maybe something like the Lancer GSR might pop up soon? Now if only, Mitsubishi can come up with a sedan version to base it on. 
For more car news, car reviews, and car maintenance tips, keep it here on Philkotse.com. 
Know more about Mitsubishi Lancer 2021

The Mitsubishi Lancer is a Japanese produced, compact car that was created in 1973. More than 6 million units were sold between 1973 during its production until 2008. Before it reached its present model, it went through 9 generations. The Lancer production halted in August 2017.

Cesar G.B. Miguel
Author