You want it? Get ready to set aside Php 24 million. 
By now, most of you already know that the Nissan Skyline GT-R R34 was, and still is, a big deal. It remains a desirable performance car, carrying weight among car enthusiasts around the world. After all, it is an engineering marvel that was light years ahead of its contemporaries in the early 2000s. 
【2002 Nissan SKYLINE GT-R V-SPEC II Nür (BNR34) 】Unregistered 10km / BINGO MEDIA (turn on CC for english subtitles)
Then again, the Skyline GT-R is getting pretty old, and most who manage to acquire one will have to make do with used examples. Heck, even one with 100,000 km on the odometer will do. 
In Japan though, a company called BH Auction is currently listing a 2002 Nissan Skyline GT-R. This one is special though, because it is a V-Spec II Nür variant, of which only 750 units were made. Furthermore, it is one of the 160 R34 V-Spec II Nür units that came in white. As a cherry on top of this delectable icing, the car in question only has an amazing 10 km on its odo. So yes, this nearly 20-year-old car's condition is practically brand-new.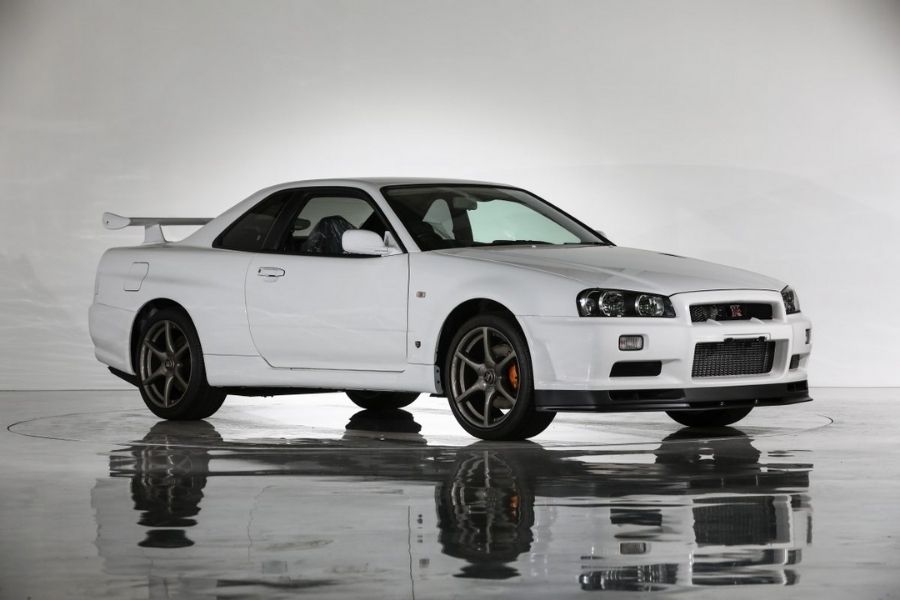 The Skyline R34 GT-R V-Spec II Nür in question [Photo source: BH Auction]
So what does it look like? 
Well, it pretty much bears the muscular shape of the regular R34 Skyline GT-R. The headlamps retain the same design, the front fascia looks the same, it's still a 2-door, and it has the quad tail lights. What sets it apart visually though is the addition of V-Spec II Nür badging, as well as a carbon-fiber hood.  
Inside, it gets additional V-Spec II Nür badging, but otherwise it is arranged similarly to the "regular" R34 Skyline. Being a very fresh example though, the car's interior surfaces, including the seats, are as immaculate as the day it left the factory.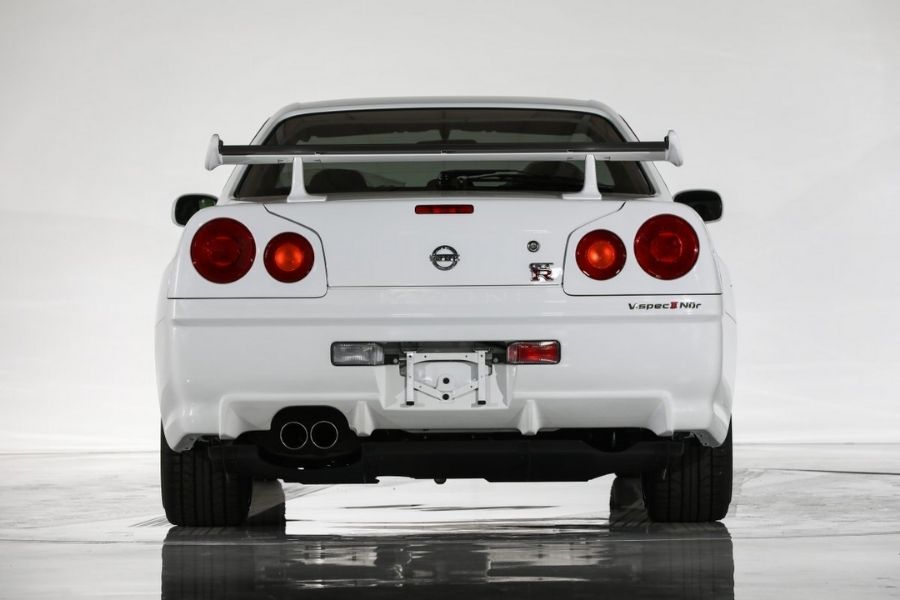 The rear of this very rare GT-R R34 [Photo source: BH Auction]
Most of the V-Spec II Nür's changes from the regular R34 GT-R however can be found in the mechanical bits. For starters, it uses a spruced-up version of the 2.6-liter twin-turbo inline-6 RB26DETT engine. Some of the improvements made to this mill include thicker cylinder walls, upgraded oil and water pumps, a stronger set of connecting rods, and larger turbochargers equipped with ceramic turbines, among other enhancements.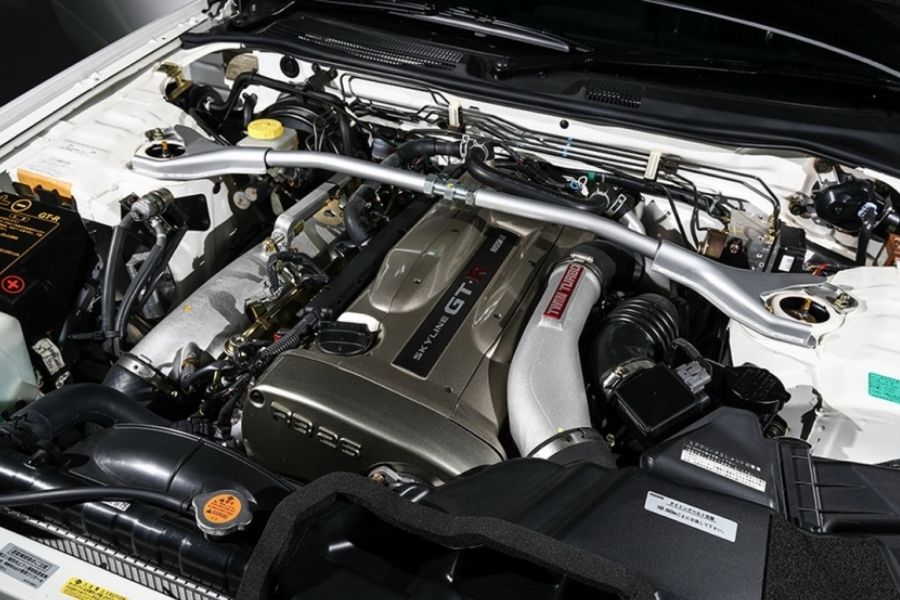 The engine bay looks pristine [Photo source: BH Auction]
On paper, this engine can produce up to 276 horsepower. Then again, it can make more than that, but Nissan adhered to its "Gentleman's Agreement" with other Japanese automakers at the time to keep all cars limited to 276 horsepower. The said engine is then paired with a six-speed Getrag 233 manual transmission just like the regular GT-R.  
Moreover, the V-Spec II Nür also had a stiffer suspension setup, a 300 km/h speedometer, as well as a set of beefier brakes. So to sum it up, it is quite a capable sports car and a very rare collector's item to boot.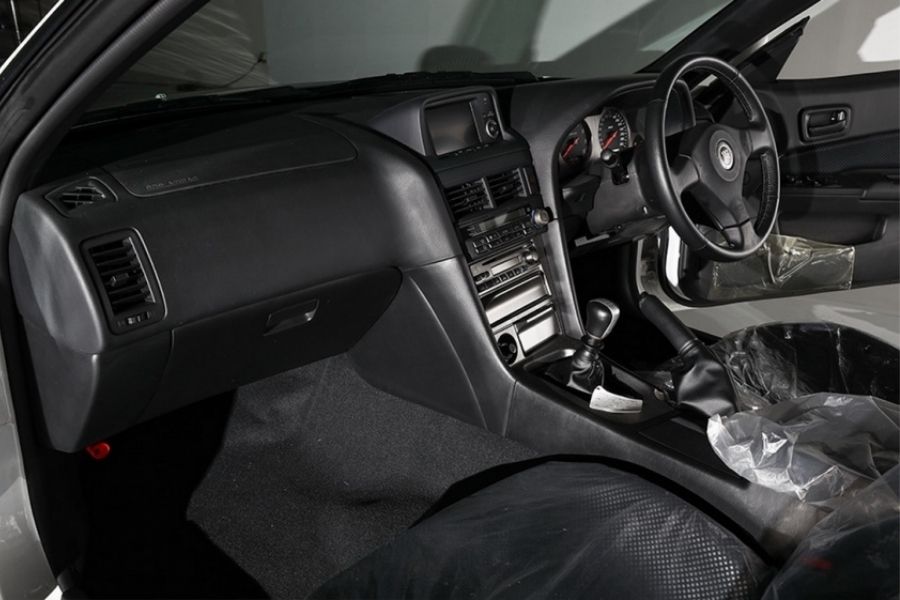 Inside the ultra low-mileage R34 GR-R V-Spec II Nür [Photo source: BH Auction]
Currently, BH Auction has yet to post a starting bid price. Then again, we are fairly certain that once sold at the auction block, it will command a price upwards of 500,000 USD, or around Php 24 million. As a side note, another R34 GT-R V-Spec II Nür with 362 km on its odometer was sold off earlier this year. With a higher kilometer count however, it was listed with a slightly lower price of USD 485,000 (Php 23 million). Of course, that's still a lot of dough. 
For more car news, keep reading here on Philkotse.com. 

Cesar G.B. Miguel
Author