Nissan GT-R NISMO 2020: An ultimate tuner
Nissan GT-R NISMO 2020 remains an absolute beauty among high-performance street and track machines.
Japanese tuner cars are legendary and the stuff of mechanical fantasy that is pure perfection. Japanese supercars that compete against the world's best on the tracks and pavement are legendary.
Most would redundantly refer to the Nissan GT-R NISMO 2020 as Kaiju, but an apt term would be the Shinto god of thunder and lightning called "Shin Raiden".
It's the most appropriate term when the car's VR38DETT 3.8-liter twin turbo V6 roars like thunder when passing you. As it goes by, it speeds up like lightning driving past onlookers and other cars.
Nissan GT-R NISMO is inspired by the ultimate GT-R which is another derivation from the GT-r series. Only a few are going to be sold in the United States which is bound to be controversial whether it would be street legal or not! To make it more interesting for you fanboys out there, Philkotse.com will unveil little tidbits about Nissan's supercar.
2020 Nissan GT-R NISMO boasts race car-inspired upgrades
1. Nissan GT-R NISMO 2020: The look
Nissan's GT-R series has always had visual impact, and the GT-R Nismo gets a lot of distinctive styling DNA from its exterior. Just one glance and the V-motion grille and looks that are undeniably GT-R ancestry.
Run on to the back of the car with rear butt work that's fresh with trimming topping it with Nismo rear spoiler equipped! One eyeful and all the design cues that scream fast and sexy car.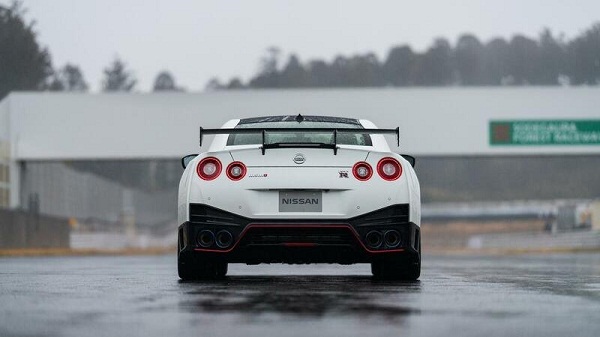 Carbon rear spoiler that hunkers GT-R Nismo at speed
Small touches to toughen the outer shell of the GT-R is more adhesive bonding that comes with spot welding to secure the body panels more. This makes the shell more robust and adds more protection where passengers are concerned!
Already the car is light and further strengthening it for collisions along with modern safety equipment, gives more security to owners.
Speed is a science perfected by the GT-R Nismo, with R and D that led to creating panels to help it slice the wind. All the kit that makes it a Nismo are front bumpers, carbon rear spoiler that hunkers the car at speed and keeps it low for balanced posture.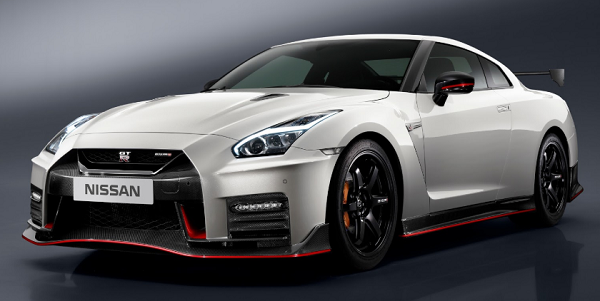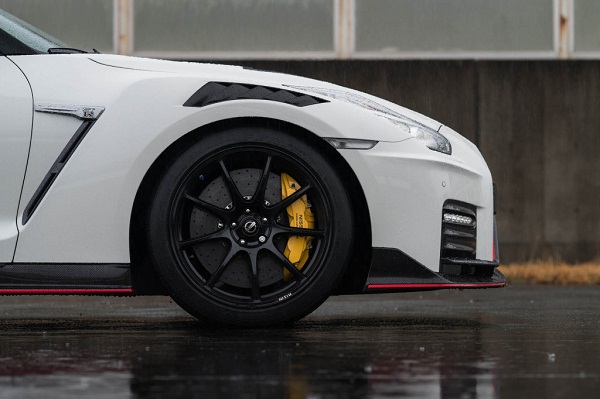 Other parts included are the engine undercover that adds up all the kit that completes the unique look of it.
The tires of the GT-R Nismo is developed with special knurling that holds tires secure when braking or accelerating quite hard. Specially designed allow wheels which is light and comes with si -spoke rays. Standard equipment that has a function in improving overall performance, not just to look good!
2. Nissan GT-R NISMO 2020: Interior 
Fast cars require a special layout that emphasizes ergonomics and easy access to instruments and controls. Inside the GT-R Nismo is well-designed interior with a dash that has well-planned navigation and audio controls included. Keeping the inner layouts like these maxed out is important for anyone riding this high-performance car.
Anyone driving a GT-R Nismo will not be complete without a Nismo steering wheel made with Alcantara leather, with three spokes and all the trimming including red stitching, red center mark. This matches with the interior and without it won't complete the experience of driving a GT-R Nismo!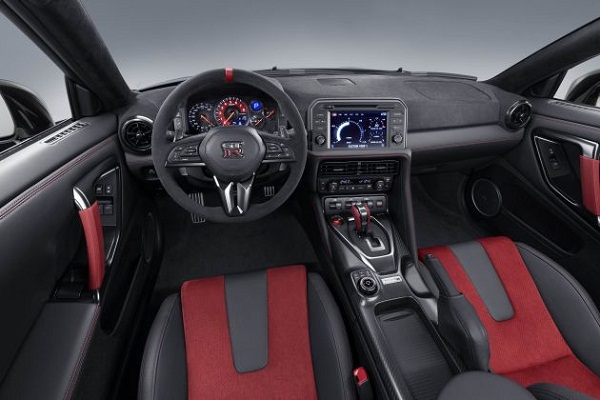 Well-designed interior of the new GT-R Nismo 2020
Other final add-ons that are uniquely the GT-R Nismo should be this equipment that is part of the package. Listen to the Bose sound system with 11-speakers while seated in the Recaro race seats, while using the touchscreen with NissanConnectSM while driving on the freeway!
Check out the built-in navigation with other apps and services while heading to Friday night date. Sounds good?
>>> Kindly refer to our Nissan GT-R Philippines price list to keep up to date with the latest pricing changes of all Nissan cars.
3. Nissan GT-R NISMO 2020: Engine & Performance
Under the hood of this beast is the twin-turbo VR38DETT 3.8-liter V6 engine that's not assembled by robots. It can match the Corvette ZR1 for power with 600 horsepower at 6,800 rpm, add about 481 foot/pounds of torque at 3,200 to 5800 rpms.
Compared to other supercars that have larger engines when compared to the GTRs 3.8-liter masterpiece which is an incredible engineering feat!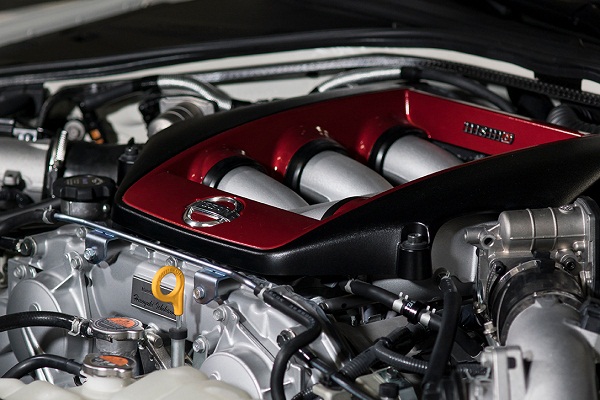 The twin-turbo VR38DETT 3.8-liter V6 engine
Twin-turbos create power and a lot of heat when running to the edge of performance. Designing a specialized baffle plate within the oil pan keeps the engine lubricated. The baffle plate stabilizes oil pressure when the engine heats up and keeps the inner pressure stable without losing any lubrication.
>>> Visit your nearest Nissan Philippines dealership to check out this hot coupe.
4. Nissan GT-R NISMO 2020: Safety Features
Equipped with a standard full titanium exhaust system that has reduced weight and thickness that is installed as standard kit. Other extras that come with it is integrated fins and undercover ducts that are part of the package. These parts especially the exhaust system optimizes the airflow and allow improve exhaust performance too.
It comes with sequential six-speed dual clutch gearbox and automatic with manual modes for specific driving modes. In use are a pair of Paddle-shifter that's mounted on the steering wheel.
With DCT equipped the GT-R NISMO is capable of lightning-quick shifting with two clutches in use. Paddle shifters allow sporty driving without touching shift stick!
Nissan's Advanced Total Traction Engineering System for All-Terrain (ATTESA) and All-Wheel-Drive systems. One would say that this is what makes a GTR what it is!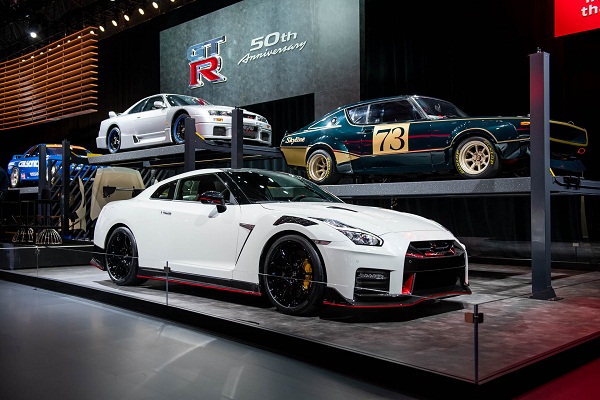 It is rumored that Nissan GT-R Nismo 2020 is only sold in the US market
It's important for cars to have balance and grip especially for high-performance monsters like it. The ECU and the sensors sense and keep tabs on the cars direction and everything else that will affect how the car races. Body sway and balance are constantly controlled by sensors while on the move!
Adding on the technical superiority of the GT-R Nismo is the uber good, Nissan tuned suspension, and weight reduction with stiffened roll resistance. Whatever road it runs on with the excellent suspension for good dampening and roll resistance for energetic maneuvers. Without it, the GTR-Nismo wouldn't be able to soak in all the humps and bumps.
This is just the tip of the iceberg, and the Nissan GT-R NISMO 2020 is likened to the Shinto god "Raiden" for the thunder and lightning it has!
>>> Kindly refer to our list of Nissan for sale in the Philippines to look for different Nissan models at reasonable price
Author

Norjan enjoys writing about various topics, and car is among them. Don't ever ask him which his most favorite car is since he has none. He believes each car is beautiful in its own way.