The new Ford Explorer 2020 will be launched in 2019 as the 2020 model.
At this year's Beijing Motor Show, Ford has announced that it will launch another new sizable SUV - the next-gen Ford Explorer 2020. Especially, the new Explorer will be built in China.
The Blue Oval also released a teaser photo showing the next-gen Explorer sheltered under a blue wrapping. Through the silhouette of the forthcoming Explorer, we can get some ideas about what the SUV will look like, even it is still not entirely clear.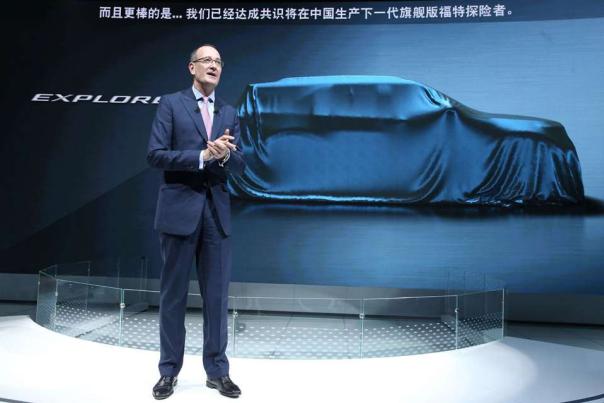 The Blue Oval also released a teaser photo showing the next-gen Explorer sheltered under a blue wrapping
>>> You might like to read: Ford Explorer 2018 Philippines review
The front fascia seems to get a smoother look while the hood looks shorter than the on-going model with a less slopping face. Look up at the top, the roof rail is now paired with a more stylish roofline. Besides, the wheel looks more rounded and bigger than the current-gen model's.
Life Car TV - 2020 Ford Explorer Teased Ahead Of Next Year's Launch
According to the latest car news, the all-new Ford Explorer 2020 is still expected to be driven on a completely new platform and also equipped with a performance-directed ST version.
>>> Read more:
Know more about Ford Explorer 2021

Ford is one of the top car brands in the Philippines that is most preferred by Filipinos when it comes to compact and midsize SUVs. The Ford Explorer is also a premium-looking SUV just like the Expedition, which is priced under Php 3 million. The history of the Ford Explorer traces back to over 20 years since it was launched in the early 1990s. It underwent numerous changes. That includes the recently redesigned platform that transformed it into a midsize crossover from its original body type, which is a midsize SUV. Over the years, the Ford Explorer has significantly grown up and currently offers and provides more for the needs of the Filipinos who are looking for a cross-country adventure. The Ford Explorer, being a midsize crossover, features a body dimension that is locally considered one of the largest in its class. The Ford Explorer maintained its status greatly with its extra masculine looks, tall standing, and a few touches of 21st- century design ideas. The cabin can comfortably accommodate seven occupants with leather seating material, wide moving spaces, and cool connectivity and entertainment features. Ford Philippines offer the Ford Explorer in two engine options, namely 3.5-liter and 2.3-liter EcoBoost engines.