In a statement, DILG's spokesperson and Undersecretary Jonathan Malaya clarify that no LGU as of yet is fully compliant with their road clearing operation.
1. Road clearing operations: LGU's not yet fully compliant
As of now, the Department of the Interior and Local Government, or DILG for short, said in a statement that no local government units fully comply with the government's campaign to rid our roads of illegally built structures and other obstacles that are impeding traffic.
DILG spokesperson and Undersecretary Jonathan Malaya also further elaborated that their office has not yet determined whether which specific LGUs have fully complied.
This is due to the fact that the actual assessment for these local government units won't begin until the 60-day deadline for the aforementioned campaign has passed. The said deadline is scheduled on September 29.
Mr. Malaya has made this clarification in lieu of the Makati City government's claim that like Valenzuela, Pateros, Malabon, Marikina, Pasay, and Navotas, it has also accomplished a 100 percent compliance with the campaign to clear out illegal structures and road obstructions, 60 days early of the deadline.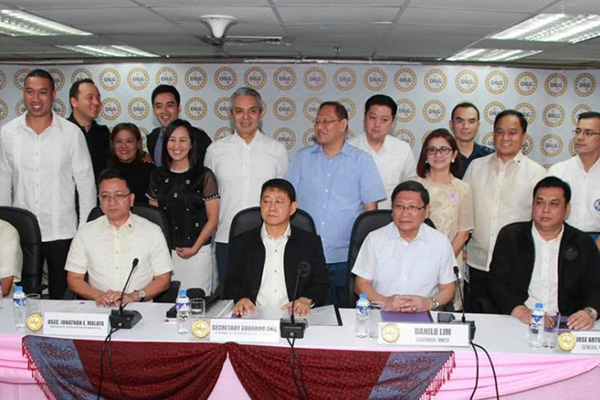 Undersecretary Malay together with Eduaro Año and several other public officials
Malaya also said that according to the DILG's Memorandum Circular no. 121-2019, the basis for 100 percent compliance isn't determined by the road clearing operations alone as there are also other considerations.
One of those crucial ones is enacting or revisiting ordinances with relation to banning illegal construction and with clearing up roads. Also, an LGU should also produce a listing of all its constituent roads, plan for and actualize fixing those recovered roads, and to develop and execute displacement strategies.
2. Compliance reports yet to be validated
Undersecretary Malaya also further explained that the compliance reports that have been handed over by the LGU's to their respective DILG regional offices together with each Bureau of Local Government Supervision or BLGS are yet to be validated.
Malaya added that Secretary Eduary Año ordered the formation of teams whose focus is to validate and to look into the accomplishments of these LGU's concerning not only their execution of road clearing operations but also with regards to those tasks listed within MC No. 121-2019.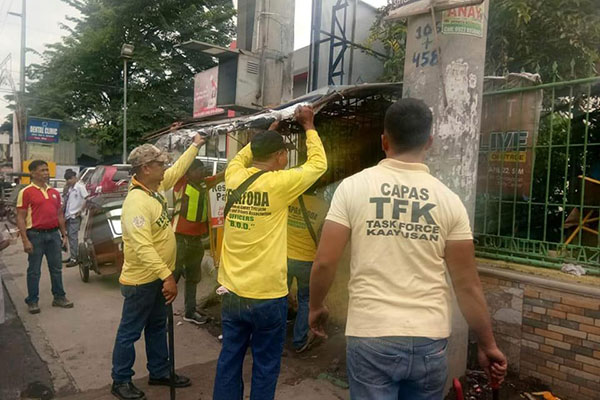 Road clearing operations in Tarlac
The aforementioned teams will be comprised of officials from a number of government agencies like the DILG itself, the Bureau of Jail Management and Penology, the Bureau of Fire Protection, the Philippine National Police, and of course, several civilian officials.
Just like what Secretary Año has accomplished in Metro Manila, he also tasked several DILG Undersecretaries as well as Assistant Secretaries to coordinate with relevant officials in the regions concerned. They will also coordinate and team-up with the LGUs and the regional DILG directors.
3. DILG is pleased with the progress
Aside from the statement above, Undersecretary Malaya also stated that the DILG is quite happy with how smoothly the road clearing operations have been progressing on a national level.
He also said however that another greater challenge for the Local Chief Executives is their ability to keep these roads clear even after the September 29 deadline. He also says that the aforementioned should also work closely with Barangay officials as well as local police units in order to keep up the positive results caused by the clearing ops.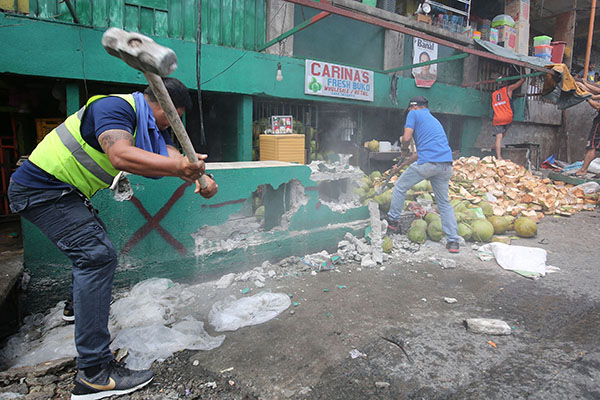 LGU employees clearing out an illegally built structure
>>> Have you known that MMDA started clearing obstructions on roads in Balintawak?
4. Road Clearing ops: A ray of hope
All in all, it looks like the nationwide road clearing operations spearheaded by the DILG, according to many concerned citizens, is a good step in clearing and organizing not only Metro Manila but also the rest of the Philippines.
Hopefully, all crucial officials like the city mayors as well as their constituent barangay officials will fully comply in time and will consistently follow DILG's mandate. After all, a change for the better starts when you clean up your own yard. Right?
For more automotive news, please keep reading here on Philkotse.com.


Cesar G.B. Miguel
Author