It is simple-looking, but off-road ready.
The K2500 light commercial vehicle is a mainstay product for Kia Philippines. It is a common sight on local roads, and it continues to be a great choice for those in need of a practical logistics solution for their small to medium, or even large business.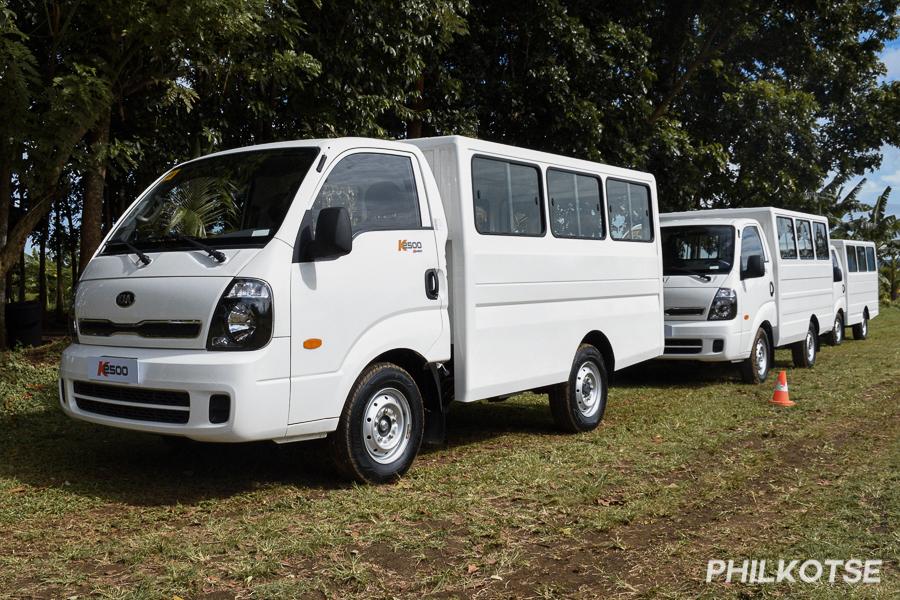 The Kia K2500 Kargo at The General's Farm in Batangas
But while it has been around in its current form for months now, the Korean carmaker recently provided us with an opportunity to test out this model's capabilities on a long highway drive to The General's Farm in Tanauan, Batangas.  
Beyond that, we also had the chance to see what it can do on rough roads. We even took its 4x4 variants through a light off-roading course. 
So, what's the 2021 Kia K2500 like in the metal? 
Kia K2500: All you need is white 
As with most light commercial models sold in the Philippines, the K2500 assumes a simple, utilitarian form. The front cab comes with a cab over engine design, and it can be fitted with a variety of rear bodies. The ones we got to drive were the K2500 Double Cab version, the Karga/Kargo utility van, as well as the Single Cab Dropside version.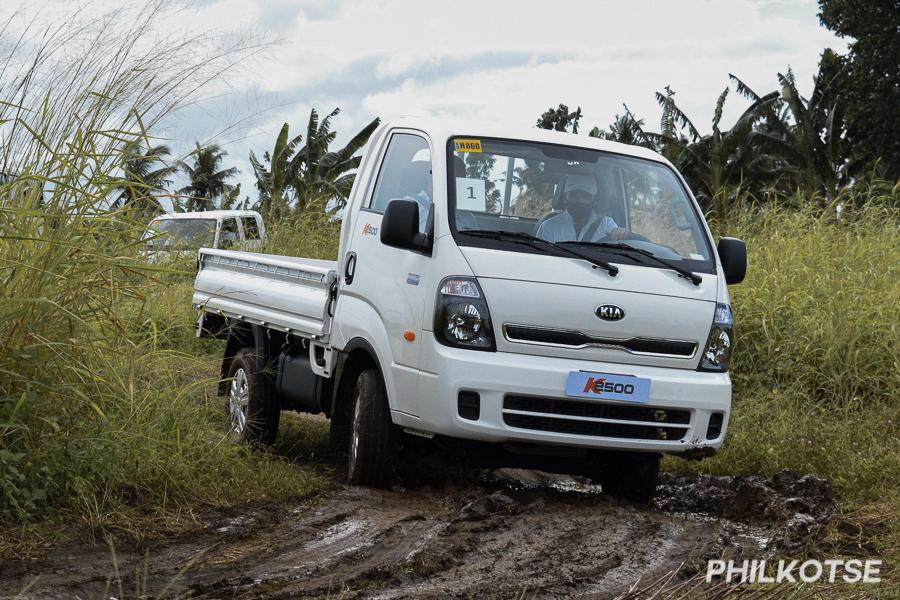 The Kia K2500 Single Cab Dropside 4x4
Exterior equipment included a pair of halogen-headlamps, rear fog lamps, door-mounted side turn signals, and a two-section side-mirror to better deal with blind spots. 
Unique to the K2500 however, is a front panel access for the vehicle's coolant reservoir, and other fluids. That's pretty handy considering that its engine is underneath the front seats.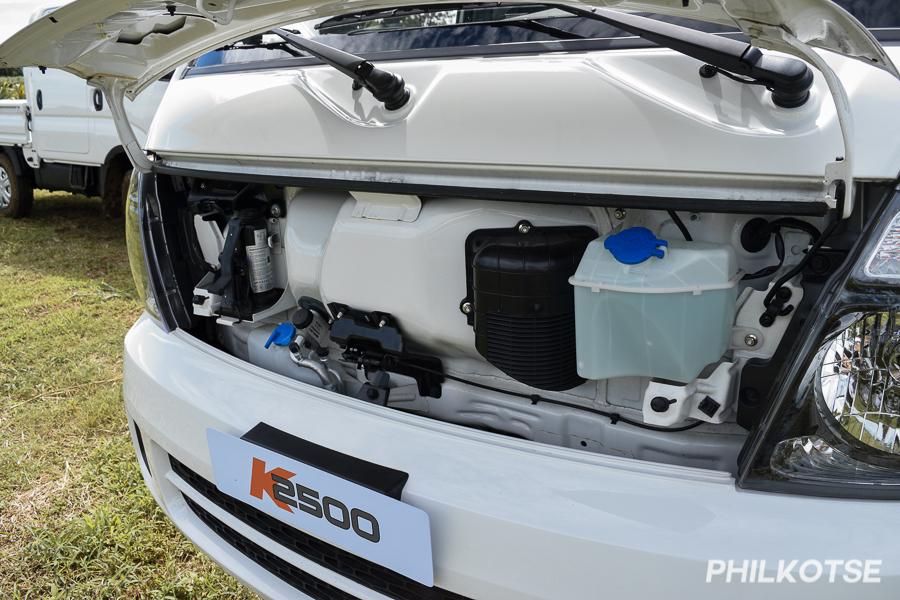 The K2500's access panel also holds its jack
It then rides on a set of 15-inch steel wheels, which are par for the course for light commercial vehicles. Depending on the variant though, these can come with wheel covers, which adds a bit of flair to the spartan-looking K2500. 
Size-wise, the K2500 comes with a length of 4,825mm, and a width of 1,740mm. The 4x4 variants are a bit taller at 2,105mm, while the 4x2 variants have a height of 1,995mm. The 4x4 K2500 variants also came with a ground clearance of 200mm. And combined with its tall height, it gave a commanding view of the road.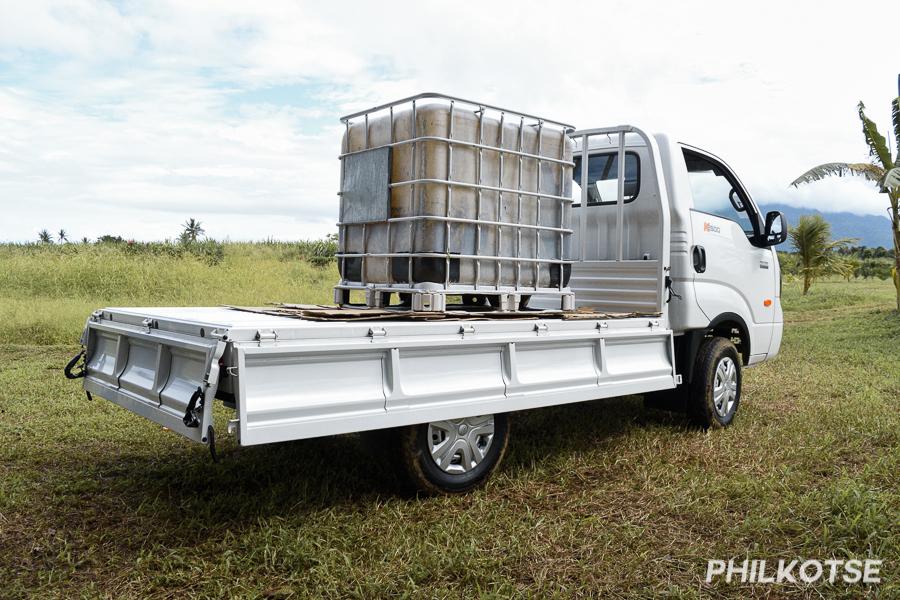 This is exactly what the K2500 Single Cab Dropside is made for
And yes, the K2500 is only available in white. Again, this is typical of light commercial models sold locally. 
Kia K2500: A simple but well-arranged interior 
Inside the K2500 is a simple interior that's mostly made out of grey or silver-colored hard plastics. Everything is well arranged and easy to reach, and one can imagine that it's pretty easy to clean as well.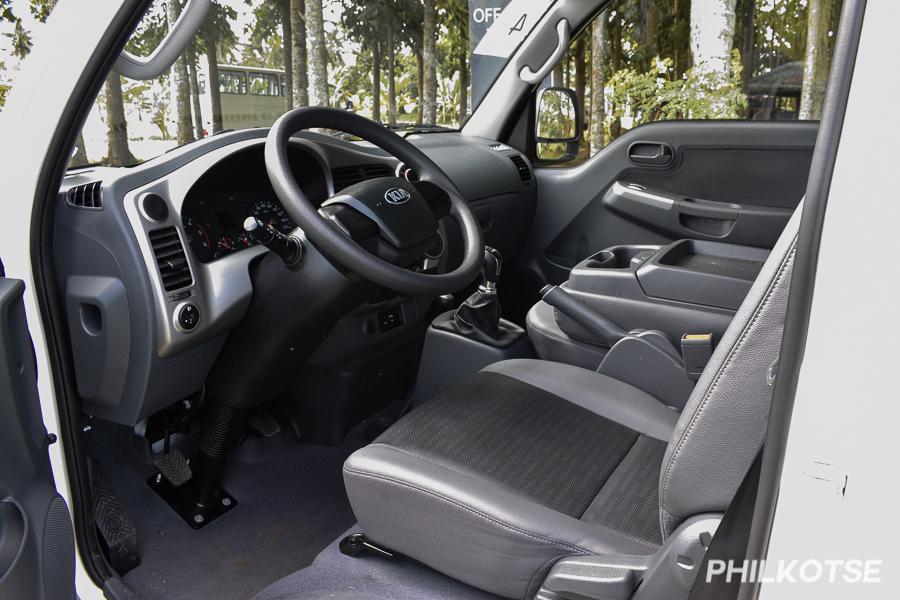 The K2500's interior arrangement is largely identical across all variants, with some slight differences.
All variants of the K2500 are then equipped with sturdy but reasonably comfortable urethane seats. It also has a folding elbow rest which also functions as additional storage space as it is integrated with a tray, and a small compartment underneath. It also has a pair of cupholders.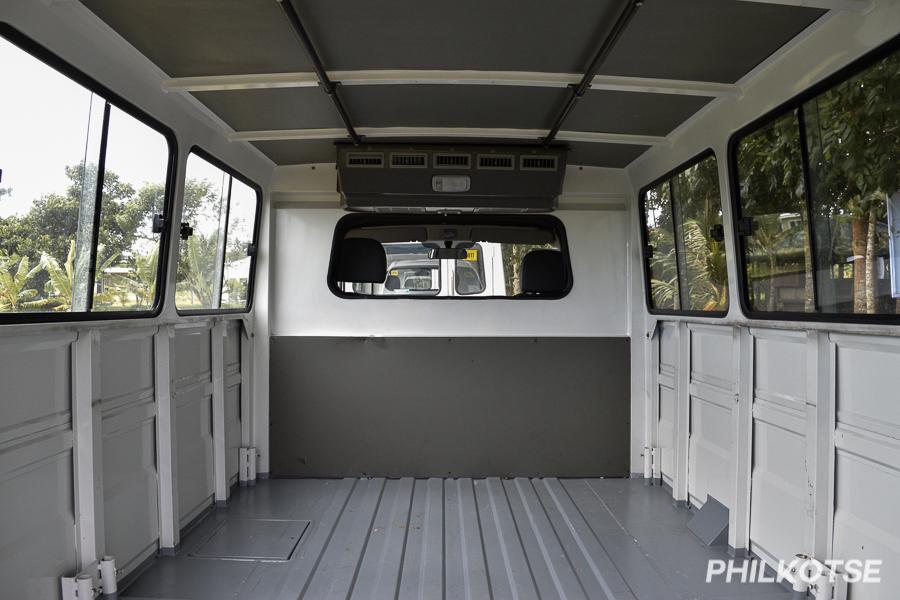 A K2500 Kargo lacks the row-type seats provided for the Karga variant 
Fold the elbow rest up and you have a back rest for an additional occupant for the front row. In total, the K2500 Single Cab can seat 3, the Double Cab can seat six. The Kargo variant which lacks row seating for its rear body can also accommodate three at the front. If you want the most passenger capacity, the Karga variant can seat up to 19 people.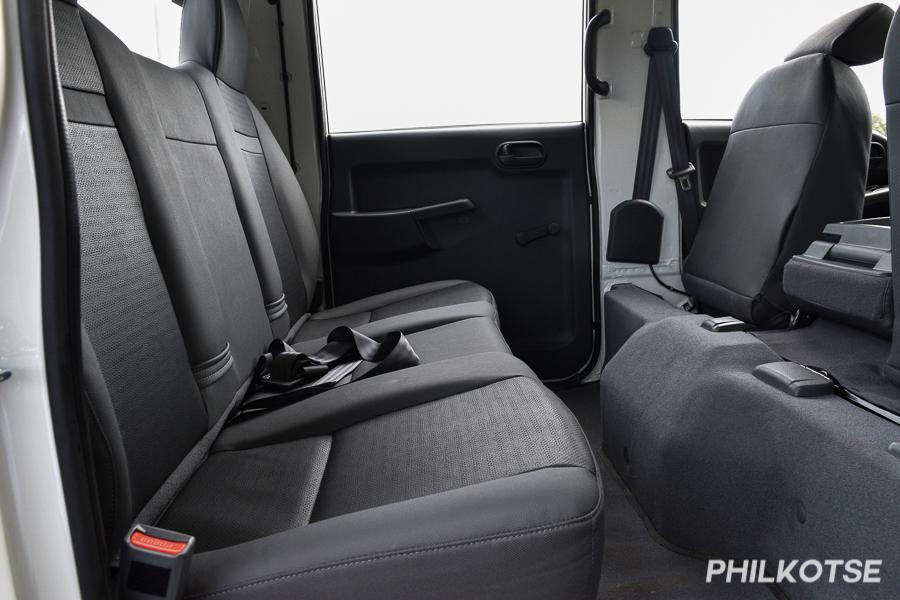 A peek into the K2500 Double Cab Dropside's rear cabin
All K2500 also get manual air-conditioning for the front cabin, and another air-conditioning unit for the rear depending on the configuration. The 4x4 trims come with overhead cabin lighting and a sunglass holder.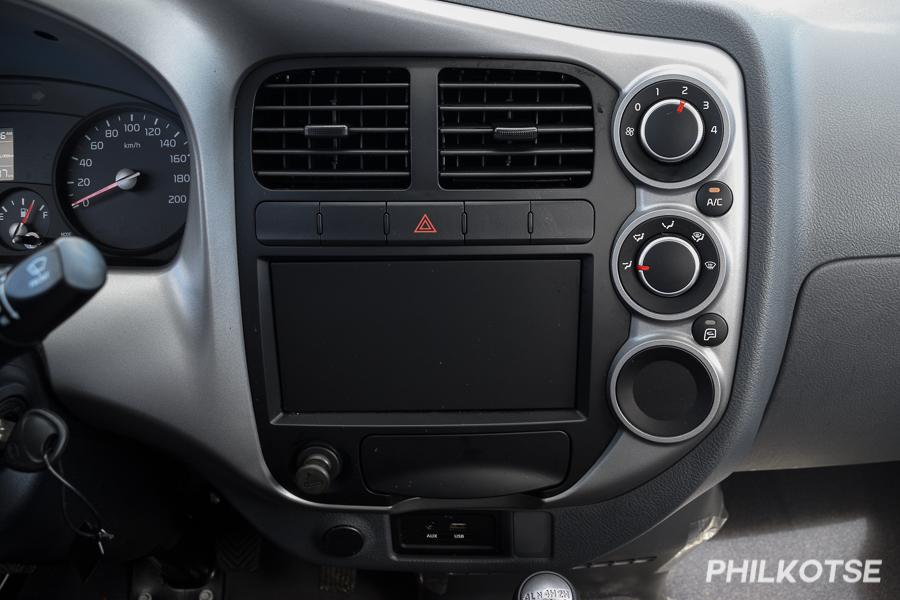 The K2500's dashboard is ready to accommodate an aftermarket audio unit 
Though it lacks a head unit, the K2500's dashboard already comes with a prepared slot that can take on a variety of aftermarket touchscreen displays or 2-DIN audio systems. It also gets an auxiliary input jack, a USB port, as well as an accessory charging outlet. 
Kia K2500: Up to 1.2 tons of payload capacity 
Moving over to mechanicals, the 2021 Kia K2500 uses a 2.5-liter inline-4 turbodiesel engine that can make up to 127 horsepower and 255 Nm of torque. The said engine is then paired exclusively with a six-speed manual gearbox. For the 4x2 variants, power is sent to the rear wheels. The 4x4 trims then come with a 4x2 high-mode, a 4x4 low-mode, and a 4x4 high-mode. 
When we took it out on the 4x4 track, we mostly used the 4x4 high-mode as the K2500's low end torque made short work of the muddy terrain we were driving through. It did slide on occasion, but maybe that's only due to its stock road tires.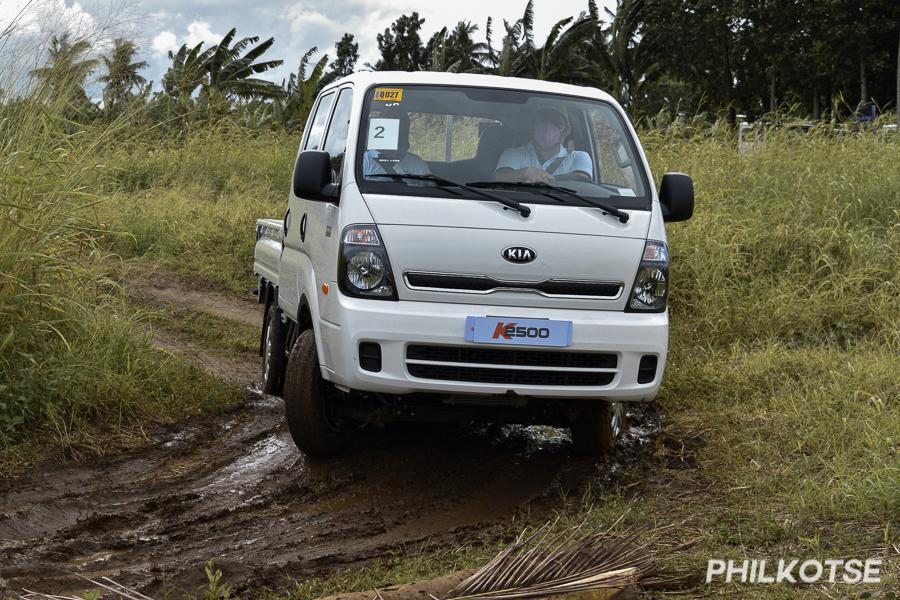 The K2500 Double Cab Dropside 4x4 on the light off-road course 
Overall, it was quite capable of getting itself out of sticky situations. It was also pretty stable despite its relative tallness. 
In terms of suspensions, the K2500 uses a torsion bar front suspension, and a multi-leaf spring rear suspension. Of note, the Karga and Kargo has one more leaf spring as of the 2021 model year. This enables it to carry up to 1,235 kg of cargo. The 4x4 Kara and Kargo meanwhile, can carry up to 953 kg, while the 4x4 Double Cab Dropside has a payload capacity of 1,128kg.  
Here are the prices of the 2021 Kia K2500 for the Philippine market: 
| | |
| --- | --- |
| Kia K2500 Variants  | Price  |
| K2500 Cab and Chassis 4x2 MT  | Php 890,000  |
| K2500 Closed Van 4x2 MT  | Php 920,000  |
| K2500 Kargo 4x2 MT  | Php 1,025,000  |
| K2500 Karga 4x2 MT  | Php 1,165,000  |
| K2500 Single Cab Dropside 4x4 MT  | Php 1,010,000  |
| K2500 Double Cab Dropside 4x4 MT  | Php 1,080,000  |
| K2500 Kargo 4x4 MT  | Php 1,135,000  |
| K2500 Karga 4x4 MT  | Php 1,280,000  |
Apart from the strong engine performance and its chassis' versatility to take on a variety of roles, Kia Philippines also offers several aftersales benefits for the said model. Specifically, this includes a three year or 110,000 km warranty, and free roadside assistance for three years.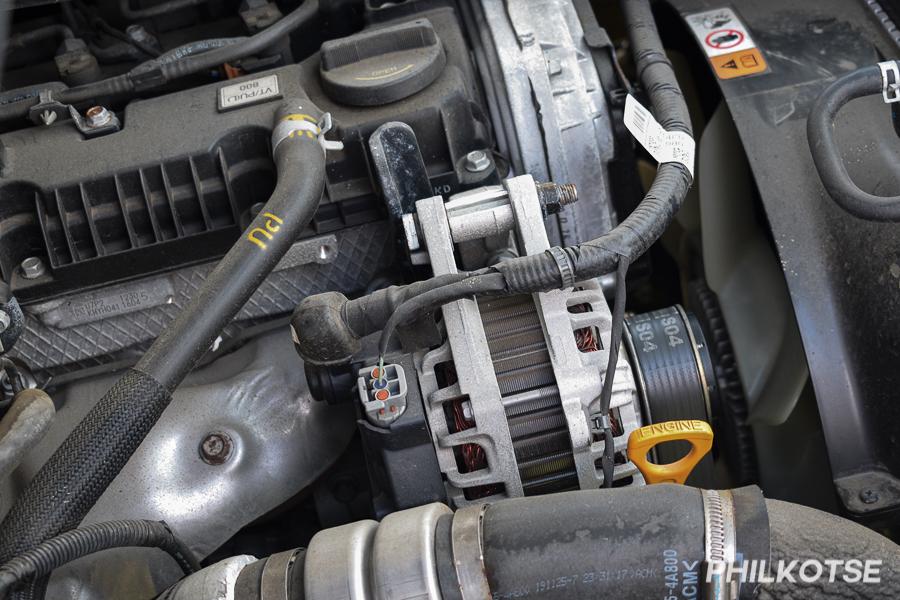 The Kia K2500's 2.5-liter inline-4 turbodiesel engine
Keeping the K2500 always ready to go is also light on the wallet, because according to Kia, the K2500 only costs an average of Php 1.11 per kilometer to maintain. 
If you want to know more about the Kia K2500, and keep up with the latest automotive industry news, keep it here on Philkotse. 

Know more about Kia K2500 2023

The K2500 is a commercial vehicle from Korean car brand Kia Motors Philippines. It is built to cater to business requirements such as transporting passengers and moving cargo. In the Philippines, the K2500 is offered with a wide range of variants to choose from. It includes the K2500 4x4 Single Cab and Chassis, K2500 4x4 Single Cab dropside, K2500 Kargo Plus 4x2, K2500 Karga Plus 4x2, K2500 4x4 doube-cab dropside, K2500 Kargo 4x4, and K2500 Karga 4x4.

Cesar G.B. Miguel
Author