The revamped Isuzu MU-X 2018 is scheduled to be launched in the second half of this year in India.
The second generation Isuzu MU-X will be the recipient of a makeover in India this year. Some design changes will also be included in the makeover of the MUX. The Chevrolet Trailblazer's Japanese counterpart will run on a 1.9-litre diesel engine according to a report from CarDekho. The MU-X 2018 facelift is said to launch in the second half of 2018.
The MU-X is a mid-sized SUV which can accommodate 7 passengers including the driver. It has an appealing exterior design making the SUV look more appealing and intimidating. The vehicle is also known to be an eye-catcher on the road because of its sophisticated aura.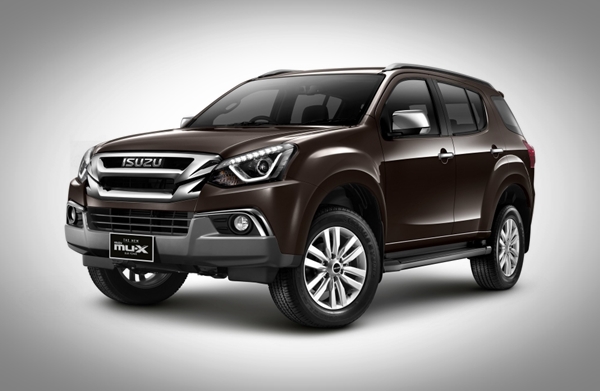 Last year, the flagship SUV of Isuzu also received a nip and tuck in Thai market
Engine Specifications on the new Isuzu MU-X 2018 facelift
For customers who wish to purchase the Isuzu Mu-X 2019 will be presented with 2 options, the 1.9 litre and the 2.5 litre.
The 1.9 litre diesel engine produces 150 PS and 350 Nm of torque.
The 2.5-litre diesel engine develops 136 PS and 320 Nm of torque. 
Though not one of them is compliant with the Euro 6 (BSVI equivalent norms), however, the Japanese automobile manufacturer offers a version which is Euro 6-compliant. This this the 1.9-litre engine, and this would be the same engine that will power all Isuzu MU-X that is to be released in India.
Updated 2018 Isuzu MU-X for India : Official TVC video
The Euro 6-compliant version of the MU-X1.9-litre diesel engine, which be soon launched in European markets, is expected to deliver 164 PS and 360 Nm of torque.
Isuzu offers their MU-X in 4x2 and 4x4 models. Buyers also are presented with a choice of 6-speed manual transmission or 6-speed automatic transmission. Just like the 2018 Isuzu MU-X, there is a possibility the 2019 MU-X 1.9L may solely get a 6-speed automatic transmission with 4WD.
The Isuzu MU-X 2018 facelift is expected to undergo a minor update
According to the latest car news, the upcoming MU-X will feature some changes on its exterior that can be seen in the front end. A newly shaped bumper will take place as well as a radiator grille. Additional changes such as LED headlamps with integrated LED DRLs, new front grille, new double-spoke alloy wheels, revised bumpers, tweaked tail lamps that comes with a LED light guide.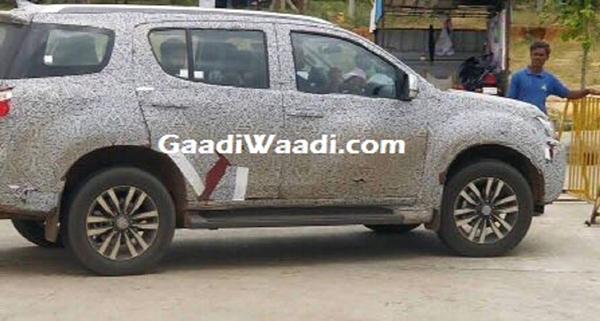 A camouflaged MU-X was spotted in India earlier this year (Image source: Indianautosblog.com)
Majority of the interior design of the updated MU-X will remain unchanged, minor modifications were just done to the center console. The 2018 model has a 7-inch touchscreen infotainment unit while the facelifted model upgraded its infotainment system to an 8-in touchscreen. Pretty minor changes but noticeable to some.
The new Isuzu MU-X has also made some slight changes on the interiors of the SUV by adding a new wood trimming and changed its upholstery to make it look more appealing to its passengers.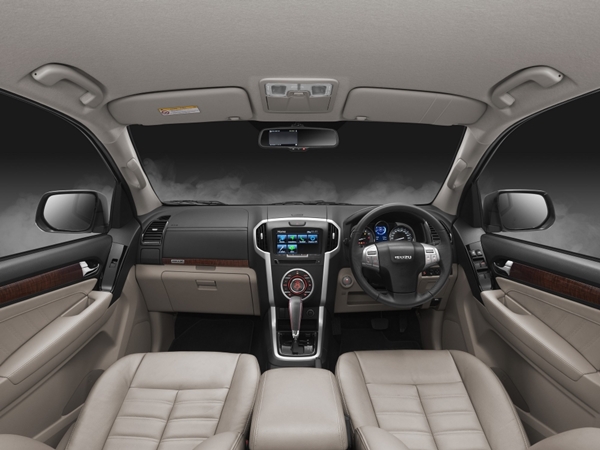 The Thai-market MU-X facelifted model comes with a bigger 8-inch touchscreen infotainment system.
>>> You might like to check out:


Liza Campos
Author
Recent posts