Isuzu Dmax 2018 (facelift) prices & release date in Thailand unveiled
When will it hit our shores?
Regarded as one of the most favorite pick-up in the global automotive market, the Isuzu Dmax is now 15 years old. Since the second-gen Isuzu Dmax was introduced in 2011, we have still been waiting for the third-gen to wing its way. However, it appears that the Japanese car manufacture wants to get fans earnest as up to now, the next-gen Dmax has been a mystery. Thankfully, the facelift of the Isuzu Dmax 2018 will arrive in our neighboring country – Thailand soon. In fact, it has been two years since the mid-size pick-up truck got the most recent mediation.
>>> You might also like to read: Isuzu Dmax 2018 Philippines Review: Price, Specs, Interior, Exterior & Blue power engine
Now, Philkotse will share with you all aspects we've known about this noted vehicle.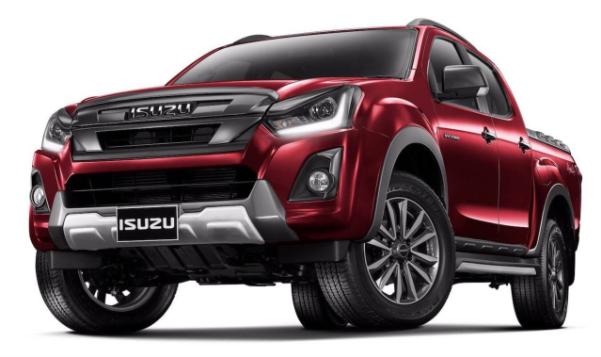 Exterior changes mainly focus on the front radiator grille
Let's begin with the outside. The facelifted Isuzu Dmax 2018 exterior changes mainly focus on the front radiator grille, which has been overturned for a fresh and distinct look. To be specific, it flows into the headlights, giving the pick-up truck a sportier and more aggressive appearance to boot. Besides, the headlights also feature L-shaped daytime running light as found in the current Dmax. Not far away the headlamps are refreshed fog lamps with vertical decors on the outward side of the front bumper, which holds the iconic Dmax front skid plate. A new set of 18-inch alloys completes the Dmax makeover.
In terms of the interior, it is hard to see any alterations but for new brown upholstery. In addition, the new Dmax comes with iConnect infotainment system with an 8-inch touchscreen compatible with satellite navigation system as well as phone connectivity through Wi-Fi.
>>> Click to catch more info about latest cars and concepts in the world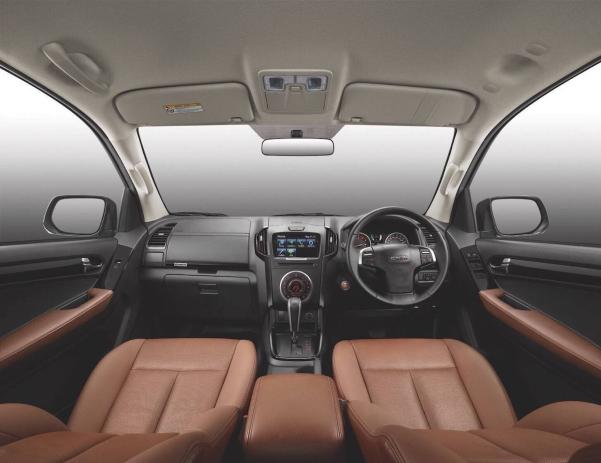 It is hard to see any alterations but for new brown upholstery on the inside
Even though Isuzu remains tight-lipped about the hardware, latest cars news said that pick-up could come into the same engine options as its predecessor: a RZ4E-TC 1.9L diesel engine with 350 Nm and 150 PS and a 3.0L 4JJ1-TCX with 177 PS and 380 Nm. In the Philippines, all-new Blue Power engine with Euro IV emissions standard has lately been introduced. For this reason, we can definitely hope for a new Dmax equipped with Blue Power engine to come.
As for the prices, the Isuzu Dmax 2018 Philippines facelift, potentially, could be 3,000 – 30,000 baht (P4,679 - P46,791) more expensive than the outgoing model. What's more, rumor has it that three new colors will be offered. Further details will come on November 11 when the new Dmax premieres in Thailand.
While waiting for the official prices to be announced, let's check out together the updated Isuzu Dmax 2018 in the Philippines:
Isuzu Dmax 2018 Price list in the Philippines

|  Variants | Price |
| --- | --- |
| Isuzu Dmax Flexi Qube 4x2 MT (Cab & Chassis) | ₱792,000 |
| Isuzu Dmax LT 4x2 MT | ₱952,000 |
| Isuzu Dmax LT-X 4x2 MT | ₱1,015,000 |
| Isuzu Dmax 3.0 LS 4x2 MT | ₱1,220,000 |
| Isuzu Dmax LT 4x4 MT | ₱1,258,000 |
| Isuzu Dmax 3.0 LS 4x2 MT BluePower | ₱1,270,000 |
| Isuzu Dmax 3.0 LS 4x2 AT | ₱1,290,000 |
| Isuzu Dmax 3.0 LS 4x2 AT BluePower | ₱1,340,000 |
| Isuzu Dmax 3.0 LS X-Series 4x2 MT BluePower | ₱1,370,000 |
| Isuzu Dmax 3.0 LS X-Series 4x2 AT BluePower | ₱1,440,000 |
| Isuzu Dmax 3.0 LS 4x4 MT | ₱1,530,000 |
| Isuzu Dmax 3.0 LS 4x4 MT BluePower | ₱1,600,000 |
| Isuzu Dmax 3.0 LS 4x4 AT | ₱1,600,000 |
| Isuzu Dmax 3.0 LS 4x4 AT BluePower | ₱1,670,000 |
>>> Click for the complete list of Isuzu Dmax 2017 for sale in the Philippines