This is part of the car brand's 20th anniversary celebration in the local market.
This year, Hyundai Asia Resources, Inc. (HARI) celebrates its 20th anniversary in the country. In celebration of the milestone, the Korean carmaker recently launched "The Great Accent Find" game, where participants must find 20 hidden Hyundai Accents on Google Maps to receive e-Gift certificates worth Php 2,000.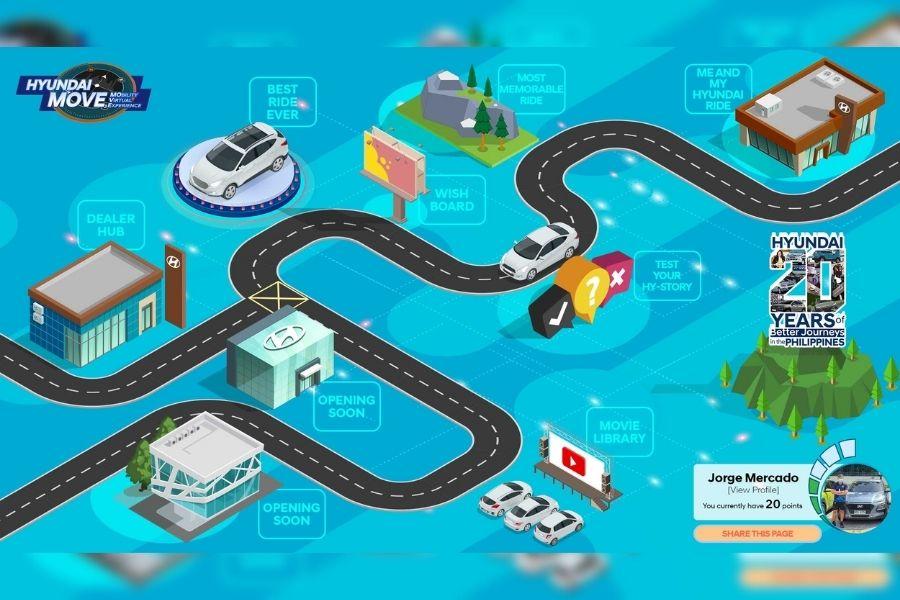 Hyundai MOVE Virtual City
Now, HARI is stepping up its celebration with the introduction of the Hyundai MOVE (Mobility Virtual Experience). It consists of a virtual city with six zones that provide different activities. Considering that the country is still implementing strict quarantine restrictions, the Hyundai MOVE can provide entertainment in the comfort of the participant's homes.
Here are the six fun activities included within the virtual city of the Hyundai MOVE:
Me and My Hyundai Ride – a photo contest where participants submit imaginative photos of themselves with their Hyundai vehicle.
Most Memorable Ride – a story contest where participants share a 20-word account of their best experience with their Hyundai vehicle, dealership, or HARI-sponsored activity.
Test Your Hy-Story – a quiz contest where participants answer 20 trivia questions about Hyundai in the Philippines.
Wishboard – a venue for posting comments, greetings, and well wishes to other Hyundai owners.
Best Ride Ever – participants vote on their best Hyundai vehicle ever.
Drive Forward Theater – a virtual movie house where participants can watch videos produced by HARI and Hyundai Motor Company.
Participants who complete the six activities will be qualified to join the Hyundai MOVE raffle. Also, HARI is giving out prizes to winners of the Me and My Hyundai Ride, the Most Memorable Ride story contest, and the Test Your Hy-Story quiz. The prizes run to a total of Php 10,000 worth of e-Gift certificates for the contest winners.
Hyundai MOVE Guide
The Hyundai MOVE will be online from September 10 to 12, 2021, with the vitual city open to all Hyundai vehicle owners who want to take part in the game.
"We very well know how Pinoys enjoy a good game. For the ever-growing online community of Hyundai loyalists, Hyundai MOVE is our way of bringing happiness in the midst of these challenging times, and of course our big thank you to all people who have been part of our 20 years of successful operations," concluded HARI President and CEO Ma. Fe Perez-Agudo.
Visit Philkotse.com for more automotive news.
Know more about Hyundai Accent 2021

The Hyundai Accent is the Korean car brand's entry to the local subcompact sedan segment. It is one of the most versatile models in the country thanks to its gasoline and diesel powertrain options. This characteristic is complemented by its sharp and sporty exterior design.

Rex Sanchez
Author
Recent posts