The newly-improved Hyundai Elantra Sport 2019 has been unveiled with a turbocharged engine and a classy & striking look!
3 months ago, we witnessed Hyundai's efforts to give Elantra a makeover. Instead of the traditional curvaceous lines, Hyundai graced it with a new angular look for added sophistication and adequate sharpness.
After this bold move, Hyundai turns its attention towards the high-performing sedan, Hyundai Elantra Sport 2019. It will be redesigned for a meaner and more aggressive impact on passenger, drivers and car enthusiasts alike.
The unveiling of the newly-improved Elantra Sport paves way for a beefed-up, compact four-door car that possesses turbocharged engine housed under its hood paired with a classy yet striking look.
The initial fluid-looking front grill design and the initially installed, sweeping headlights are now replaced with triangular shaped-headlights. Furthermore, the 2019 Elantra Sport will now host old-looking arrays of grills painted in black. Updates like the dual-exhaust pipes that are chrome-finished, new side skirts and 18-inch alloy wheels that make the model stand out on the road.
>>> Check out our list of Hyundai Elantra for sale in the Philippines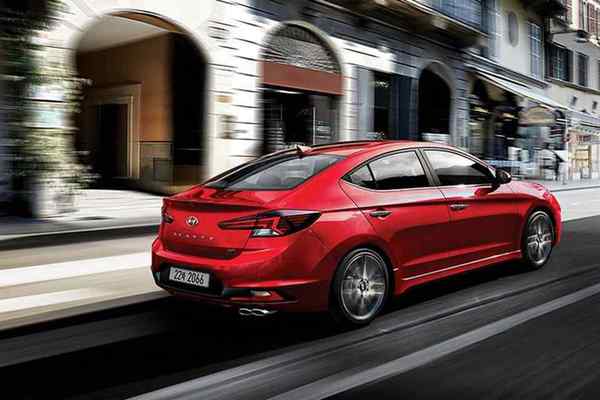 Hyundai Elantra Sport 2019 has a classy and striking look  
Upon taking a closer look in its interior, Hyundai wasted no efforts in making it look astounding. Door sill plates, flat-bottomed steering wheel, sport bucket seats, and carbon fiber trim pieces are now a standard with the latest version. The customer can also pick from two old color choices of black or red leather upholstery that adorns the furniture of the car.
The engine that makes this sedan run is a 1.6L turbocharged gamma inline-four engine. It can max out up to 204 Ps with 265 Nm of torque. Similar to the model initially released by Hyundai, the engine can be paired with either a seven-speed dual clutch transmission that takes control of the car's front wheels or a six-speed manual gearbox.
>>> Related: 2021 Hyundai Elantra: Expectations and what we know so far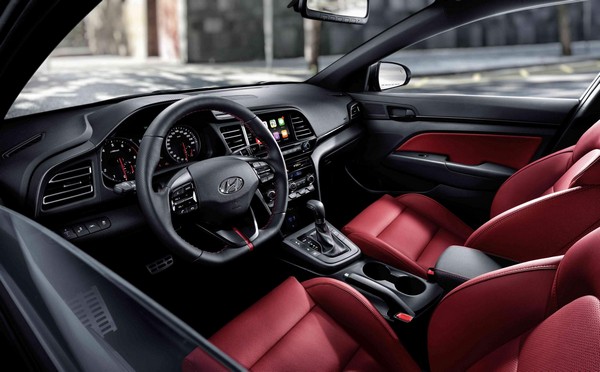 Customers can pick between black or red leather covered inside the cabin
Aside from the engine that outperforms other sedans, Hyundai took the time to develop Elantra Sport's chassis. The new update comes with a multi-link set-up rendering the driver better handling of the car. In addition, bigger disc brakes were provided to the Hyundai Elantra Sport 2019 to help the car slow down quicker than the previous model.
While there is still no word on the official arrival date and price of this newly-updated Elantra Sport revealed, you can have a look at the current PH-spec Hyundai Elentra to learn more about this sedan.

Know more about Hyundai Elantra 2023

The Hyundai Elantra is a refined and striking compact sedan admired by Filipinos. Its modern and elegant styling fits the taste of young professionals and small families opting for a reliable and practical vehicle. Either you use it going to work or a trip out of town, this four-door vehicle is guaranteed to perform perfectly. Two variants are available locally: the Hyundai Elantra 1.6 GL MT and the Hyundai Elantra 1.6 GL AT. You may choose from Phantom Black, Polar White, Platinum Silver, Marina Blue, and Fiery Red.

Hanna Sanchez
Author
Recent posts