Exterior
Hyundai Elantra is the favorite compact sedan, which is appropriate for both Filipino youth and families. Hyundai Elantra colors are suitable for young and middle-aged people. You can choose from Phantom Black, Polar White, Platinum Silver, Marina Blue, and Fiery Red. It is also an ideal option for families, thanks to the spacious cabin accommodating up to five adults.
The refined design from the color and the geometric aesthetics of Elantra makes it really stylish. Hyundai Elantra's exterior design is very inspiring and impressive. Its elegant and confident appearance comes from the chrome grille. Hence, the refined design of many details coming together like curved chrome slats, narrow headlamps, and fog lights give it a sporty look.
Additionally, sharper body lines and dynamic wheel arch also enhance the aggressive design. In terms of dimension, it measures 4,570mm long, 1,800mm wide, and 1,450mm.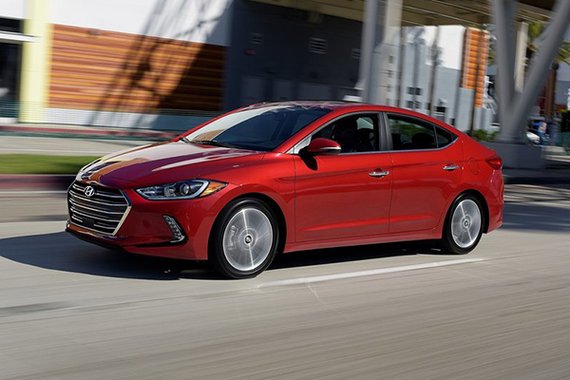 Interior
If the appealing appearance of Hyundai Elantra easily makes you fall in love at first sight, its interior embracing smart features will quickly amaze you. Its elegant cabin comes from innovative interior details. First, black and beige are its two primary colors that boast premium and ergonomic touches.
Besides, the five adult seats are covered by the comfortable fabric. The leg space in the rear seats is a bit small, while headroom is more generous thanks to the curve-sloping roof design. The limited legroom also sacrifices the folded 60/40 rear seat.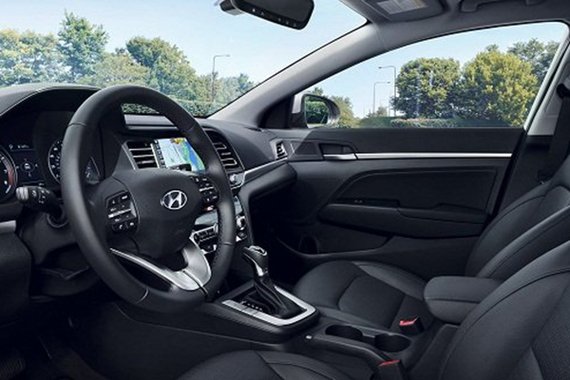 Safety
Driving a Hyundai Elantra car, you can enjoy both comfort and safety in every mile as this model comes with standard safety features. Specifically, it is equipped with 1-2 airbags, parking sensors, and an anti-lock braking system.
To enhance controllability, it also has electronic stability control, hill-start assists control, brake assist, vehicle stability management, reverse parking sensors, and camera and cruise control.
Technology Features
Eye-catching 5-inch infotainment, telescopic steering wheel, and readable gauges stand out at the cabin. The dashboard features FM and AM Radio. It is compatible with USB/AUX ports and Bluetooth to run MP3 music. Six-speakers are also wisely placed throughout the cabin.
Convenience adds-on are electrically powered driver's seat, keyless entry with push-button start, cruise control, reverse camera, smart trunk opening, and tire pressure monitoring system.