A lucky customer has won a brand-new Hyundai Elantra, the award of the PASKOtse promo.
Recently, Marchey Ann de Jesus has become one of the most lucky winners of Hyundai's PASKOtse promo for having been awarded with a brand-new Elantra by TAGUIG, Philippines - Hyundai Asia Resources Inc. (HARI), the Philippines' official dealer of Hyundai passenger and commercial vehicles.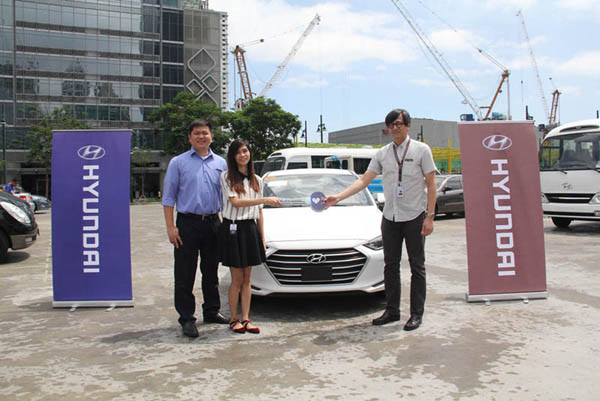 TAGUIG, Philippines and the lucky winner, Ms. Marchey Ann de Jesus (middle)
The key has been handed over personally to Ms. Marchey Ann de Jesus by Victor Vela, Senior AVP for Sales Planning and HARI's Numeriano Cortez Jr., Senior Vice President for Trade Operations & Development at the Hyundai Headquarters where her dream car was waiting for her.

A brand-new brand new Hyundai Elantra, the award of the PASKOtse promo, was given to De Jesus - 25 years old, who has been working for a healthcare company located in Tanauan City, Batangas as a senior assistant supervisor. The dream prize arriving suddenly made her so surprised and happy as she actually wished for an Elantra but could only afford an Accent and already bought one. She could not believe she had won such a huge prize so fortunately because she seldom took part in raffle promotions.

At first, she thought that the call she got was a scam. However, her suspicions disappeared immediately after she received an official letter from HARI inviting her to the Hyundai Headquarters to take her PASKOtse award. Her father and siblings went with her and welcomed Elantra as a new member of their family.

>>> View more:  A Pampanga resident won a brand-new Lexus NX200t and P100,000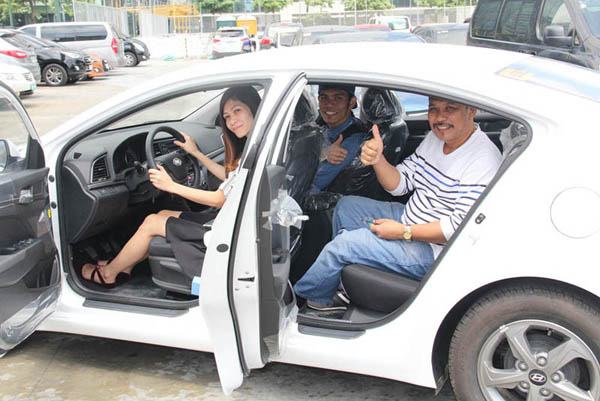 De Jesus was accompanied by her equally excited father and sibling
With the motto that the efficiency and innovation in each Hyundai car will contribute to improve the lives of the Filipino consumers who are valued as Hyundai's life partners, HARI has held PASKOtse and many other promos to provide stylish and value-packed vehicles through easy financing packages.
Latest updates on upcoming Hyundai cars can be found in our Complete guide to the Hyundai Philippines' local lineup
Launched: Hyundai Elantra