Hyundai Accent 2018 debuts with a mature new look
Hopefully the all-new Hyundai Accent 2018 will soon be upon us in the Philippines.
While it's been around for few years now, we haven't seen any minor tweak for the PH-spec Hyundai Accent. Just giving a slight upgrade for the Hyundai Accent 2014, the Korean car maker has underscored its Accent city car with no updates any more. In the meantime, many updates have been made to its direct rivals such as the Honda City, Mazda 2, and Toyota Vios.
Hyundai Accent 2018 First Look - 2017 Toronto Auto Show
But even so, the Hyundai's hot sedan is still capable as one of our best buddies for trotting around the metro. Aside from spacious interior for hauling cargo and accommodating occupants, the Accent hatch offers the truly traffic-friendly engine. And while the interior materials are minimal, there's still enough inside to keep passengers comfortable and entertained for their daily journey.
According to latest car news, earlier this year, the all-new Hyundai Accent 2018 made its global debut at the Canadian International Auto Show in Toronto. The city car's new design promises to take the Korean carmaker's small compact cars a tick upscale.
The more sculpted exterior look is a mix of the Accent's sleeker and new "cascading" grille design that completely doesn't ape any of its predecessors. The nice cabin comes courtesy of:
Soft touch materials
A neat leather-wrapped steering wheel
A 7-inch touchscreen infotainment system
A new TFT-LCD instrument panel
Intuitive physical controls
A familiar Hyundai dash
Honda Accent 2018 World Premiere | Live at CIAS2017
There was no word yet on a Honda Accent 2018 hatchback variant or whether it will come hitched once again to the same engine and transmission.
With the hot Accent hatch will arrive across US after its debut at the Orange Country International Auto Show, perhaps our Accent lovers will have to wait until a first-hand glimpse of the local spec Hyundai Accent. However, at some point, hopefully sooner than later, Hyundai will bring the same Accent for the Philippines market and they will let their Filipino fans know as soon as they do.
>>> List of Hyundai Accent for sale in the Philippines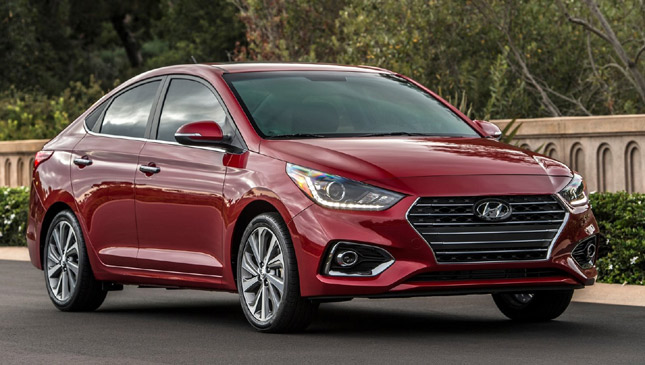 All-new Hyundai Accent 2018 debuts with a mature new look 
Seriously, guys, we all love the Accent as it is cheap yet great and is blessed with the impressive warranty for which the Korean automaker has become famous. Philkotse will provide newest updates when the Korean car brand announces the arrival of the Hyundai Accent 2018 in the Philippines. Latest updates on upcoming Hyundai cars can be found in our Complete guide to the Hyundai Philippines' local lineup.