Be one of the first to enjoy the 2017 Chevy Motorama.
Years have come and gone. We're here once again to celebrate the Covenant Car Company, Inc. TCCCI's 8 years of service in the auto sector in the Philippines. On the regard, the exclusive distributor and importer of Chevrolet vehicles in our country kicked off its yearly celebration also known as the Chevrolet Motorama.
>>> Upcoming Chevrolet Spark has already fetched with an affordable price. Click here to get more details.

Get the best deals with the 2017 Chevy Motorama 
The Chevrolet Motorama runs under the special theme "Drive Strong". This year's Motorama displays its most hot-selling vehicles and gives away the best deals to its customer. These models include the new Chevrolet Colorado pickup truck, the new Chevrolet Trailblazer, the all-new Chevrolet Spark, the Chevrolet Sail, and the new Chevrolet Trax crossover.
An iconic vintage 1955 Chevrolet Task Force truck is also on display. According to TCCCI, the vehicle was considered a luxury thing aimed at wealthy customers and gives you a glimpse on Chevy's century of motoring heritage.
Apart from the car displays, the Motorama also offers its all-in low down payment on some of Chevy models via the Chevrolet Truck Month Promo.
Here's a full list of the attractive promos and deals for customers eyeing an all-new Chevy.
>>> Click to keep updated with exciting deals & promotions from all car dealerships nationwide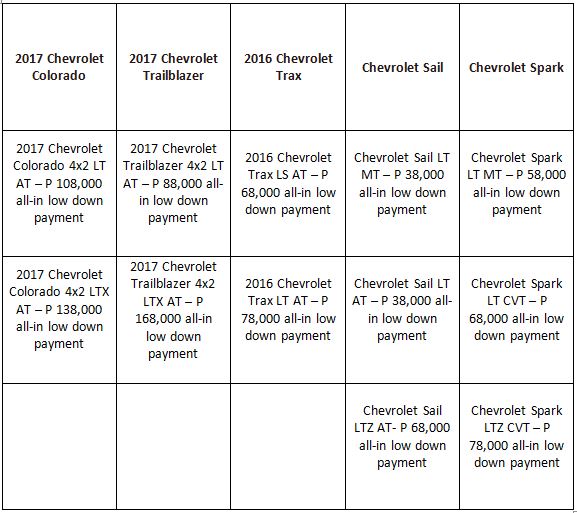 Select Chevrolet vehicles for the Chevrolet Truck Month Promo
Finally, Chevy customers are in for a treat as TCCCI has announced that this promo will extend up until September 30, 2017. Promo includes Chattel Mortgage fees, 3-year LTO registration, and free comprehensive insurance.
See also:
The New 2017 Chevrolet Trailblazer
Know more about Chevrolet

Chevrolet Philippines currently has over 29 dealerships nationwide and a highly-awarded portfolio. The brand has been recognized for having excellent Vehicle After Sales Services in the country for two consecutive years (2011 and 2012), granted by the independent award-giving body, J.D. Power Asia Pacific. Stay up to date on your favorite Chevrolet models through Philkotse.com. Everything you need to know about your vehicle of choice is now all in one place – from reviews and latest prices to special promotions. Browse through countless automotive options to find the most ideal car for you.
Recent posts