Michelin Philippines held its Safety On The Road to educate motorist about proper and safe tire inflation.
For Michelin Tires Philippines, a global in manufacturing tires, safety takes on a variety of forms. The reputation of the company is achieved through quality products and services, constant innovations delivering users' ever better safety, and awareness campaigns that raise the importance of tire maintenance to the broadest possible audience.
>>> 
The Italian company Momo Tires is the latest player that has decided to join the competition in the automotive aftermarket in the Philippines. Read our article for more information.
With that in mind, Michelin has undergone a campaign to inform motorists about the importance of inflating vehicle tires.  
Held last May 12 and 13, 2017 at the S&R Membership Shopping Center in Alabang, Michelin's tire safety campaign is also dubbed as the
Michelin Safe On The Road
. This name is technically a renamed version of Michelin's already successful
Fill Up With Air
 (FUWA) campaign. The event this year is aimed at educating motorists about the most basic steps that will ensure them safe and efficient driving on city or country roads – proper and safe tire inflation.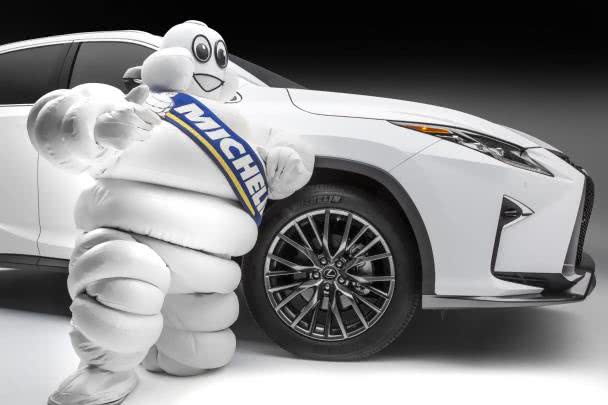 Michelin's tire safety campaign is also dubbed as the Michelin Safe On The Road
During the said campaign, Michelin offered free tire pressure check-up, free merchandise, and servicing to motorists at a special set-up at S&R with Michelin tire engineers sharing tire information and recommendations to S&R members. In the end, the event successfully serviced a total of 48 vehicles from visitors as well as S&R members.  
According to Michelin, well-maintained tires with the correct pressure are very important for
safety on the roads
, and it is necessary to ensure tires are checked regularly. The right pressure maximizes the tire's grip on the street, thus prolonging its life and increasing its safety factor. It added that under-inflated or over-inflated tires can wear down faster than expected and may lead to lesser grip, shorter tire life and fuel inefficiency, among others.  
During the 2-day event, attendees received Michelin notepads, fans, flyers and stickers. You can see the full list of Michelin's tire air pressure guideline and other tire care tips at the Michelin Safe on the Road. For those who missed this year's campaign, Michelin will be holding more Safe On The Road initiatives for the remainder of the year. 
>>> 
BF Goodrich, a familiar name in the local tire industry, is poised to make a strong comeback in the Philippines. Read our article for more details.
Michelin's tire safety campaign is aimed at educating motorists about the most basic step that will ensure them safe and efficient driving on city or country roads
Michelin Pilot Road 4 Tires Review