Ford PH will launch the Ford Ranger Raptor 2018 in the Philippines next year.
Two weeks ago, Ford announced that the Ford Ranger Raptor 2018 would hit Asia-Pacific next year. However, no official announcement yet on whether or not the Philippines will be among the next destinations for the all-new Ford pick-up truck.
2018 FORD RANGER RAPTOR ANNOUNCED
Guys, we've been waiting this moment all year long. Well, brace yourself, the highly-tuned pickup will make its debut in the Philippines in late 2018.
According to newly-appointed Managing Director of Ford Philippines Bertrand Lessard, their brand-new high-performance pickup will be seeing daylight in the Philippines' roads sometime in the near future, likely late 2018 or early 2019. The Blue Oval brand added that Filipino Ranger Raptor fans should wait for an official announcement with regard to the Ford Ranger Raptor 2018's inner workings. However, rumor has it that the new and distinctive truck will be a mix of Ranger versatility and Raptor ability and come with a beefed-up suspension system and engine.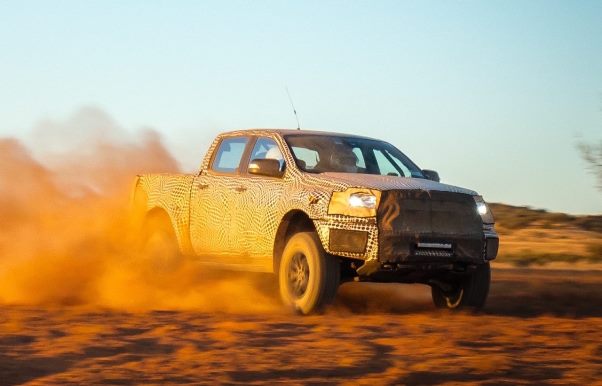 Ford Ranger Raptor 2018 confirmed for the Philippines
Initial pictures found through social media show off an increased ride height, thicker all-terrain tires, and probably Fox dampers. Accurate information about its powertrains remains a mystery though it may well likely be powered by an EcoBoost engine paired with the advanced 10-speed automatic transmission.
>>> Here on Philkotse we have plenty of used Ford Ranger XLT and other cars for sale in Lapu-Lapu Cebu, check it out!
If this is indeed our upcoming Ford Ranger Raptor 2018, then this truck won't be just a normal pick-up that gets design inspiration to make the owner's off-road beast look. Watch the video below and get to know more about the highly-tuned pick-up.
Ford Ranger Raptor is coming in 2018
Is the Ford Ranger Raptor 2018 worth your hard-earned money? No word on price, but the more money you spend, the greater car you'll get. So guys, let's enjoy it.
>>> Read more: Ford Ranger Black Edition to be limited to only 2,500 copies
Know more about Ford Ranger Raptor 2023

The 2023 Ford Ranger Raptor is a performance-oriented pickup truck. For the Philippine market, its sole variant is priced at Php 2,339,000.
Under the hood of the all-new Ranger Raptor is a 2.0-liter bi-turbo diesel that can make up to 207 horsepower and 500 Nm of torque. The engine is then paired to a 10-speed automatic gearbox sending power to all four wheels.
The 2023 Ranger Raptor is 5,381mm long, 2,028mm wide, and 1,922mm in height. It then has a wheelbase length spanning 3,270mm.
Locally, the Ranger Raptor's closest competitors are the Nissan Navara PRO-4X and the Hilux GR Sport.
Recent posts