It can go literally anywhere.
The Ford Bronco has resurrected back to life after being asleep for almost three decades. During its global launch last July, we saw that the 2021 Bronco comes with a rugged exterior look along with new tech goodies that could justify its 30-year hiatus.
Could the new Bronco live up to its iconic status? Well, based on the videos that we stumble upon, Ford's new off-roader is determined to prove that it can.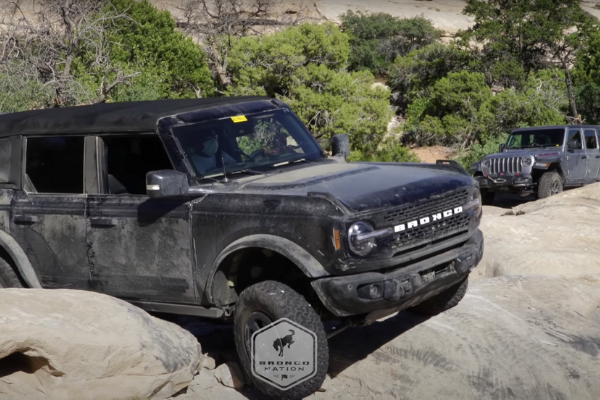 The Bronco is showing off its off-road skills to its Jeep Wrangler rival. [Photo: The Bronco Nation Youtube] 
In a video uploaded in The Bronco Nation Youtube channel, you'll see a herd of Bronco prototypes effortlessly driving through the rocky terrain in Moab, Utah.
Yup, the 2021 Bronco is not a mall-crawler and it could pretty much go anywhere. One of the Bronco prototypes was even caught in the camera as it shows off its off-roading skills in front of its Jeep Wrangler rival. Reliving the rivalry between these two vehicles could never get better than this.
>>> Related: 2021 Ford Bronco Sport unibody off-roader – Launch Specs, Details, Pricing
2021 Ford Bronco Testing | Moab, Utah | The Bronco Nation
The Bronco that's taunting the Jeep Wrangler comes with a four-door configuration that seems to be equipped with the Sasquatch package. The Bronco Sasquatch is regarded by many as the closest rival of the Jeep Wrangler.
With the said anime-sounding package, the Bronco gest a locking front and rear differentials, 35-inch mud-terrain tires, high-clearance suspension with retuned shocks, among others.
>>> Related: How the Ford Bronco has changed since 1966
2021 Ford Bronco Badlands with Sasquatch Package (4 Door) Climbing and Descending at Moab
With the Sasquatch package, the Bronco can easily drive through Moab's rocky terrain almost effortlessly. Indeed, the 2021 Bronco is true to Ford's Built Wild tagline.
The new Ford Bronco is powered by a 2.3-liter EcoBoost engine that delivers 270 hp and 420 Nm of torque that can be mated with either a 7-speed Getrag manual transmission that features a crawler gear for even the roughest terrain, or a 10-speed automatic gearbox.
The Ford Bronco is ready to take on any terrain. [Photo: The Bronco Nation Youtube]
On the other hand, the 2021 Ford Bronco can also be equipped with a 2.7-liter twin-turbo V6 EcoBoost engine that generates 310 hp and 542 Nm of torque. It is exclusively connected to a 10-speed automatic transmission. 
The 2021 Ford Bronco could be offered in the Philippines. But, we have to keep our fingers crossed as of the moment, and we could expect it to arrive in the local market in the next two years or so.  
Visit Philkotse.com to read more of the latest news, car reviews, tips and advice, and more.


Martin Aguilar
Author