DPWH gives bullet points on how to solve EDSA's horrendous traffic.
EDSA, an acronym that stands for Epifanio de los Santos Avenue is one of the congested roads in Metro Manila. It is notoriously popular for horrendous traffic jams that occur almost any time of the day. Individuals even describe EDSA as an open parking lot due to the stop-and-go traffic situation caused by the huge volume of vehicles, a scenario most evident when it's payday Friday during the Christmas season. 
Driving along EDSA at a snail's pace is expected especially before the COVID-19 pandemic. In response, the government started to come up with several ways on how to decongest EDSA. One of the solutions to address the said problem is to invest in infrastructure projects that started to be laid out during the presidency of the late Benigno "Noynoy" Aquino III. When President Rodrigo Duterte took office, his administration also showed commitment to solving the traffic along EDSA.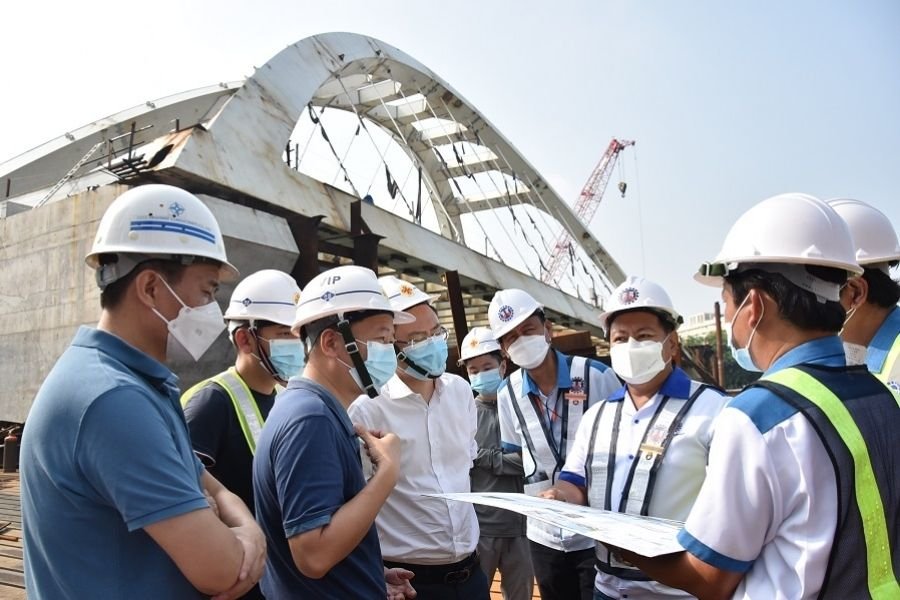 DPWH officials at the construction site of Binondo-Intramuros Bridge
President Duterte once said that he wanted his term to be the Golden Age of Infrastructure, which led to the Department of Public Works and Highways (DPWH) Build, Build, Build program. The said program includes building infrastructures that would help decongest traffic along EDSA, giving motorists an alternative route. It also aims to connect the northern and southern parts of the metropolis through elevated expressways. 
DPWH Build Build Build Committee Chairperson Anna Mae Yu Lamentillo shared several facts about the agency's EDSA decongestion program. As a quick background, Lamentillo previously worked with the United Nations Development Program, and the United Nations Food and Agriculture Organization under its Haiyan Emergency Response and Rehabilitation Program. She graduated from the University of the Philippines Los Baños with a degree in Development Communications.
Lamentillo shared 21 things on how the DPWH plans to change the traffic situation along EDSA as well as in the nation's capital. Of note, Lamentillo first shared the points mentioned below at Manila Bulletin's Opinion-Editorial published January 2021.
Here are the 21 facts about DPWH's EDSA decongestion program: 
Metro Manila is one of the world's most densely populated cities with over 42,000 inhabitants per square kilometer. EDSA has not been extended since the 1960s and has already exceeded its capacity by about 39%.
The EDSA Decongestion Program is composed of 25 projects, which include 14 expressways spanning 121 kilometers and 11 bridges spanning 9.3 km.
The mainline of the 18-km Skyway Stage 3 has already been opened to the public alongside 10 ramps – Buendia (Northbound On Ramp & Southbound Off Ramp), Osmena-Quirino (Northbound Off Ramp), Plaza Dilao (Southbound On-ramp), Quezon Avenue (Northbound Off ramp & Southbound Off-ramp), Talayan-Quezon Avenue (Northbound On-Ramp and Southbound Off-Ramp), and NLEX (Northbound Off-Ramp & Southbound On-Ramp).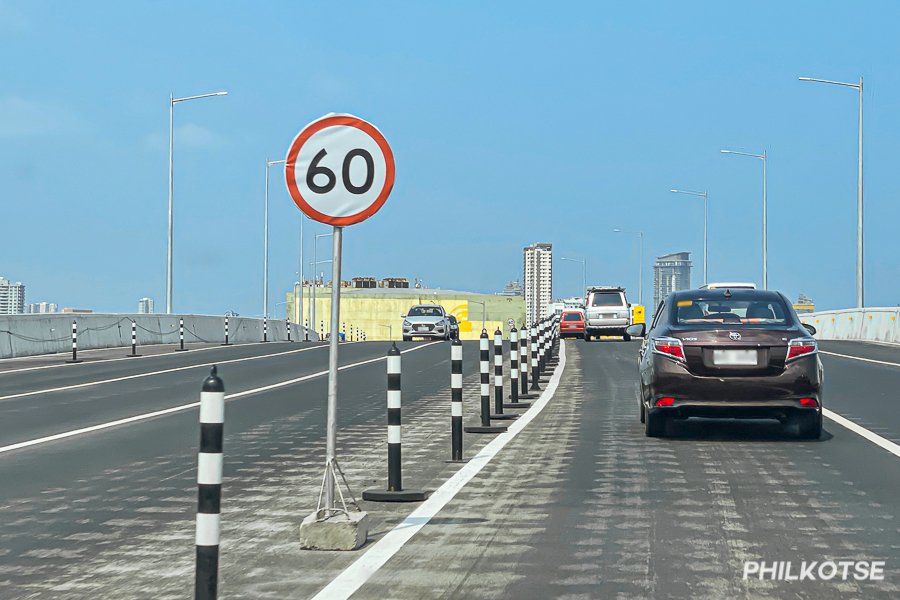 Skyway Stage 3
The Skyway Stage 3 was not completed using its original alignment, which was approved in 2014. Due to right of way difficulties, it had to be realigned following the San Juan River alignment. This was approved via a Memorandum of Agreement, which was signed on October 25, 2018. Prior to this, site possession for the entire project was only at 8.64%.
The Memorandum of Agreement signed by San Miguel Corporation included an interconnection structure between Metro Manila Skyway Stage 3 and the NLEX SLEX Connector. This is the first time in Philippine history that expressways operated by different concessionaires — as in this case, San Miguel Corporation and Metro Pacific — will interconnect.
Ten ramps of Skyway Stage 3 are still being constructed – Quirino (northbound on-ramp), Plaza Dilao (southbound off ramp), United Nations (southbound off-ramp),  Nagtahan (northbound off-ramp, northbound on-ramp), Araneta (northbound on-ramp, southbound off-ramp), and C3 (northbound off-ramp, southbound on-ramp and southbound off-ramp).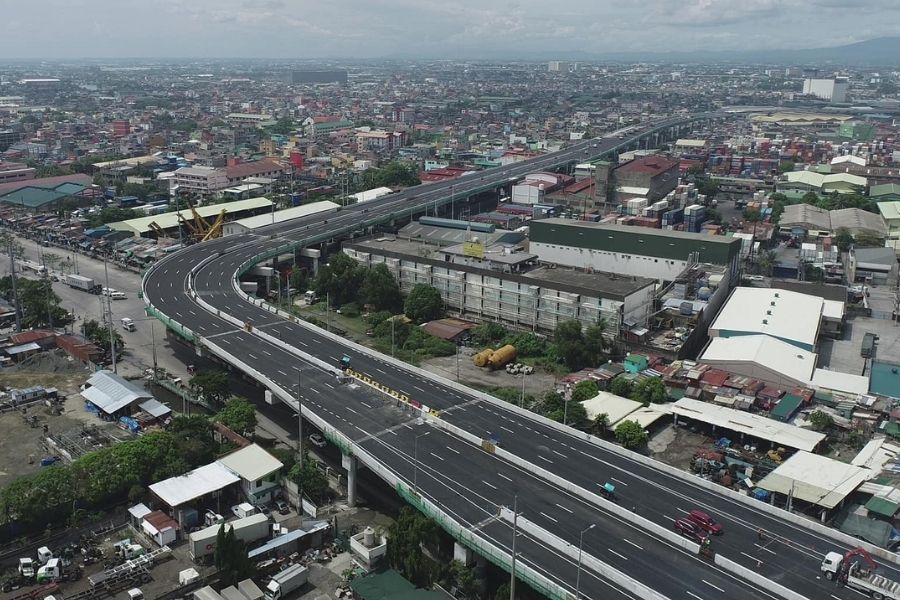 NLEX-Harbor Link
The NLEX Harbor Link Segment 10, a 5.58-km expressway connecting MacArthur Highway and C3 road, will interconnect with the Skyway Stage 3 via the NLEX – SLEX Connector Road, an 8-km expressway connecting the end of Segment 10 in C3 Road in Caloocan to PUP Sta Mesa in Manila.
The NLEX – SLEX Connector is utilizing the Super T Technology which would reduce construction schedule by about one year. The first five – km segment from C3 road to Espana is expected to be completed within the year.
The 2.6-km NLEX Harbor Link C3-Radial Road 10 Spur Link spanning from C3 road in Caloocan to Radial Road 10 in Manila was the first project to be completed following the new COVID-19 protocol. It has effectively reduced travel time from Quezon City to Manila from 2 hours to only 20 minutes.
The extension of Harbor Link Segment 10 to R-10 in Manila was strategic following the completion of the 4.75-km Radial Road 10 expansion, a project which spanned seven presidents due to right of way issues.
The NLEX Harbor Link Segment 8.2 is an 8.35-km 4-lane divided expressway from Segment 8.1 at Mindanao Avenue to Commonwealth Avenue.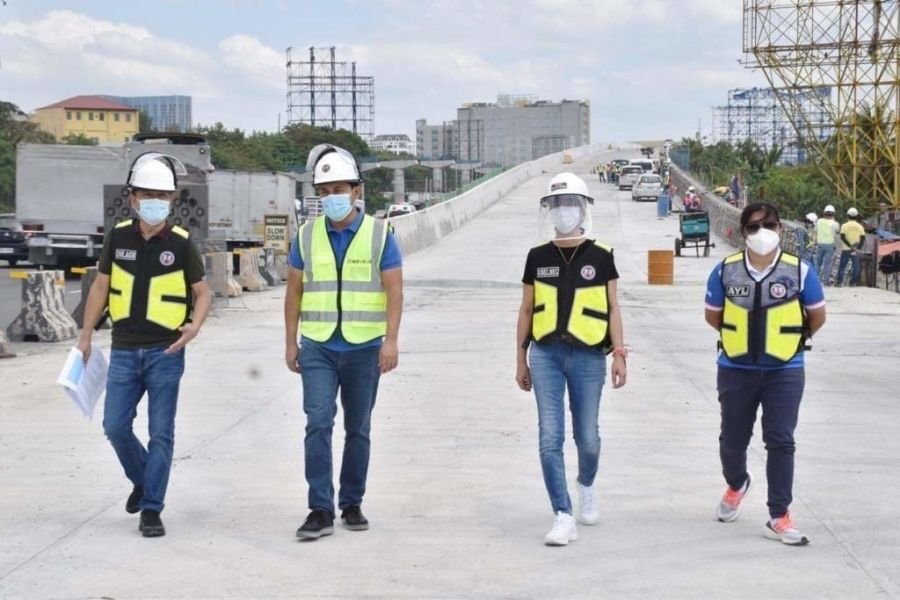 Alabang-Sucat Skyway Extension
The Alabang-Sucat Skyway Extension will build two additional lanes from Sucat Main Toll Plaza to Susana Heights. The project is now at 47% and will be delivered within the year.
The first segment of the 7.7-km C5-South Link Expressway Project from Merville to C5 or SLEX was completed last July 2019. This will eventually interconnect to Radial Road 1, Sucat Interchange and E. Rodriguez.
The Southeast Metro Manila Expressway is a 32.664-km toll road expressway from Taguig to Batasan Complex in Quezon City. It will reduce travel time from Bicutan to Batasan from 1 hour and 50 minutes to only 26 minutes.
The 6.94-km Laguna Lake Highway is the first toll-free expressway in Metro Manila with segregated bicycle lanes. It effectively reduced travel time from Taytay in Rizal to Bicutan from 1 hour to only 30 minutes.
The Fort Bonifacio-Nichols Field Road (Lawton Avenue) involves the widening of the 3.3-km Nichols Field Road. The project which is already at 60% is expected to be completed in 2021.
The Mindanao Avenue Extension is a 3.2-km highway which will reduce travel time from Quirino Highway to General Luis Avenue from 1 hour and 30 minutes to only 20 minutes.
The widening of the 1.086-km Samar Street was completed last December 2018.
The 680-meter Binondo Intramuros Bridge, which will connect Intramuros and Binondo via a viaduct, will be equipped with pedestrian infrastructure.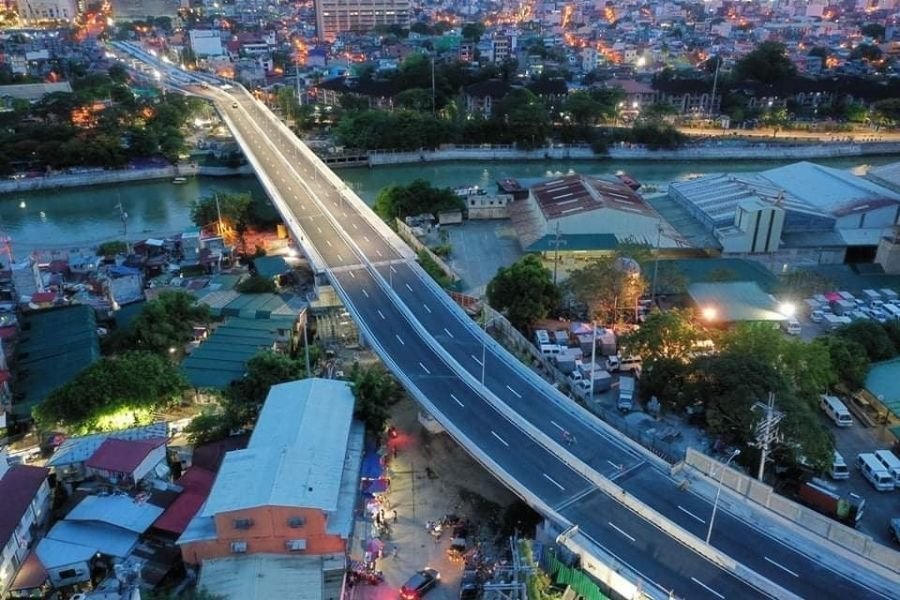 Kalayaan Bridge is part of the BGC Ortigas Link
The BGC Ortigas Link Bridge which will connect Lawton Avenue in Taguig and Sta. Monica in Pasig will be completed within the year. Soon, travel time from Bonifacio Global City to Ortigas Central Business District will only be 12 minutes.
The 506-meter Estrella-Pantaleon Bridge will link Estrella Street in Makati and Barangka Drive in Mandaluyong within 10 minutes.
On the other hand, DPWH Secretary Mark Villar expressed that the agency is confident in making the EDSA decongestion program a success come 2022. As of this writing, the DPWH is looking to complete several projects that include the following: Binondo-Intramurios Bridge, Estrella-Pantaleon Bridge, BGC-Ortigas Link, Central Luzon Link Expressway, among others. 
Visit Philkotse.com for the latest traffic updates, and automotive news.

Martin Aguilar
Author
Recent posts