Behold! The fastest lawn mower with a Guinness World Record is Honda Mean Mower V2
Honda reclaims the Guinness World Record of fastest lawnmower with the Mean Mower V2. Guess how fast it went.
Here in the Philippines, lawn mowers are a rare sight and you might only see one of these in some parks or golf courses.
Typically, lawn mowers are slow and cheaper and smaller mowers actually still require human power. I.e. pushed. A residential riding mower looks like a miniature tractor and despite being able to take one passenger, is still very slow and are not actually street legal.
What's common here in the Philippines however are Hondas. Be it passenger cars, motorcycles, or mechanized tools, Honda's have been around here on our islands for a long time.
Also of note is that most amateur racers actually prefer Hondas here in our country because of their affordability, abundance in parts and of course, their durable engines.
What do Honda and lawn mowers have in common? Well aside from cars and motorbikes, Honda typically builds and sells excellent lawn mowers. According to the latest car news, mad scientists from Honda have built a lawnmower to beat all mowers that came before it.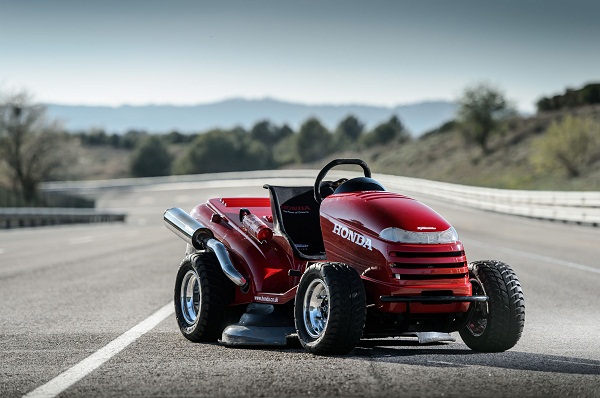 While some people might not take this seriously, this feat serves to further cement how dedicated and the creature the folks at Honda are!
1. Honda Mean Mower V2: Introduction
Now the Mean Mower V2 recently won back the Guinness World Record for the fastest lawnmower which it the Japanese auto company had previously won way back in 2014 at 187 kph.
And in doing that, the said mower hit a face melting 100 mph/160 kmph in 6 seconds! That's blisteringly fast. It's faster even than the Honda Civic VTEC RS Turbo and even an Audi R8.
So how did Honda achieve this? Let's find the answer with Philkotse.com. 
2. Honda Mean Mower V2 specs
The Honda mower which the Mean Mower V2 is based on is the HF2622 which uses a very benign 22 horsepower, 0.7-liter 4 stroke engine that can go up to a measly 8.2 km/h. Slow yet it excellently cuts grass for hours and hours without you tiring out.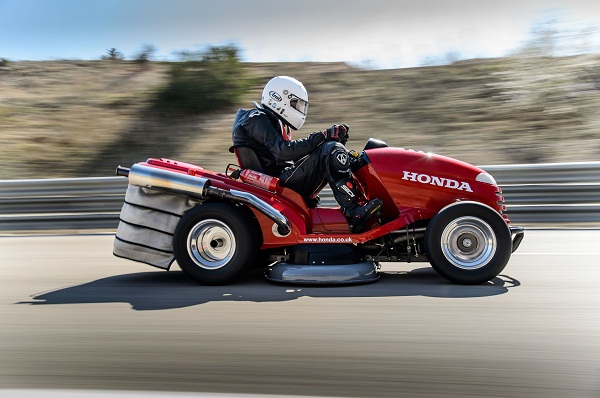 Honda Mean Mower 2 is even faster than an Audi R7
What the boys at Honda did was to take out the original engine with a 190 horsepower CBR1000RR engine. Besides, they also installed the CBR1kR's gearbox, clutch, ECU and even the LCD display panel.
Take note that the stock mowers weights about 272 kilograms. The Mean Mower V2 in comparison only weights about 70 kilograms. That's an incredible 3 horsepower per kilogram.
Now to handle all that power and to give the mower a little bit more handling, Honda gave it a custom frame thus explaining the very light dry weight. Also to provide all the grip it needs, it has custom Hoosier tires which of course are slicks.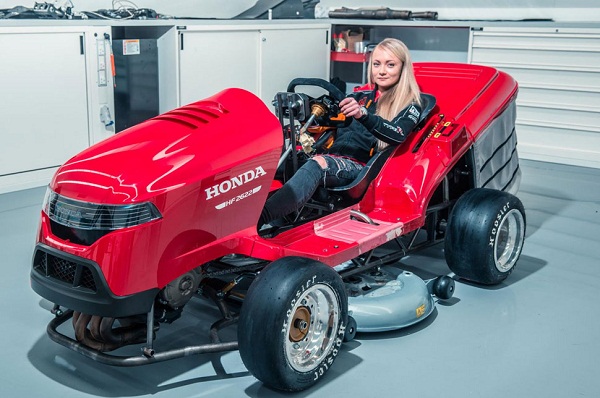 The supremely talented Jess Hawkins together with the record-breaking Mean Mower V2
And get this: the Mean Mower V2 even after all those modifications can still cut grass because as it turns out, they didn't actually remove the batteries necessary to make the carbon fiber grass cutting blades to do their job.
Another very important part of the Mean Mower V2 is the driver and it is Jess Hawkins, a very experienced racer who also dabbled in stunt driving, and kart racing.
3. Honda Mean Mower V2: The  Guinness record
Now as per the Guinness World Record Rules, the mower in question should still look like a lawn mower. As such, the engineers didn't change the grass box, the body paneling, and many other parts.
Fastest Lawnmower with Guinness World Records™! Honda Mean Mower reaches 100mph in 6.285 Seconds
They did the record-setting run at the Lausitzring and as we've said, it hit 0-100 mph in exactly 6.43 seconds and attaining a top speed of 150.99 mph. That's 242 kph! Imagine the jitters an ordinary person would get from driving that thing!
Prior to Honda winning back the record, some mad Norwegian blokes made a V8 swapped STIHL T6 and managed to do 215 kph. Suffice to say, Honda still means business when it comes to speed. As a final word though, we doubt that this is the last we will hear of the lawn mower speed war.
>>> Refer to our Honda cars for sale section to look for the best deal.
Author
Cesar learned how to drive a car years before he got his license. Today, he's still looking for that perfect '90s Japanese coupe to drive into the sunset while listening to Crazy Little Love by Nuage. Also has a thing for badass off-road vehicles and weird engine swaps.
Recent Posts