Mitsubishi Philippines has some tempting deals for November.
The Mitsubishi Montero Sport is still among the best-selling midsize truck-based SUVs in the market. Its combination of futuristic looks, sophisticated features, and formidable off-road performance helped in propelling sales for the month of October.
Celebrate your Christmas with a new Mitsubishi vehicle
For the last quarter of 2020, Mitsubishi Motors Philippines Corporation (MMPC) has an early Christmas gift to its customers, offering the top-spec Montero Sport GT 4WD A/T variant for just Php 2,220,000. That's a whopping Php 230,000 cash discount from the Php 2,450,000 retail price. Those opting for financing are also in for a treat, with zero interest for 36 months on just a 30 percent downpayment.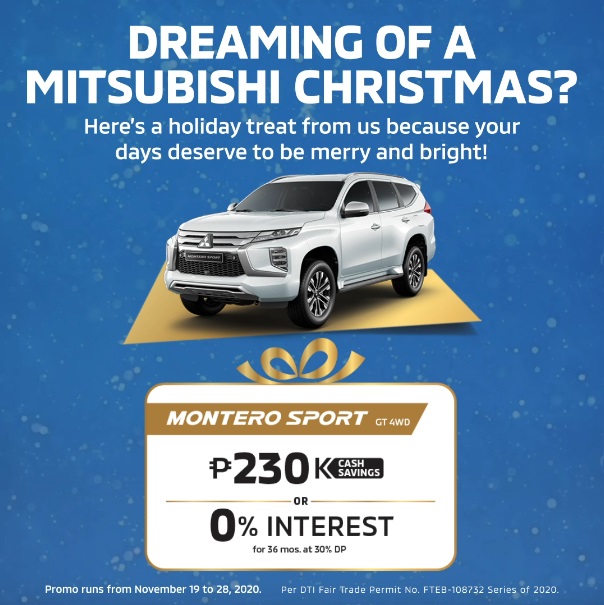 That's quite a generous discount for a loaded SUV
But the Montero Sport isn't the only dream Mitsubishi vehicle up for grabs under the promo. There's the Mitsubishi Mirage G4, which made waves for its small footprint yet big impact in terms of practicality and fuel economy. Customers can avail of this subcompact sedan's base GLX M/T variant at just Php 13,335 for 72 months with BDO's Low monthly plan, on a 20 percent downpayment. BPI's Step-Up Pay plan also offers a low of Php 13,491 monthly for the first year of financing.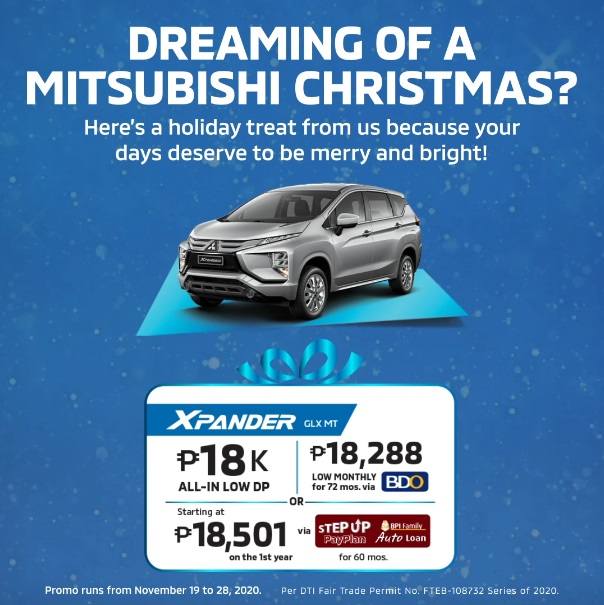 The base Xpander variant can be yours for just a low downpayment of Php 18,000
If you're looking to combine the Montero Sport's interior space with the Mirage G4's maneuverability, the Xpander is for you. Mitsubishi's top-selling MPV in the country is also available at special rates, with the entry-level GLX M/T trim offered all-in with just a downpayment of Php 18,000. Financing through BDO Low monthly plan only costs Php 20,396 monthly for 60 months or Php 18,288 monthly for 72 months, both on just a 20 percent downpayment. Under BPI Step-Up Pay, the Mitsubishi Xpander comes at Php 18,501 for the first year of financing, still at a 20 percent downpayment.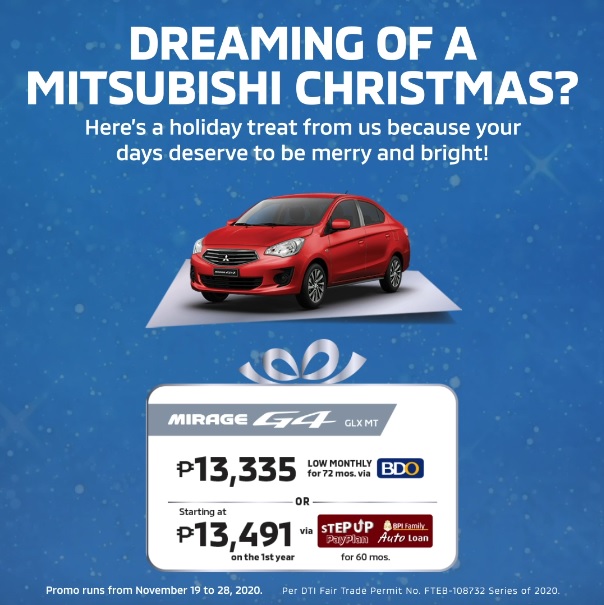 You'll save on more than just fuel costs with the Mirage G4
This is simply too good a deal to miss. But you'll want to act fast, since the promo runs until November 30, 2020, only. Visit your nearest authorized Mitsubishi Motors dealer or log on to mitsubishi-motors.com.ph for more details.
---
This story was produced in partnership with Mitsubishi Motors Philippines Corporation.
Know more about Mitsubishi

The most in-demand models of Mitsubishi in the Philippines are the Mitsubishi Xpander, Mitsubishi Mirage, Mitsubishi Mirage G4, Mitsubishi Pajero, Mitsubishi Montero Sport, Mitsubishi Strada, and Mitsubishi L300. You can browse Philkotse.com to learn more about Mitsubishi models, the latest prices, and available promos, as well as the latest news, reviews, updated specs, and other information.

Joseph Paolo Estabillo
Author
Joseph has been a member of various car clubs since he got his driver's license in 2004 – old enough to remember riding in taxicabs with analog meters, but his fascination with cars goes way back. After nearly two decades of working in broadcast media, he shifted gears by coming on board as Philkotse's first Filipino member and staff writer in 2017.
Apart from his role in Philkotse, Joseph has written episodes for Drive, which has been airing on CNN Philippines for five seasons running. He has also delivered content for various car dealerships based in the U.S., spanning multiple brands such as Alfa Romeo, Maserati, Jeep, Dodge, among others.
Keeping his hopes high and his revs low, he dreams about owning a Kei car when he retires. Hates slow parkers.