It is offered with two distinct body kit variants.
On August 31, Toyota Motor Corporation released the 2021 Yaris Cross in the Japanese auto market. Toyota said that the Yaris Cross is designed with refined proportions that provide its stylish crossover presence on the go.
It didn't take long before Modellista released body kits for the newly released crossover. Modellista is a company that designs aftermarket automotive parts for both Toyota and Lexus vehicles.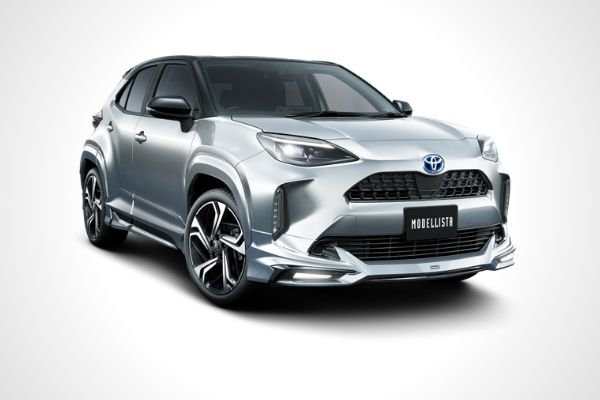 Toyota Yaris Cross Advance Robust Style (front)
Modellista offers two body kit options for the Yaris Cross, namely the Advance Robust Style and Elegant Ice Style. The Advance Robust Style option, as the name suggests, provides a stronger look with larger body kits as compared to the Elegant Ice Style body kits.
>>> Related: 2021 Toyota Yaris Cross unveiled with AWD, hybrid to stir B-segment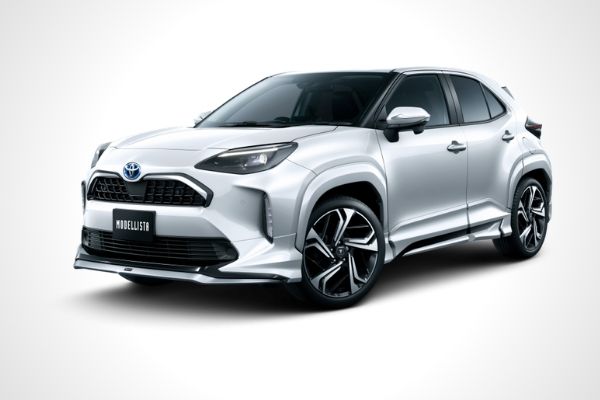 Toyota Yaris Cross Elegant Ice Style (front)
At the front, the Advance Robust Style variant is equipped with a full-width front bumper that comes with shark fin-like profiles and LED fog lights. While the rear is equipped with split roof spoilers and twin trapezoidal exhaust tips on the variant-exclusive rear skirt.
On the other hand, the Elegant Ice Style comes with a less is more type of design. This variant is equipped with garnishes from the front to the back instead. The Elegant Ice Style variant also offers an exclusive 16-inch alloy wheelset.
>>> Related: Here's what the new Toyota Yaris Cross looks like in the metal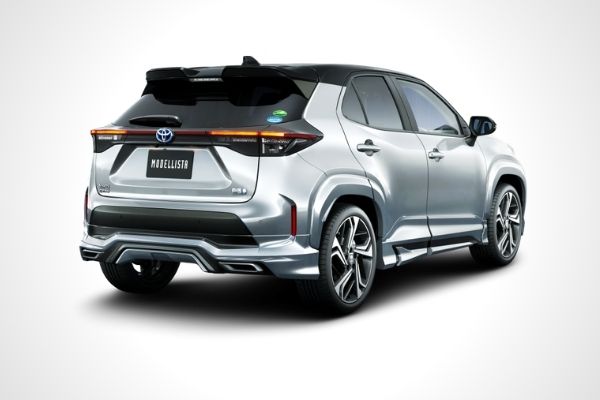 Toyota Yaris Cross Advance Robust Style (rear)
As for paint finish, the Advance Robust Style and Elegant Ice Style variants are both available with white pearl crystal shine, silver metallic, black mica, sensual red mica, with white pearl crystal shine with black mica roof, silver metallic shine with black mica roof, and sensual red mica with black mica roof.
>>> Related: TOYOTA YARIS 2014 FOR SALE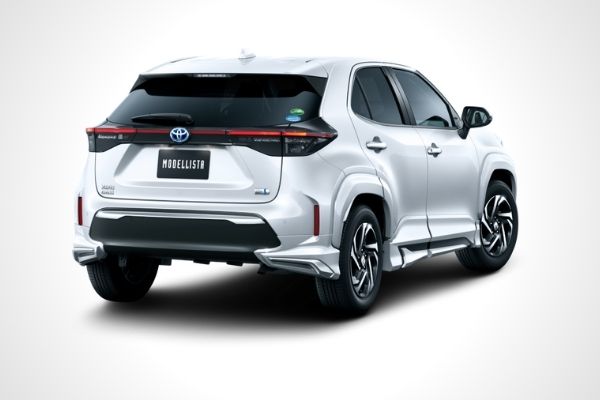 Toyota Yaris Cross Elegant Ice Style (rear)
The two Modellista body kit variants are purposely designed differently. Interested customers could either go for the Advance Robust Style variant that establishes a more commanding SUV presence on the road, or for the Elegant Ice Style variant that a more subtle yet sophisticated look.
Here at Philkotse.com, we value your interest in the automotive industry. Visit our website to find out more.
Know more about Toyota Yaris 2021

Toyota Yaris is another subcompact hatchback offering from Toyota. It is a perfect vehicle for individuals with an active lifestyle because of its youthful vibe. The current version of this subcompact hatchback looks stylish and modern compared to its predecessor. The redesigned front exudes a premium and very trendy look. Inside, the five-seater Yaris features a 6.75-inch touchscreen entertainment display, and a 60:40 foldable rear seat to make additional room for the already spacious 326-liter cargo space. This subcompact hatchback is known for providing exceptional in-cabin comfort levels. The spacious cabin, particularly at the rear part, is massively impressive, considering the car size. The seats also offer under-thigh support and great cushioning. ABS with brake assist and brake distribution, complete set of airbags, and immobilizer with alarm are a standard feature in the Toyota Yaris. Toyota Yaris provides two engine options. The first option is the smaller 1.3-liter with an output of 98 hp and 124 Nm of torque. The second one is a bigger 1.5-liter unit that produces 106 hp of power and torque of 140 Nm. It comes in a total of two variants with base variant price at Php 973,000.

Rex Sanchez
Author