Performance-ready sedan.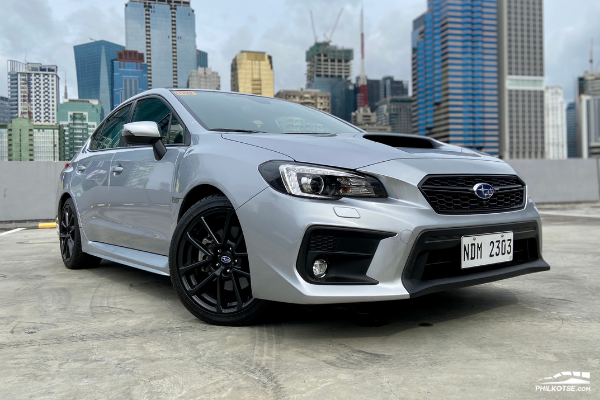 In this review...
Overview

Exterior

Interior

Technology

Safety

Engine

Conclusion

Price and Variants

Specs
2020 Subaru WRX 2.0L CVT Philippines: Overview
The appeal of five-door compact sedans in the local market has relatively surpassed its prime. Compact sedans were once among the popular choices as designated family vehicles, especially during the '90s.
However, the recent market trend shows that Filipino car buyers are attracted to purchase pickup trucks, midsize SUVs, and seven-seater MPVs since these types of vehicles come with a more attractive price tag. Not just that, midsize SUVs and MPVs are vehicles that can accommodate up to seven occupants, which is a big deal when you're in a country that has a family-oriented culture.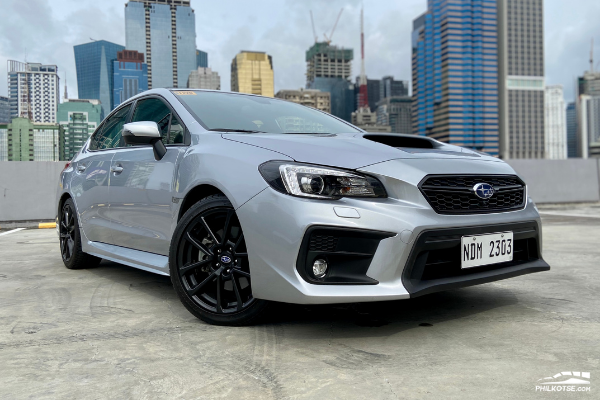 The 2020 Subaru WRX 2.0 CVT
However, there are several sedans in the local market that could give you a change of heart. Driving one, especially a sports sedan, gives you on point power delivery, good handling, and quick acceleration. This is what we felt when Subaru Philippines lent us the keys of the 2020 WRX. To know more about it, here's Philkotse's 2020 Subaru WRX Review Philippines.
>>> Latest update: 2021 Subaru WRX STI: Expectations and what we know so far
Overall exterior & Interior design, build quality, form vs function

Number of safety & tech features, consistency during usage

Power delivery, acceleration, transmission, suspension, handling

Overall Ride Comfort, Space, Storage Areas

Sticker price vs overall package
2020 Subaru WRX 2.0L CVT: Exterior Review
The Subaru WRX comes with an aggressive-looking exterior that has angular styling cues and sharp lines. Just by looking at it, you can already tell that this vehicle is packed with sporty characteristics that Subaru car is known for.
The front end of the 2020 Subaru WRX exterior is one of the things we like most since it gives the impression that it's always ready to go for a slugfest. The angular bumper along with the grille and the sharp-looking headlights make the vehicle look aggressive and sporty.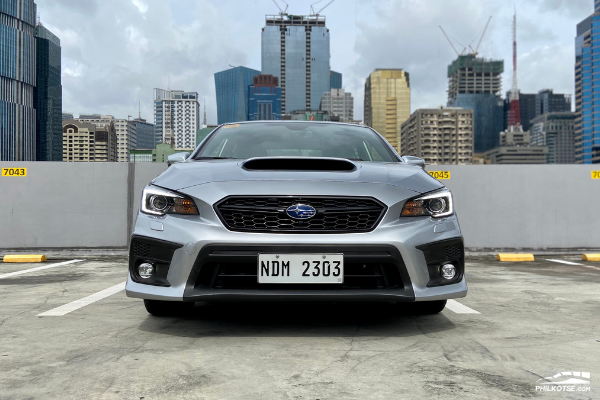 The Subaru WRX comes with an aggressive fascia
The C-shaped daytime running lights further highlight the WRX's sporty character. Moreover, the black trims fitted on the front end complements the overall look. We're glad that Subaru didn't go heavy on putting chrome trims into this car. You also can't help but notice the WRX's hood scoop, which further adds to its sporty demeanor.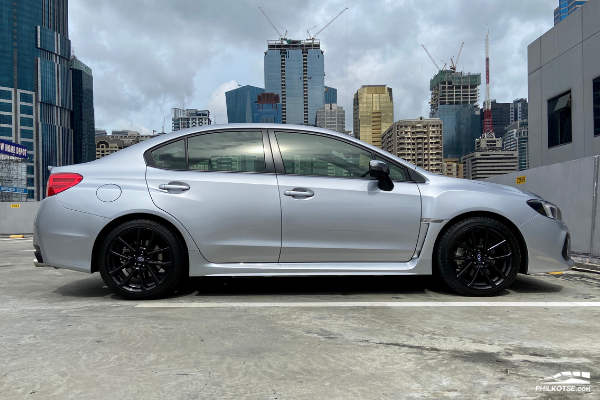 Sharp character lines and 18-inch black alloy wheels complement each other well
The side of the Subaru WRX comes with sharp character lines that give the vehicle a sort of clean look. The aggressive and angular styling of the front is continued to be seen at the WRX's side skirts. You can also see that it has prominent fender flares, which add muscle to the WRX's overall look. Moreover, this WRX comes with a set of 18-inch black alloy wheels, which stands out due to the silver paint finish of the car.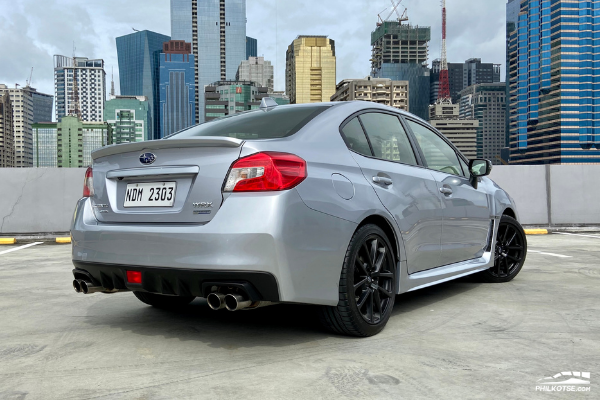 Look at that twin dual exhaust pipes
The rear of the WRX is more conservative as compared to its front end but that doesn't mean that it's lacking in terms of styling. However, we think that the design of the WRX's taillights is too simple and is not intimidating enough, especially when you compare it with the ones fitted in the Honda Civic Type R.
Despite its simple look, it goes well with the overall rear design of the vehicle. And oh, this WRX comes with twin dual exhaust pipes and a rear diffuser, which make the car even more sporty looking. Overall, we like the design of the 2020 Subaru WRX exterior. Its aggressive fascia, angular styling cues, and sharp character lines certainly make the WRX a looker.
YOU MAY WANT TO READ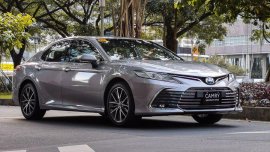 Model Price Philippines
₱ 2,402,000 - ₱ 2,417,000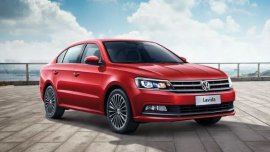 Model Price Philippines
₱ 1,171,000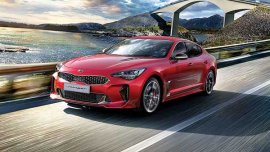 Model Price Philippines
₱ 3,235,000
2020 Subaru WRX 2.0L CVT: Interior Review
Inside, the 2020 Subaru WRX features a dark interior theme along with subtle splashes of silver and glossy black trims. The headliner also comes in black, which complements the whole cabin theme. The 2020 Subaru WRX interior comes with a straightforward design however you might get a bit confused when you're toggling and searching for the usual buttons such as the trip computer switch.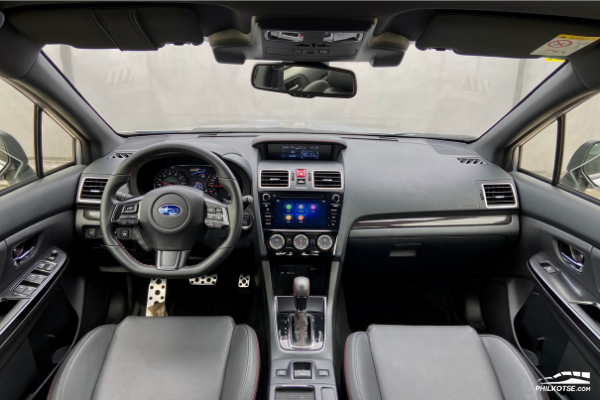 The WRX comes with a dark interior theme
Yes, it has a straightforward design but it also comes with several buttons and vehicle information that you'll only see on a Subaru. In addition, the leather steering wheel of this WRX is integrated with several controls such as the audio switch, voice command, Subaru WRX drive modes, cruise control, lane departure warning, among others. It also has toggle switches on the left-hand side of the steering wheel that lets you control or set up certain vehicle functions via the instrument cluster. It might take you some time to get used to all the buttons with its corresponding function but they're not that difficult to get familiar with it.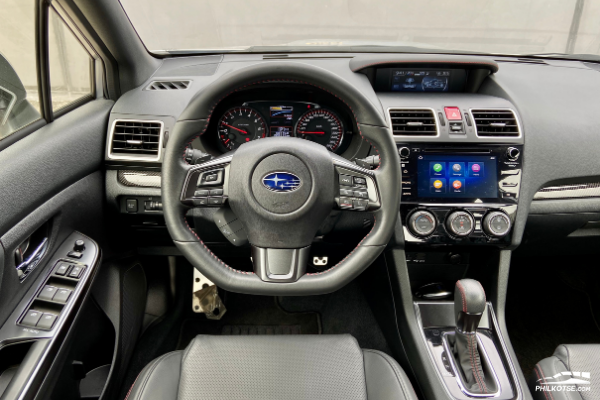 The steering wheel is integrated with several buttons
The Subaru WRX 2020 comes with leather seats, and it can accommodate up to five individuals. The rear leg- and head-rooms are good especially when there are only two passengers sitting at the back. Yes, you can fit three individuals standing 5'7" at the rear passenger area but it will be a tight squeeze back there. Aside from compromising the leg- and head-room, fitting three individuals at the rear passenger area will also affect the elbow room.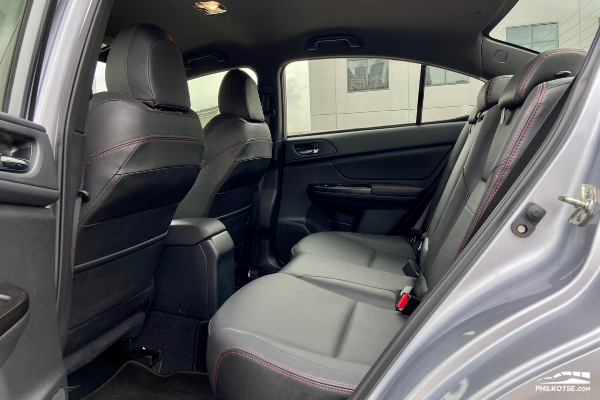 Rear passengers get enough leg- and head-room
>>> Related: What's new with the 2020 Subaru WRX?
2020 Subaru WRX 2.0L CVT: Technology Review
This 2020 WRX is equipped with Subaru's EyeSight driver-assist technology. The said tech helps you have a safer drive by assisting and alerting you when the system picks up something unusual or hazards while you're on the road.
The EyeSight tech is like your co-pilot or to some extent like your parents that watches your every move behind the wheel. Most of us can relate to how some parents are when they're your passenger, right? In my experience, I usually hear the following statements whenever I'm behind the wheel and they're my passenger:
"Watch out you're drifting out of lane;" "Heads up pedestrian crossing, huy may tatawid;" "Keep a safe following distance, wag mo itutok." Annoying? Sometimes. But, this is one of the perks when you're on board with back-seat drivers. Speaking of which, Subaru's EyeSight technology is like your parents that stay alert at all times and give you precautionary reminders whenever you're behind the wheel.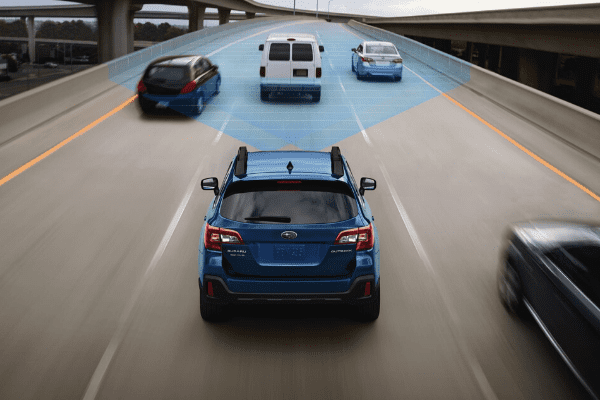 Subaru EyeSight. [Photo for reference only]
The Subaru EyeSight technology includes features such as adaptive cruise control, pre-collision braking, pre-collision throttle management, lane departure & lane sway warning, and lead vehicle start alert.
During our time with the WRX, we got to try some of its features such as the adaptive cruise control, which automatically controls accelerating and braking when engaged. The lane departure warning also works well, especially when you're driving along the open highway.
2020 Subaru WRX 2.0L CVT: Safety Review
Aside from the EyeSight tech, this WRX is equipped with several safety features that will make your drives even safer. It comes with dual front, curtain, and knee airbags, which will help protect you when the need arises. It also has the standard antilock braking system with electronic brake-force distribution, brake assist system, rear vehicle detection, among others. Indeed, the WRX is more than just a performance-ready car as it is also a vehicle that values overall occupant safety, which is one of the things Subaru is known for.
>>> Related: Top 10 diesel sedans available in the Philippines
2020 Subaru WRX 2.0L CVT: Engine Review
Under the hood, the 2020 WRX is equipped with a 2.0-liter gasoline engine that generates 264 hp and 350 Nm of torque. The engine is connected to a continuously variable transmission (CVT) that sends power to all four wheels. Yes, this WRX comes with an all-wheel-drive setup.
The 2020 Subaru WRX is a fun car to drive. It is made for individuals who are looking for a car that's always performance-ready. This WRX gives you on point power delivery without compromising vehicle stability and overall in-car safety.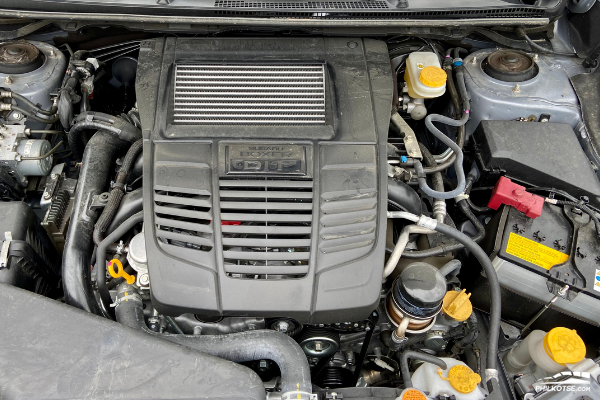 The WRX has a 2.0-liter engine that puts out 264 hp and 350 Nm of torque
As such, there's no doubt that one of the notable features we like is the WRX's power delivery. It gives you the right amount of power whenever you ask for it. It accelerates quickly too even when it's driven with the Intelligent Mode engaged, which is one of the three driving options available. The other two drive modes are Sport and Sport Sharp. The Intelligent Mode is considered to be the most tamed drive mode while the Sport Sharp delivers the maximum performance the WRX can give.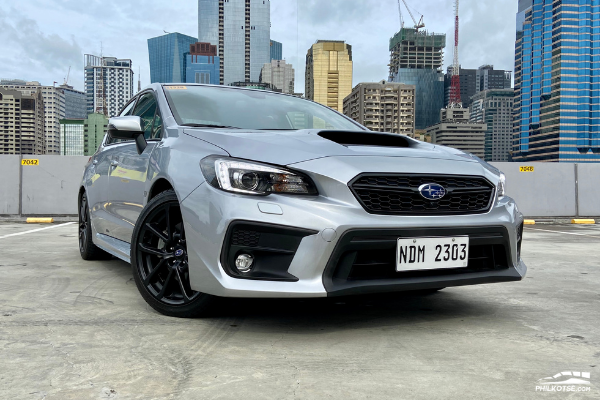 The WRX's fascia looks good at any angle
When driven out on the open highway with the Intelligent Mode engaged, the engine rpm sits below the 2,000 rpm mark while running at 90 km/h. The engine is not stressed and it is as if the WRX is urging you to apply more pressure on the gas pedal. During this run, we managed to register a fuel economy of 14.3 km/l.
On the other hand, the WRX transforms into a different machine when you engage the Sport Sharp Mode. It becomes quicker and accelerates even better, which gives you the confidence to pass slower vehicles upfront. The steering wheel also becomes firm when you speed up, giving you optimum control of the vehicle.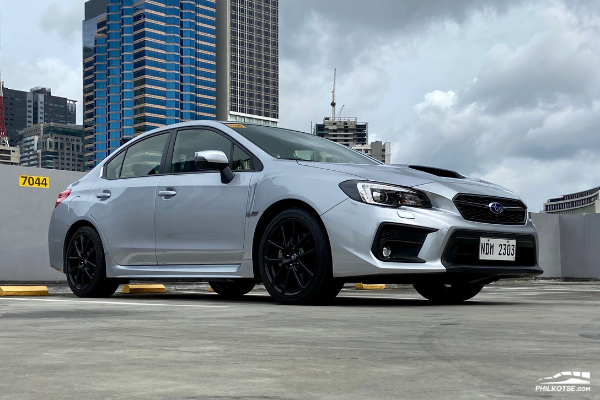 Chillin' like a boss
Of note, the WRX comes with a track-tuned suspension. This means that this car is a performance-oriented machine. As such, its suspension leans on the stiff side, which means that you'll feel the road more and ride comfort might not be as smooth as you expect. However, it comes with a light steering feel that will make your city drives more bearable.
Plus, it comes with boatloads of safety features thanks to the EyeSight tech. And oh, this WRX comes with an auto-hold vehicle road feature, which will come in handy during stop-and-go traffic on an inclined road.
You can take your foot off the brake pedal and the vehicle won't move back. But, despite having this feature, it's best to always have full control of the vehicle. In terms of fuel economy, we got 9.4 km/l while driving at an average speed of 45 km/h in the city.
>>> Related: Subaru SPEED offers car shopping right at your fingertips
2020 Subaru WRX 2.0L CVT Philippines: Conclusion
Indeed, the 2020 Subaru WRX can give you a change of heart by making you realize that you're missing the stuff and the performance a sedan can give you. This WRX is a performance-ready car that comes with a lot of technology that will make your drives safer. However, owning this car is not that cheap. With its price tag of Php 2,158,000, you can already get yourself a midsize SUV such as the Ford Everest or two brand-new units of the Honda BR-V S CVT variant. Yes, two brand-new BR-Vs.
2020 Subaru WRX 2.0L CVT: Price and Variants
Subaru WRX Price in the Philippines - 2020
| | |
| --- | --- |
| Variant | Price |
| Subaru WRX 2.0 CVT EyeSight | Php 2,158,000 |
| Subaru WRX STI 2.5 6MT | Php 2,848,000 |
2020 Subaru WRX 2.0L CVT Philippines: Specs
Overall

Make

Subaru

Name

WRX 2.0 CVT EyeSight

Body Type

Compact Sedan

Dimensions & Weight

Lenght

4,595 mm

Width

1,795 mm

Height

1,475 mm

Wheelbase

2,650 mm

Ground Clearance

135 mm

Engine & Transmission

Type

2.0L Turbocharged Gasoline

Engine Displacement

1,998 cc

Max Power

264 hp @ 5,600 rpm

Max Torque

350 Nm @ 2,400 - 5,200 rpm

Transmission

Lineartronic CVT

Fuel Tank Capacity

60 liters

Chassis & Suspension

Brakes (Front / Rear)

Ventilated Discs / Solid Discs

Suspension (Front / Rear)

Inverted MacPherson Struts / Double Wishbone

Exterior

LED Headlamps with Auto Leveler

Front LED Fog Lamps

Dual Twin-Tail Muffler

Shark-fin Antenna

Power-Folding Door Mirrors with LED Turn Signal

Side Sill Spoiler

Headlamp Washer

Rear Diffuser

Trunk Lid Spoiler

LED Daytime Running Lights

Rear Fog Lamp

Safety

4-Sensor / 4-Channel ABS with Electronic Brake-Force Distribution

Active Torque Vectoring

Brake Assist

Brake Override

Engine Immobilizer

Multi-Mode Vehicle Dynamics Control System

ISOFIX Child Seat Anchors

Safety Pedal System

Side Door Reinforcement Beams

SRS Front, Side, Curtain, and Knee Airbags

Functionality & Convenience

Aluminum Pedals

7.0-inch Multimedia Touchscreen

Auto Headlamps

Auto-Dimming Rearview Mirror

Automatic Air-Conditioning

Blind-Spot Detection

Bluetooth Compatible Hands-Free System

High Beam Assist

Multi-Function Display with Boost Pressure Meter

Hill Start Assist

Lane Change Assist

Multi-Function Steering Wheel with Cruise Control

One-Touch Turn Signal

Paddle Shifters

PIN Code Access

Power Adjustable Driver's Seat

Rain Sensing Wipers

Rear Cross-Traffic Alert

SI-Drive (With S# Mode)

Push Start Button

Steering Responsive Headlights

Tilt & Telescopic Steering Wheel

USB and AUX Audio Input Jack

Voice Recognition Command

60/40 Split-Folding Rear Seats
Visit Philkotse.com to read more car reviews, automotive news, tips and advice, and more.


Martin Aguilar
Author