2019 Subaru Levorg 2.0 GT Eyesight is a luxurious station wagon that offers both performance and comfort.
In this review...
Introduction

Exterior

Interior

Engine & Performance

Safety

Price & Specs
1. Subaru Levorg 2019 Philippines Review: Introduction
Subaru, the car brand that screams performance and power. A point which even the internet and we here at Philkotse.com have recognized in recent years thanks to forum posts, memes and videos showcasing the brand's vehicles and their surprising feats.
Outperforming even bigger SUVs in towing, off-road driving, not to mention one very famous video of a Subaru climbing an insanely steep sand dune at the Silver Lakes in Michigan.
And, lest we forget, Subaru has always been the stunt car of choice for world-renowned British precision driver Russ Swift, who has been thrilling audiences yearly at the Manila International Auto Show.
Without a doubt, Subaru is a favorite among enthusiasts for almost anything from drifting, off-roading, and fun driving in general. What's surprising, however, is that many of the models in Subaru's lineup also happen to be…wagons.
Despite station wagons having a certain reputation as family cars, many Subaru models have become very popular among the younger set, mainly because of their stylish modern design and unquestionable performance. But what about the more mature drivers, those that may be old in years but still young at heart?
Presenting the Subaru Levorg.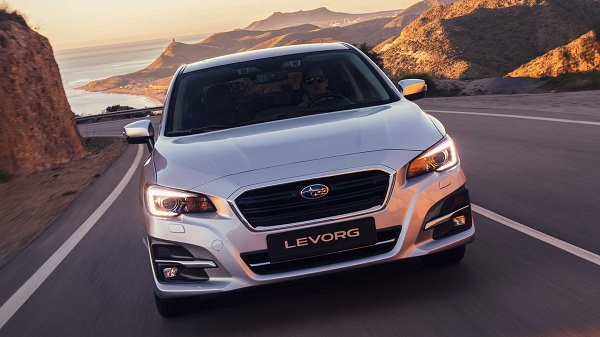 The Levorg looks good enough to rally even as a station wagon
The malevolent-sounding name is actually a portmanteau of the words LEgacy, reVOlution and touring, seemingly a reflection of the way the Levorg shares its platform with the WRX, Impreza and Legacy. It was shown first as a concept back in 2013 at the Tokyo Motor Show and was formally introduced in 2015 to the European market.
Following its launch, the Levorg had a lukewarm reception at first, as observed from the lower than expected number of orders Subaru got for this model. Still, the company isn't straying away from its direction anytime soon, as it has released the 2019 Subaru Levorg GT-S Eyesight here in the Philippines.
Let's take a closer look at one of Subaru's bold new models through our Subaru Levorg 2019 Philippines Review.
2019 Subaru Levorg 2.0 GT-S EyeSight Review: Buy This Instead Of An SUV
2. Subaru Levorg 2019: Exterior
At first glance, the 2019 Levorg GT-S Eyesight is reminiscent of the aggressive, performance-oriented look of the WRX, especially when viewed from the front; it even has that enormous hood scoop which serves to further give the impression of a high-performance vehicle.
The difference becomes apparent upon noting the overall dimensions of the 2019 Subaru Levorg exterior, measuring in at 4690mm in length, 1780mm wide, and sitting 1490mm tall.
It also has a generous 2650mm wheelbase, and these dimensions are typically found on pick-up trucks or SUVs. The Levorg's profile and rear showcase a more relaxed design which will likely appeal to people with more conservative tastes.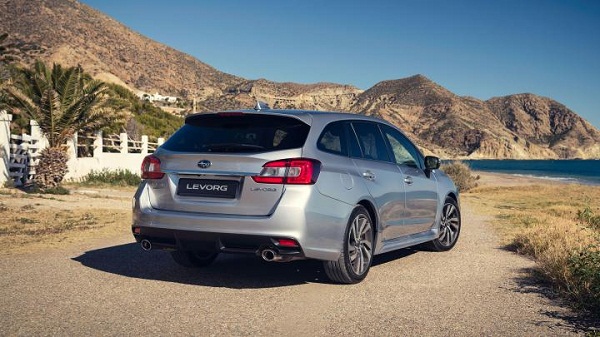 2019 Levorg 2.0 GT-S EyeSight comes with a more relaxed rear design
The Subaru Levorg exterior comes equipped with fog lights, power adjustable rear view mirrors, a sensibly-sized rear spoiler, dual exhausts, a remote fuel cap opener, and 18-inch wheels. A good-looking vehicle overall.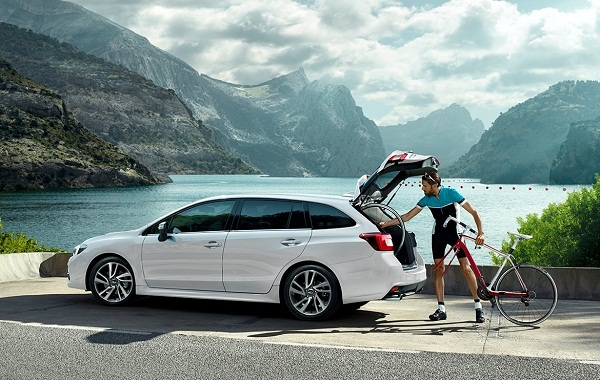 The side view of the Levorg 2.0 GT-S hints at its close relationship with the WRX
YOU MAY WANT TO READ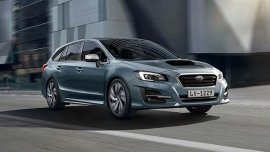 Model Price Philippines
₱ 2,098,000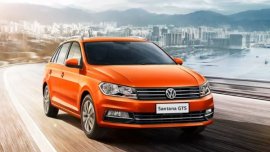 Model Price Philippines
₱ 1,029,000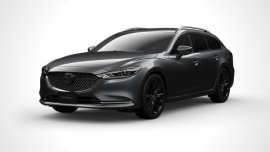 Model Price Philippines
₱ 1,995,000
3. Subaru Levorg 2019 Philippines Interior
Enter the 2019 Subaru Levorg interior, and you won't notice that many differences from the older versions.
However, you might note that Subaru has decided to ditch the gaudy chrome accents and replaced them with a much more subdued gray. What remains the same with the Levorg, however, is the comfortably spacious cabin, with bucket type seats sporting some cool blue stitching.
The Subaru Levorg also comes with a very convenient voice-controlled infotainment system featuring Bluetooth connectivity and navigation, with USB and aux ports.
An AM/FM stereo tuner and CD player come as standard, and you can also connect your personal devices through Apple CarPlay and Android Auto. Up to 5 adult occupants can fit inside the cabin.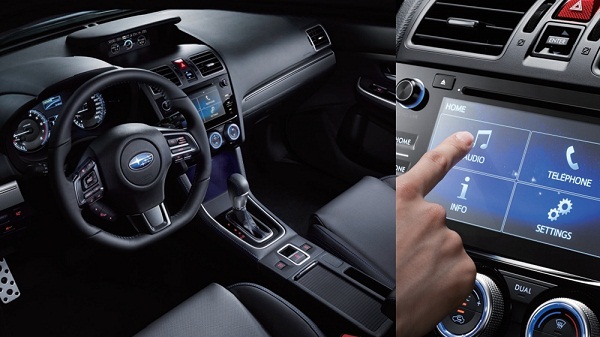 A look into the Subaru Levrog 2.0 GT-S Eyesight's sporty yet comfortable driver's cabin
Strangely, some buttons controlling certain safety features of the Subaru Levorg interior are placed above the driver's head, near the cabin light. Another minor complaint is that for the price of the car, the rear passenger area doesn't have vents for the aircon. The Levorg attempts to make up for it with the presence of two charging ports at the rear.
One of the strongest points on the Levorg GT-S the enormous 522-liter rear cargo space, expandable to about 1,400 liters with the passenger seats folded. Even with the seats upright, it's still more than enough for an entire family to pack their camping gear or for an executive to go on a long business trip.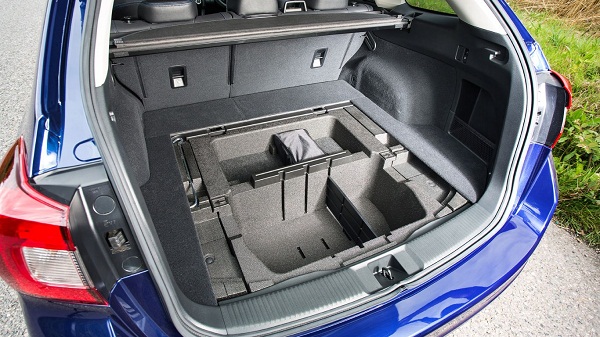 The Levorg's trunk is considerable sized and can be expanded with the passenger seats folded down
>>> Widen your choice with our Cars for sale section. 
4. Subaru Levorg 2019 Philippines Review: Engine & Performance
Subaru certainly didn't skimp on performance when it comes to the engine, endowing the Levorg with the same turbocharged 2.0 flat-four powerplant which the WRX also uses.
So equipped, the Levorg can produce a hefty 265 horsepower and 350 Nm of torque at about 5500 RPM, sent to all four wheels through the asymmetrical AWD powertrain with a front-biased 60–40 drive split.
On top of these considerably powerful specifications, the Subaru Levorg 2019 uses Subaru's Lineartronic CVT transmission; not that there's anything wrong with it per se, but it doesn't exactly scream performance.
Despite the range of driving modes the CVT offers, it still cannot outperform a dual clutch gearbox. As far as CVTs go, the one on the Levorg is considerably better than most.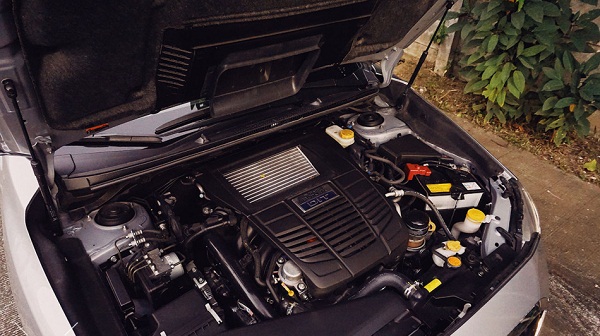 The Subaru Levorg 2019 is armed with a turbocharged 2.0 flat-four powerplant
When it comes to driving and ride quality, the 2019 Subaru Levorg is a fine vehicle for both long and short trips, returning about 12 kilometers per liter of fuel in highway driving, and about half that figure on city roads.
The Levorg uses a fully independent suspension setup that is very responsive in spirited driving; the downside is in driving over speed bumps in malls, as the Levorg's rather low 135mm ground clearance makes the underbody scrape against even the slightest of protrusions or potholes.
5. Subaru Levorg 2019 Philippines: Safety
One of the biggest updates for the 2019 Levorg is the inclusion of  Eyesight technology that is also equipped for other Subaru vehicles. This refers to the onboard suite of safety features such as adaptive cruise control, lane keep assist and sway warning that can help the driver minimize collisions, all guided by an ingeniously placed multi-color camera tucked behind the rear-view mirror.
Subaru 's EyeSight - Driver Assist Technology 
Apart from the Eyesight feature, the 2019 Subaru Levorg Philippines also comes standard with anti-lock brakes, side airbags, driver and passenger airbags, parking sensors, a rear camera, and a stability control system.
6. Subaru Levorg 2019 Philippines Price & Specs
At the time of this writing, the 2019 Subaru Levorg GT-S Eyesight only has a single variant which is priced at P1,998,000, near the price point of the Subaru WRX. This bit is interesting as it demonstrates Subaru's knowledge of its target market.
With the Forester now practically discontinued, the baton is now passed onto the Levorg, appealing to those who desire a high-performance vehicle that doesn't compromise on space and comfort. Take a deeper look at 2019 Subaru Levorg Philippines Specs in the table below:    
Overall

Name

2019 Subaru Levorg 2.0 GT-S

Body Type

5-door wagon

Seating

5

Engine / Drive

F/AWD

Engine & Performance

Displacement (liters)

2.0

Aspiration

Turbocharged

Fuel Delivery

Direct Injection

Layout / # of Cylinders

F4

BHP @ rpm

265 @ 5,600

Nm @ rpm

350 @ 2,400-5,200

Fuel / Min. Octane

Gasoline / 95~

Transmission

CVT

Cruise Control

Yes, Adaptive, with Low Speed Follow (EyeSight)

Fuel Economy @ Ave. Speed

6.94 km/L @ 16 km/h

Dimensions and Weights

Length (mm)

4,690

Width (mm)

1,780

Height (mm)

1,490

Wheelbase (mm)

2,650

Curb Weight (kg)

1,582

Suspension and Tires

Front Suspension

Independent, MacPherson Strut

Rear Suspension

Independent, Double Wishbone

Front Brakes

Vented Disc

Rear Brakes

Vented Disc

Tires

Bridgestone Potenza RE050A 225/45 R 18 W (f & r)

Wheels

Alloy

Safety Features

Airbags

7

Anti-Lock Brakes (ABS)

Yes, with EBD

Traction / Stability Control

Yes

Parking Sensors

No, with Rear Camera

Front Seatbelts

3-pt ELR with pre-tensioner x 2

Rear Seatbelts

3-pt ELR x 3

ISOFIX Child Seat Anchor

Yes

Other Safety Features

Hill Start Assist
Tire Pressure Monitoring System
Blind Spot Indicators
Rear Cross-Traffic Alert
Pre-Collision Braking System
Lane Sway and Departure Warning
Pre-Collision Throttle Management

Convenience Features

Power Steering

Yes

Power Door Locks

Yes

Power Windows

Yes

Power Mirrors

Yes, with Fold

Proximity Key

Yes

Climate Control

Yes, Dual Zone

Audio System

Stereo

CD

Aux

USB

Bluetooth

Apple CarPlay

Android Auto

# of Speakers

6

Steering Controls

Yes

Price
Subaru Levorg 2.0 GT-S CVT with EyeSight
P1,998,000
>>> View full price list of Subaru Philippines to keep updated pricing change for all Subaru models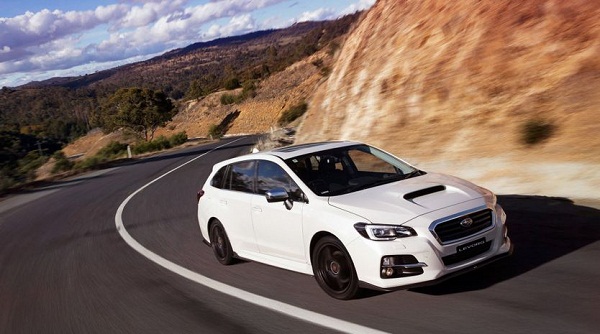 This luxury wagon is sold at the price of P1,998,000 in the Philippines shores


Cesar G.B. Miguel
Author