Here's a preview of the Subaru Outback 2020 Philippines scheduled to be introduced at the 2020 Manila International Auto Show.
In this review...
Introduction

Exterior

Interior

Engine & Performance

Safety

Price & Variants

Conclusion
1. Subaru Outback 2020 Philippines Preview: Introduction
The Outback traces its genesis to two Subaru models: the Legacy-based station wagon that has seen six generations as a midsize all-wheel-drive crossover and the Impreza-based Outback Sport which lasted three iterations before being renamed the XV Crosstrek.

A quarter century since its introduction in 1994, the Outback crossover now enters its seventh generation, debuting at the 2019 New York International Auto Show last April. The new Outback comes with several improvements to its exterior and interior features. More importantly, Subaru is introducing it on a new platform that promises improved driving dynamics.
While the new model is already available Stateside, the Philippines isn't likely to get its shot at the latest Outback until the middle of next year. While waiting, check out our Subaru 2020 Philippines Preview, brought by Philkotse.com to guess what 's gonna come for this new and improved Outback.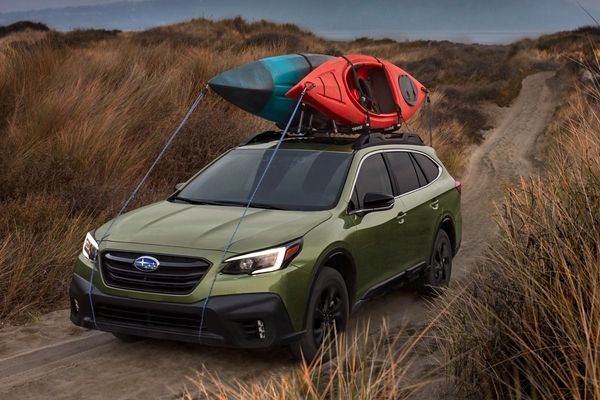 The Subaru Outback in its element
2. Subaru Outback 2020: Exterior
Hundreds of thousands of man-hours in research and development have resulted in the new Subaru Global Platform, which underpins the 2020 Outback. The new model exhibits improved chassis rigidity over its predecessor, apart from being more geared towards passenger comfort and reduced cabin noise levels.
Lightweight parts, including a new L-arm and dampers, have also resulted in the 2020 Outback cutting back on mass without compromising substance.
This crossover, specifically the Onyx Edition XT trim, has a look that says it's ready to take on harsher driving conditions than its predecessor. Chrome details on the grille have been largely replaced by a black trim. The air intake on the lower part of the fascia also appears larger than before.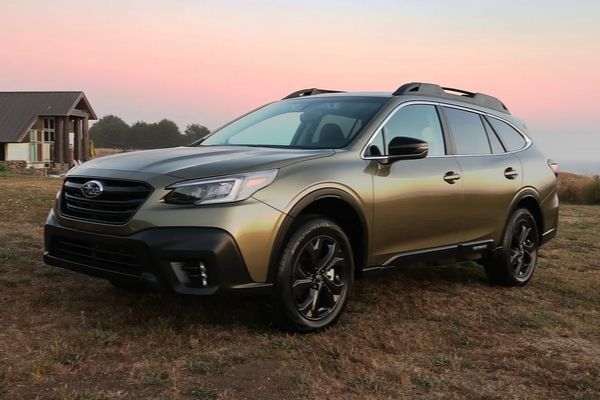 The 2020 Outback's blacked-out features make it look like it means business
Towards the sides, the 18-inch alloy wheels are now rendered in black, while the car's general silhouette now hints at both speed and durability, further emphasized by the beefy fenders.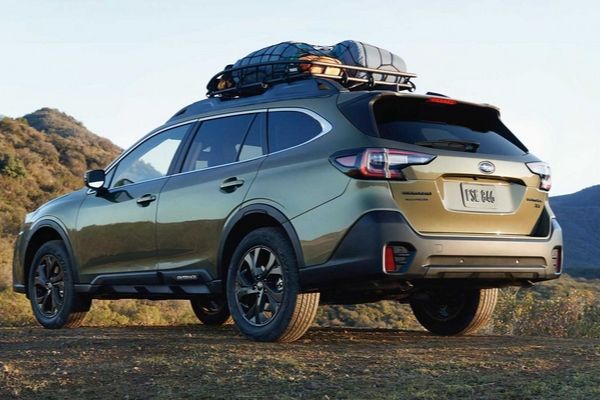 The Subaru Outback interior also has a 220mm ground clearance
The rear also receives improvements by way of a wider-opening handsfree tailgate, which feels much more solid than on the previous model.
Overall, the 2020 Subaru Outback exterior design very succinctly expresses toughness, while hinting at the potential owner's active lifestyle.
>>> Widen your search in our cars for sale section for more affordable car deals.
YOU MAY WANT TO READ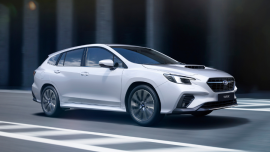 Model Price Philippines
₱ 2,558,000 - ₱ 2,708,000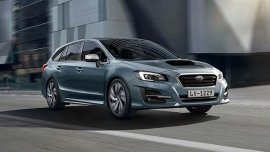 Model Price Philippines
₱ 2,098,000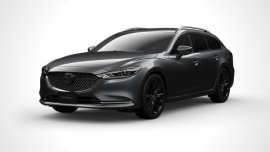 Model Price Philippines
₱ 1,995,000
3. Subaru Outback 2020 Interior
More premium features await you on the 2020 Subaru Outback interior. Case in point, rich Nappa leather that's available on the Touring trim, as well as the improved material quality for the dashboard and door panels. The windshield has also been made wider for improved forward visibility, framed by redesigned A-pillars that reduce blind skpots and enhance the driver's line of sight.
In terms of onboard tech, the 2020 Outback offers an updated Starlink Infotainment System. Apart from the wide range of connectivity options like Apple CarPlay and Android Auto, Starlink now supports SmartDeviceLink, enabling the user to use various mobile apps across all operating systems.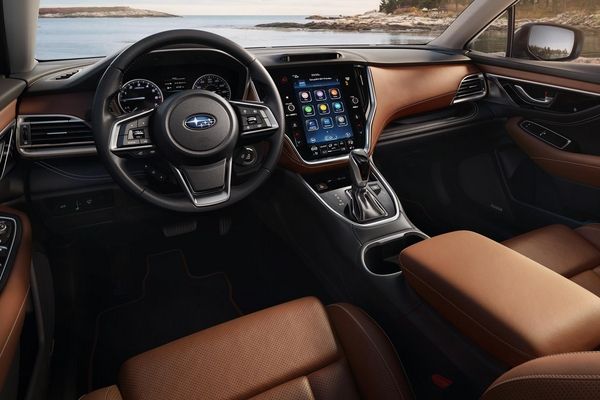 Looks comfortable and very premium. More senior users might find the large touchscreen helpful
Subaru is the first automaker in the world to adopt DENSO's 'Harmony Core' digital cockpit technology co-developed with BlackBerry QNX, and this interface makes its debut on both the Subaru Outback and the Subaru Legacy.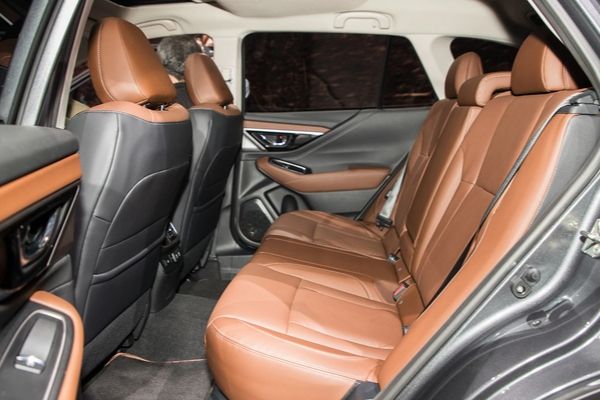 The 2020 Subaru Outback continues the tradition of adequate second-row legroom
Cargo storage on the 2020 Outback has also been improved. The hands-free tailgate can be activated with a single touch, opening up to a wider cargo bay. Up top, the roof rails are now thicker, with slots that allow harnesses to tie down cargo.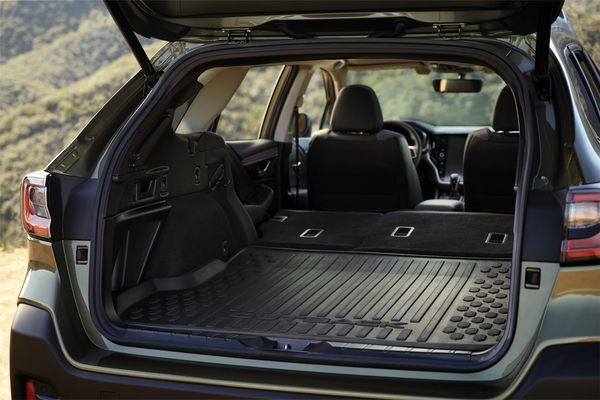 The thicker mats come in handy, especially when transporting wet items and large pets
>>> Worth your note to check out the review of Outback's competitors to see how it compete in the market segment:
4. Subaru Outback 2020 Review: Engine & Performance
The 2020 Outback comes with two boxer engine options: a naturally-aspirated 2.5-liter mill good for 182 horsepower and 239 Nm of torque, and a turbocharged 2.4-liter powerhouse capable of 260 hp and 376 Nm of torque.
The forced-induction flat-four is the one to have if you're planning to actually use the Subaru Outback 2020 in the wild, with a tow rating of up to 3,500 lbs or 1,587 kilograms. Nevertheless, both engines distribute power to all four corners via Subaru's signature symmetrical AWD, backed by a competent continuously variable transmission.
While the 2.5L has a very good chance of making it to the Philippine market, we're also hoping for the turbocharged variant to reach our shores as it offers more grunt for cruising on long-distance trips and power to haul your weekend toys.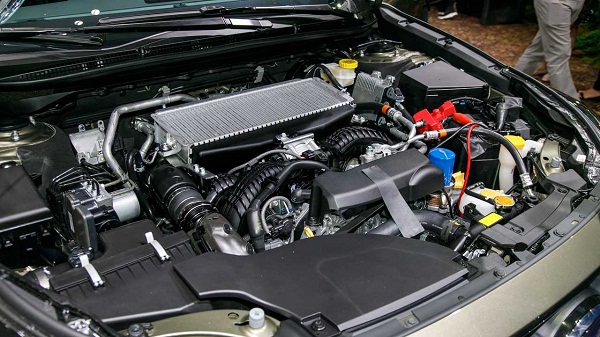 The 2020 Outback comes with two options of engine
5. Subaru Outback 2020 Philippines Preview: Safety
With the latest iteration of the Outback, Subaru wants to prove their mettle not just in terms of performance, but safety as well.
Active driver-assist systems figure prominently on the Subaru Outback 2020. There's active torque vectoring for superb cornering grip, Subaru EyeSight with adaptive cruise control, as well as a lane centering function. There's also reverse automatic braking and a rear vehicle detection system, the latter two potentially being of use here in the Philippines where parking is tight.
The 2020 Outback retains the full array of airbags on the outgoing model, as well as antilock brakes with electronic brake distribution, and engine immobilizer with a security alarm.
2020 Subaru Outback Test Drive Review — More Capable Than Ever?
6. Subaru Outback Philippines Price & Variants
The US release will see a wide range of variants. Here's what they might cost when converted to our currency:
Subaru Outback 2020 Price & Variant (US Market)

| | | |
| --- | --- | --- |
| Variant | US Prices | Converted Prices |
| Subaru Outback | $26,646 | Php 1,382,274 |
| Subaru Outback Premium | $28,895 | Php 1,498,942 |
| Subaru Outback Limited | $33,445 | Php 1,734,976 |
| Subaru Outback Touring | $37,345 | Php 1,937,290 |
| Subaru Outback Onyx Edition XT | $34,895 | Php 1,810,195 |
| Subaru Outback Limited XT | $37,745 | Php 1,958,040 |
| Subaru Outback Touring XT | $39,695 | Php 2,059,197 |
>>> Refer to our Subaru Philippines price list to catch up with the latest prices of Subaru cars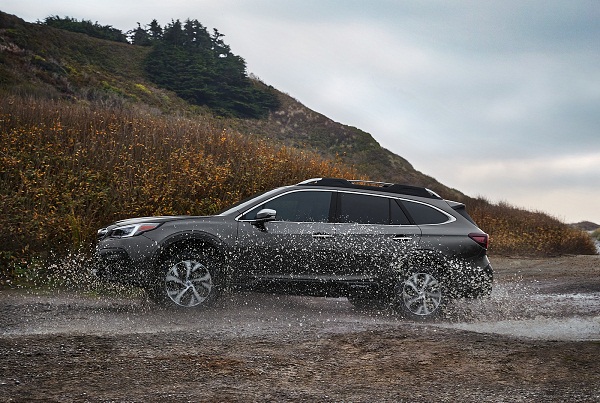 2020 Subaru Outback and its off-road ability
For reference, here are the current prices for the 2019 Subaru Outback
Subaru Outback Philippines Price list - 2019

| | |
| --- | --- |
| Variants | US Prices |
| Subaru Outback 2.5 CVT | Php 2,178,000 |
| Subaru Outback 3.6R-S CVT with EyeSight | Php 2,408,000 |
As far as the Philippine market is concerned, we can probably expect two variants of the 2020 Outback to arrive, as was the case with the current model. Even so, we hope that Subaru Philippines releases one naturally-aspirated and one turbocharged model, to fill the role of a premium variant.
7. Subaru Outback 2020 Philippines Preview: Conclusion
With the introduction of the new Subaru Global Platform, the 2020 Outback represents a turning point for the Japanese carmaker. A host of new improvements, along with improved maneuverability, promise to make the new Outback a value-for-money proposition for fans of the brand.
The Subaru Outback 2020 is expected to make its Philippine debut at the 2020 Manila International Auto Show, and Philkotse.com will be there when it unfolds.
In the meantime, check out our top-notch selections for the currently available Subaru Outback or other Subaru models at our Subaru for sale section from the trusted dealers and sellers nationwide. For more car reviews, visit Philkotse.com.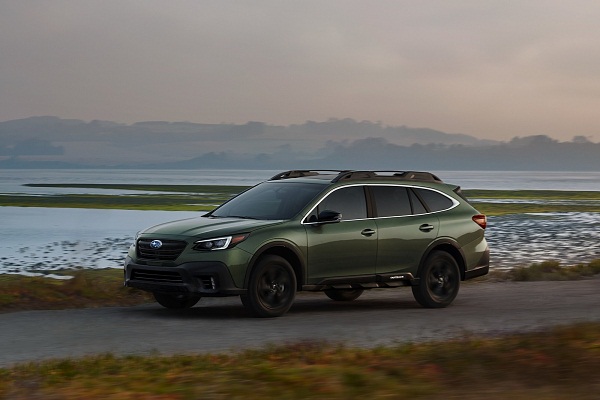 Are you excited for the new 2020 Subaru Outback?


Cesar G.B. Miguel
Author