There are different brands of waterproof car covers that you can use during the rainy season. Read more for a guide on choosing the best car cover for you.
Flexible payment schemes are making it easier for more people to afford cars. But once your purchase rolls of the showroom, the next problem is keeping the vehicle safe and protected – especially if you don't have a garage.
Constant exposure to the elements puts the car's paint job at risk, what with UV rays from the sun and the dangers of acid rain. Car covers exist to address this need for protection, and Philkotse.com has prepared a shortlist of such products you can choose from. 
1. Audew Car Covers
Protection
Audew Car Covers is one of the leading distributors of quality car protection products. You can expect that your beloved 4-wheeled pal will be shielded from the harsh sun, as well as dirt and strong winds. Their car cover offers UV protection as well, and you don't have to worry about the car paint fading due to prolonged exposure to the sun.
It's also waterproof, so you won't have to worry about leaving your car outside on a rainy day or night. The cover is crafted from high-density 190T polyester fabric that can withstand light to medium rain showers.
Due to the high-quality material used, any debris and dust that gets on the car simply settle on the surface of the cover and can be easily washed away.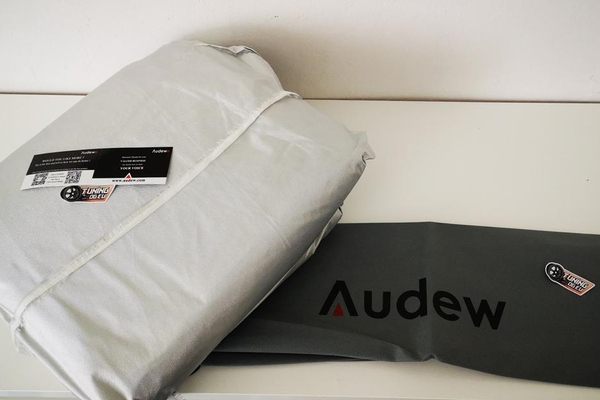 Audew is a leading distributor of quality car covers
>>> Check out: The 5 No-no's When Your Car is Dusty and Dirty.
Size
Audew car covers come in three different sizes: L, XL, and 2XL. They can be used to cover vehicles up to 212 inches in length.
Note: The sizes are quite large and there isn't much variation between them. If you have a smaller vehicle like a coupe or a subcompact hatchback or so, part of the cover will likely dangle towards the ground, and you'll need to keep that portion of the cover clean to avoid getting dirt that will scratch the car's bodywork.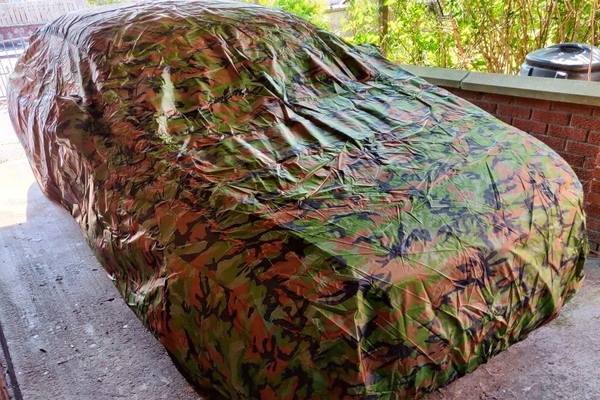 Audew car covers come in three different sizes to fit a variety of models
Securing
Audew car covers can be fastened in two ways: the first securing mechanism is the elasticized hem that secures the cover when laid on a vehicle with the right dimensions. It gathers at the bottom of the car and stays fixed so it doesn't latch off.
The second way is by using the windproof buckles and heavy-duty straps to hold down the cover. All you have to do is fasten the car cover using these straps and buckles, and it should be safe from being blown away.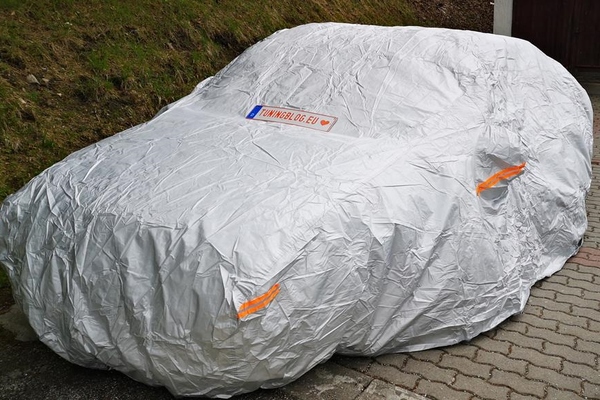 There are two ways to fasten an Audew car cover to your car
>>> Have you known 6 things you should remember when parking in an open space?
2. Kayme Car Cover
Protection
The Kayme car cover is definitely one of the sturdiest out there, which means that it costs a bit more. If you're especially worried about the sun's effects on your car, this car cover has a silver outer layer that's capable of deflecting the sun's damaging UVA and UVB rays.
The Kayme car cover also protects against the rain, with water-resistant material that keeps the water out and even dries quickly, so you won't be bothered with drying or wiping the silvery surface when you have to use your car.
Note: Due to the single layer of material used in the production of the Keyma car cover, there is no telling just how durable it is or how long its service life will be, although it does make the car cover considerably lightweight and easy to fold.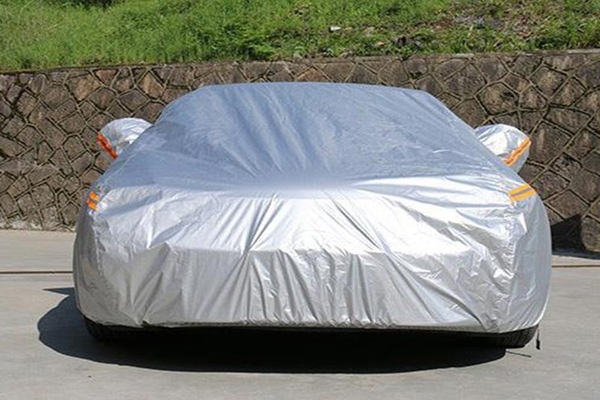 The car cover from Kayme is definitely one of the sturdiest out there
Size
One notable feature of the Kayme cover is its availability in a wide range of sizes. Whether you have a pickup, a sedan, an SUV or a coupe, the product can accommodate vehicles from 139 to 300 inches in length.
Securing
Like other car covers, the Kayme cover uses garters at the hem that can securely hold the entire cover in place without too much trouble. There are also adjustable straps at the front and rear.
>>> FYI: 6 reasons to park your car in a garage.
3. The Rain-X Luxury Car Cover
Protection
The Rain-X Luxury Car Cover is one of the most dependable in the market. Whether you want to store your car outside or inside a roofed space, the car cover provides protection from almost every element including dust, UVA/UVB rays, wind, and rain.
If you're concerned about keeping your car dry during downpours, this car cover also does the job. It's not completely waterproof though, especially if the weight of the accumulated water on the surface is pushing down through the material. Nevertheless, it does great in rainy weather.
If you're concerned about durability, the Rain-X car cover is made of strong and sturdy material, which should last for a long time with proper maintenance and storage.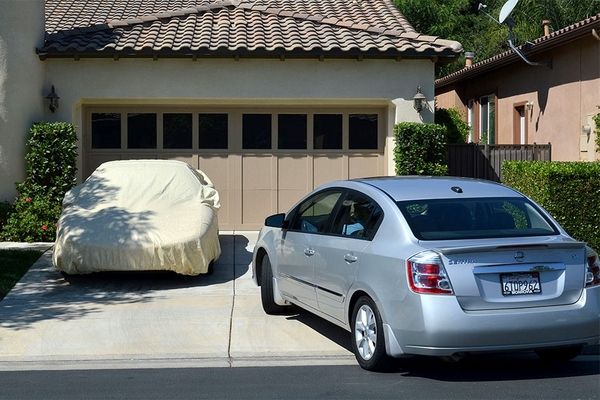 The Rain-X Luxury Car Cover is one of the most dependable in the market
>>> Check out: 8 essential tips when buying car accessories online.
Size
The Rain-X Luxury Car Cover lineup also has a range of sizes for you to choose from, between 170 and 265 inches. This should be enough for a variety of vehicles from compact cars to SUVs.
Securing
The cover is secured using grommets and straps. These need to be fastened securely, as the lightweight construction of the cover might be susceptible to a strong gust of wind, leaving part of your vehicle exposed to damaging elements.
>>> Check out more car covers and other accessories on Lazada PH


Hanna Sanchez
Author