Add swag to your daily urban jungle warrior.
In stock form, the Mitsubishi Mirage hatchback is a no-nonsense vehicle that can be counted upon to take you from A to B on a daily basis. Its 1.2-liter inline-3 engine isn't that powerful, and its interior is far from what one would call luxury.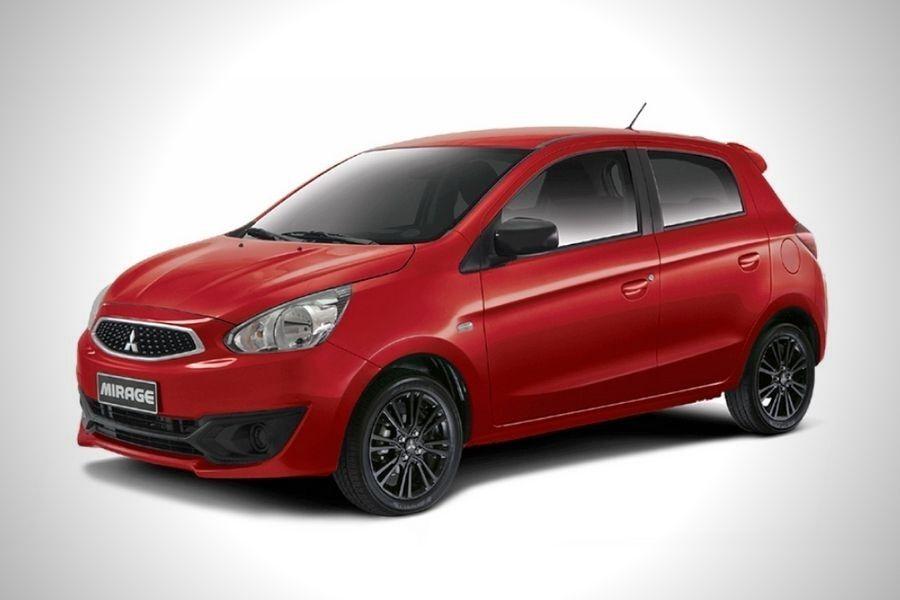 The stock Mitsubishi Mirage hatchback
That said though, the Mirage's strength as a model lies in the fact that it is reliable, fuel-efficient, and affordable.
On this note, the Mirage is one of the most popular hatchbacks in the market today, and they're pretty common to see on local roads.
So how to get your Mittsubishi Mirage modified? Here are some tips & advice.
Mitsubishi Mirage Modified: Lower ride height
To start off this guide, we'd like to steer you away from any notions that one can make the Mirage's 1.2-liter three-banger any more powerful than it is. Sure, there are chiptunes and aftermarket engine components for the 3A92 engine, but cramming those in will come with its own disadvantages. Ones that will possibly rob this engine of its notable fuel efficiency and maybe even of its reliability. You don't want that.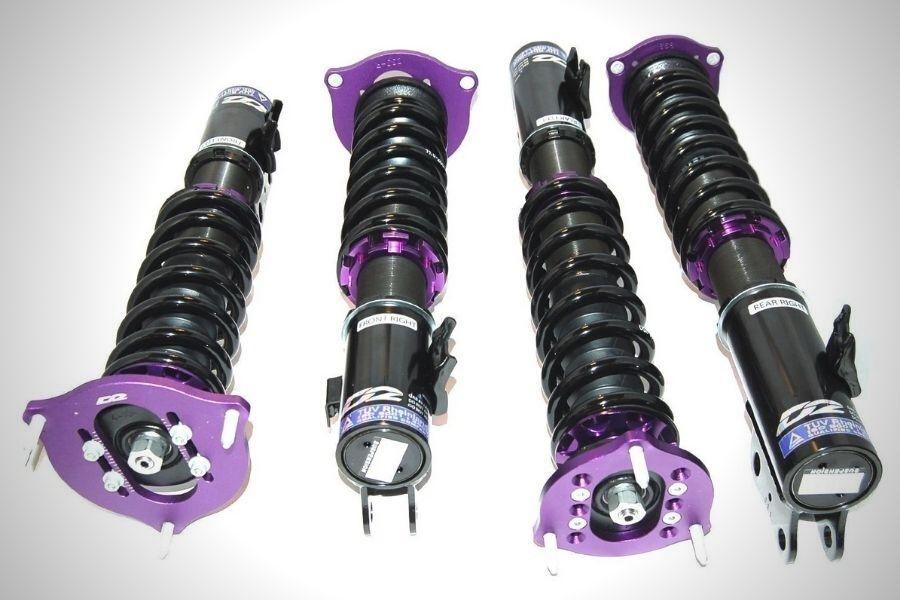 Coilovers compatible with the Mirage [Photo source: Redline360]
Instead, we recommend giving the Mirage hatchback a lower ride height by way of coil overs or lowering springs. This will lower the car's center of gravity, and will make it more stable when taking on corners. Plus, a lowered car also has that cool factor to it.
For this modification, there are several brands that can cater to your needs. There's maXpseedingrods, Godspeed coilovers, BC Racing, Silvers, and many other brands.
Mitsubishi Mirage Modified: Aftermarket wheels
The Mirage hatchback is one of those cars that will benefit a lot from aftermarket wheels. As said above, it already has good proportions, and a new set of wheels. But before you begin picking out brands, do note that there are multiple types of wheel fitment types that you can choose from.
As mentioned in our Modified Toyota Wigo article, there's "flush" wherein the wheels align perfectly with the car's fenders. There's also the "stance" where the wheels have a negative camber, as well as "poke" where you have wheels sticking out of the car's body.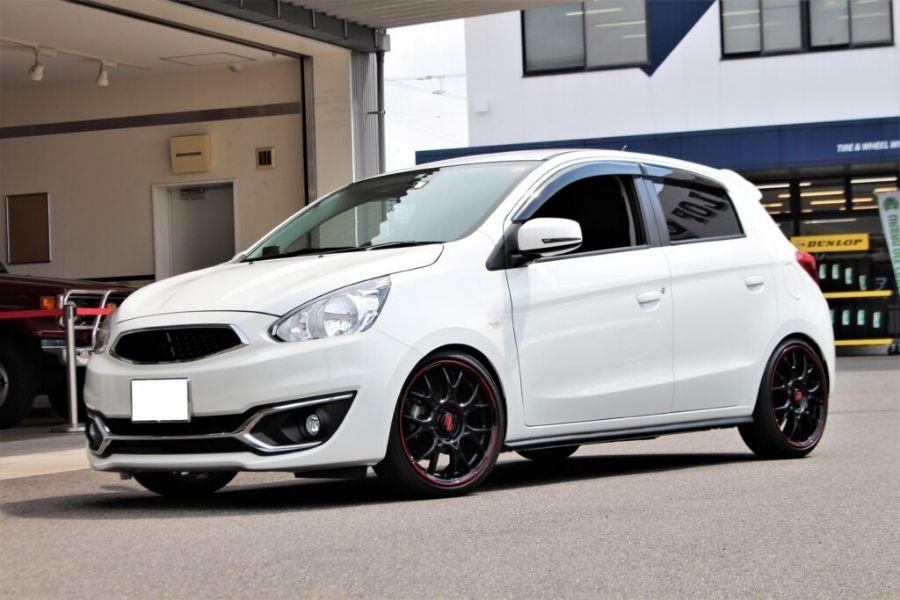 A lowered MIrage hatchback with aftermarket wheels. [Photo source: craftweb]
We'll leave it up to you as to which fitment you think will suit your Mirage, but we recommend sticking to the stock wheel size and keeping it flush. You might need to choose the appropriate wheels for this if you want a zero offset, so do consult your nearest car wheel shop for the right wheels.
Of note, you can also use wheel spacers to get the wheel offset you want. Be aware however that these can have a much drastic effect on suspension geometry, and in some cases can negatively affect the longevity of wheel bearings.
Mitsubishi Mirage Modified: Body kits
One way of spicing up how your Mirage looks is by way of body kits. Yes, as silly as that might sound to some people, there are actually some brands that provide body kits for this economy car.
We won't mention any business names outright, but you can confirm this for yourself by typing "Mirage hatchback body kits" on Google search. You'd be surprised by the number of available options locally from something as simple as replacement front bumpers, to even wide body kits.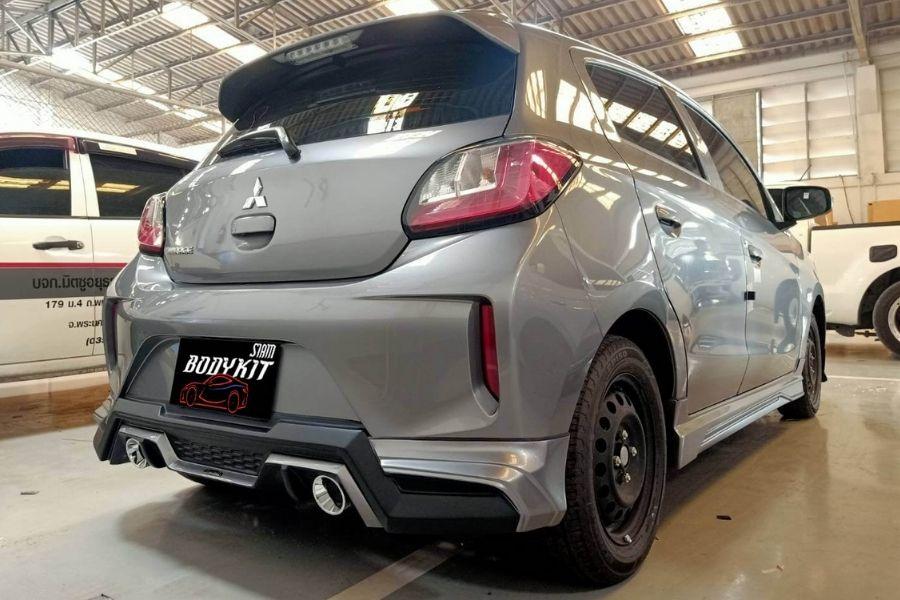 A Mirage hatch with a bodykit [Photo source: Siam Bodykits]
To conclude, the Mirage hatchback is a simple but popular ride that actually has a lot of aftermarket support in the Philippine market. Just like on the Toyota Wigo and the Mitsubishi Xpander modification guides though, we recommend keeping your Mirage as close to stock form as possible. By doing this, you can retain its usability for years on end.
For more car modification guides and car buying guides, keep reading here on Philkotse.

Know more about Mitsubishi Mirage 2022

Mitsubishi Motors Philippines is fielding the Mirage 2022 in the subcompact hatchback category. From the original lineup of four variants across two trim levels, the Mirage currently has a single GLX trim, available with either a 5-speed manual gearbox or a continuously variable transmission. Both route power to the front wheels from a 1.2-liter 3A92 3-cylinder gasoline engine with MIVEC technology.
The Mirage measures 3,795mm long, 1,665mm wide, and 1,500mm high, on a wheelbase of 2,450mm. Mitsubishi Mirage prices 2022 in the Philippines range between Php 704,000 and Php 765,00. Customers can avail of the GLX manual variant for as low as Php 8,485 with a 50-percent downpayment and 60-month loan contract. Among the Mirage's competitors are the Toyota Wigo, Honda Brio, Suzuki Swift, Suzuki Celerio, Kia Picanto, and the Chevrolet Spark.


Cesar G.B. Miguel
Author
Recent posts