The current CR-V isn't popular for modding, but options do exist. 
Since the 1990s, the Honda CR-V has been a popular choice as a family car. Later on, the older first and second-generation CR-V models have become popular among car enthusiasts for modding. As such, these have extensive aftermarket support until the present.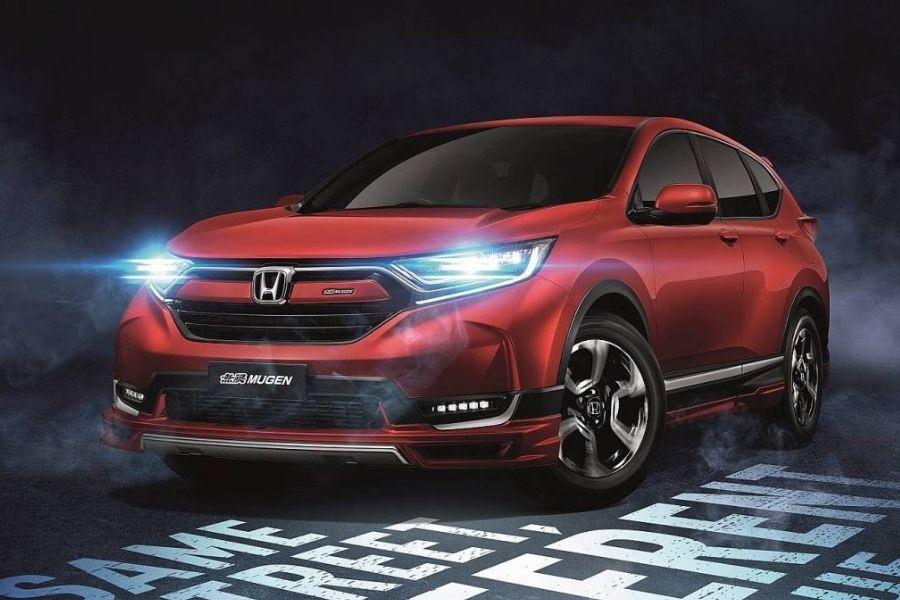 The Honda CR-V with the Mugen body kit. It can also come in other colors
But how about the currently available Honda CR-V? Well, here are some tips & advice to get your Honda CRV modified so that it has its own unique identity. 
Honda CRV Modified: Body kits 
For something as practical as the CR-V, you'd be surprised that there's actually a lot of available body kits for it. Even more interesting is the fact that big Japanese brands in performance actually sell kits for the Honda-made crossover. 
Specifically, there's the CR-V Mugen kit which provides a roof-mounted rear wing, a front under spoiler, and a front grille garnish. The said brand even provides floor mats and trunk mats, as well as a set of 19-inch alloy wheels. 
In its entirety, the CR-V Mugen kit costs around Php 113,000 before taxes and shipping.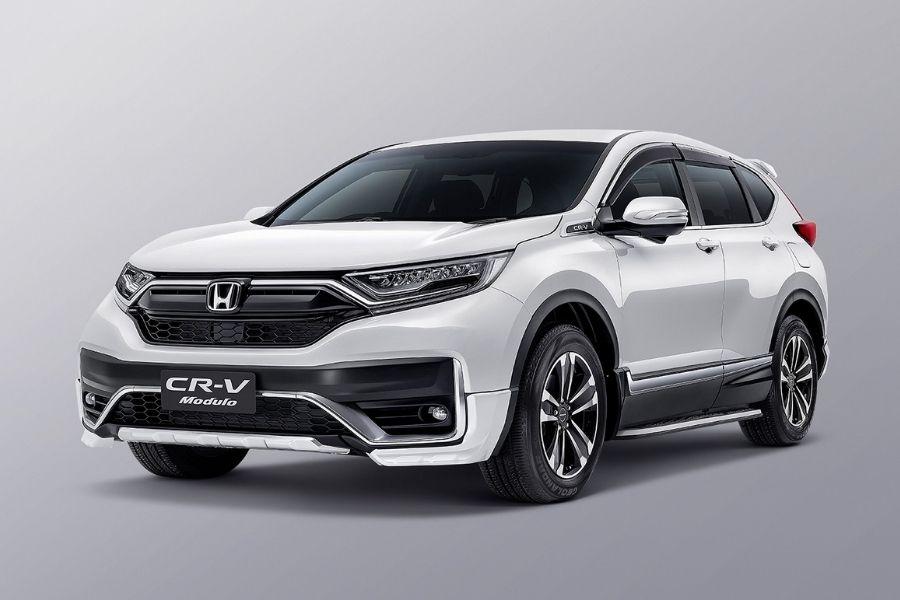 The CR-V Modulo kit
Another body kit for the Honda CR-V is the one from Modulo. It isn't as extensive as the Mugen CR-V body kits, but it does come with a set of 18-inch wheels, a tailgate spoiler, chrome exterior garnishes, a roof rail, a faux skid plate, a side skirt, among others. 
The Modulo CR-V body kit however, is only available in Thailand. But if you looked hard enough, you might spot these on local online selling sites, or even at a local car parts importer. Maybe. 
Honda CRV Modified: Aftermarket wheels 
To further spice up the look of your fifth-generation Honda CR-V, you might want to get a new set of wheels. Then again, you might want to stick to using the same 18-inch size as the stock wheels. We recommend this in order to keep the crossover's handling characteristics and fuel efficiency.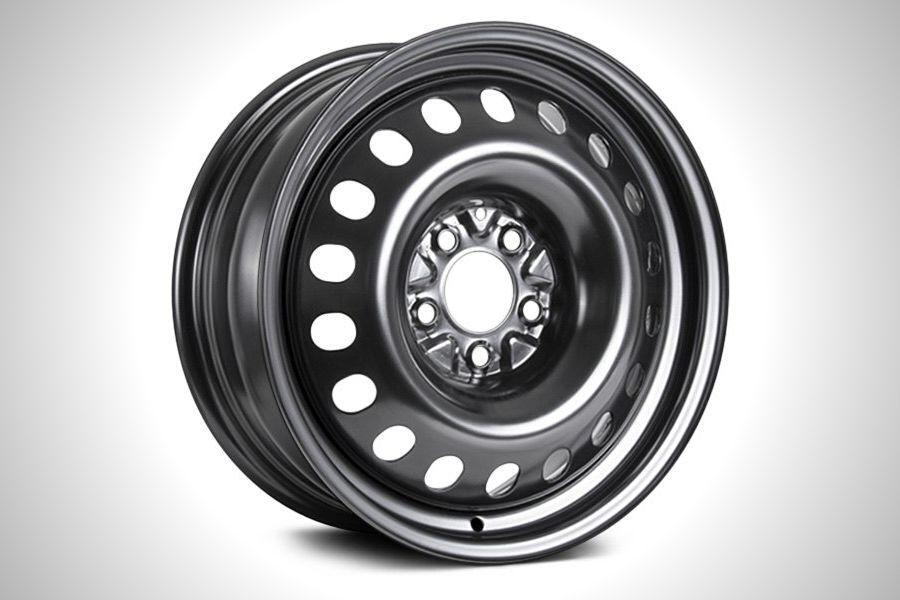 Well, if you really want to [Photo source: RT Wheels]
For this, there are brands like Rota Wheels with the GR-A, GR-6, and many other sporty-looking choices. There are also brands like RTX, NS, Voxx, or RT Wheels if for some reason you want to put steelies on your CR-V. Even Black Rhino might have some wheel models that can suit the Honda CR-V. 
>>> Related: List of second hand CR-V Philippines
Honda CRV Modified: SEMA inspired 
On the other side of the spectrum, you might want to make your CR-V look more like a proper SUV. Or rather, something that can handle rough roads and look outdoorsy as well. 
For this, you should check out the builds from the 2019 SEMA Show. It sports a 1.5-inch lift, a modular roof rack from Jsport, and all-terrain tires. It even has a nudge bar complete with auxiliary lighting, plus a rear spare tire gate, as well as a Roofnest Falcon clamshell tent.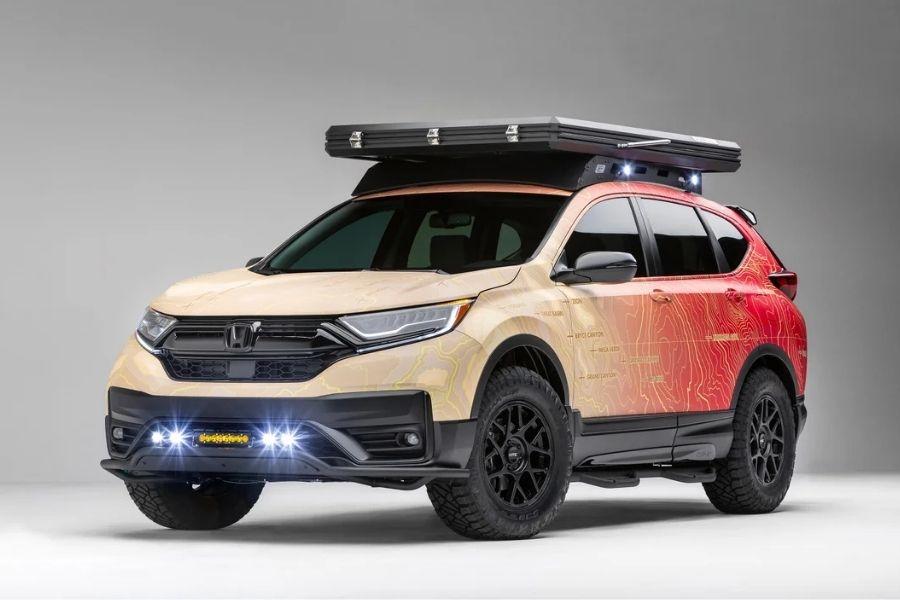 The outdoor-oriented Honda CR-V from the 2019 SEMA Show
Of note, CR-V lift kits are rather rare in the local market. In other regions, one popular brand that can provide this is LP Adventure. It costs around Php 60k, and it includes aluminum trailing arm spacers, steel top plate spacers, endlink supports, etc. 
To conclude, the current Honda CR-V might not have a large aftermarket compared to the older models. But some options do exist. You just have to find them. 
For more car modification guides and other car related articles, keep it here on Philkotse. 

Know more about Honda CR-V 2023

The CR-V 2023 is a compact crossover current sold by Japanese automaker Honda Philippines Inc. Now in its fifth generation, the model has been in existence since the 1990s. Currently, the Honda CR-V Philippines has two engine options with four variants. The first one is a 1.6-liter diesel, which can make up to 118 horsepower and 300 Nm of torque. All variants with this engine uses a nine-speed automatic transmission. The top-spec trim has an all-wheel-drive drivetrain, while the rest of the trims are front-wheel-drive.
As for the second engine of the CR-V, it comes in the form of a 2.0-liter inline-4 gasoline mill capable of producing up top 152 horsepower and 189 Nm of torque. Only the entry-level S variant uses this engine and pairs it to a continuously variable transmission. The entry-level CR-V S and the CR-V S diesel variant can fit up to five occupants, while the CR-V V and the top-spec SX can seat up to seven occupants. As for the Honda CR-V dimensions, the Japanese compact crossover is 4,623 mm long, 1,855 mm wide, and 1,668 mm high. In the local market, the Honda CR-V Philippines is competing against the likes of the Toyota RAV4, Subaru Forester, and Nissan X-Trail.

Cesar G.B. Miguel
Author