Check out the list of must-have car dashboard accessories. 
Picture this, you've just bought your first car. You chose it out from the smorgasbord of other choices because you could afford it, and best of all, you felt most comfortable in it. It might be an affordable hatch, a small city car, or a sedan that comes with the basic essential in-car features. 
After a few days of using it as a daily though, you'll slowly see that you can't put your phone anywhere on the dash for you to see it. The dark stylish dashboard, by virtue of being black, is great at absorbing heat, and everything you place on it immediately flies off whenever you take a corner. And lastly, you realized that you can't find a reliable place on your dash to place coins.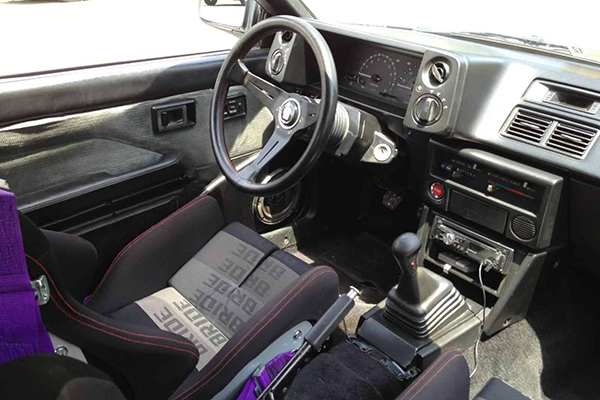 This is especially true if you bought an old car like this AE86 here. It's doesn't have much features at all
This is when car dashboard accessories come in. However, there are some caveats to this that we'd like you to be aware of. Here's a list of  car dashboard accessories you should have in 2020
I. A list of useful car dashboard accessories in the Philippines in 2020
1. Coin Holders
Everyone knows that coins are textured and mostly made out of metals. As a result, placing coins on plastic spots in your car's interior might result in damaging the surface. On top of that, you'll find that you'll regularly fish out those pesos from nooks and crannies of your car whenever you decide to clean your car. Coins are small, and will regularly get away from where you placed them, especially inside a car.
To address this, we recommend coin holders. You can put these on the dash itself, and there are even some that are designed to fit inside a typical cup holder.
2. Car dashboard cover
Dashboard covers can protect your dashboard from heat and/or scratches. Saving it from heat and damage not only maintains the look of your car interior, but it will also maintain functionality and its resale value.
Do note though that when choosing a dashboard cover, make sure that it fits your car's dash so that it won't have extra bits flapping around. These might interfere with your steering wheel motion, visibility, and it might even cause all sorts of issues with your car's electronics.
3. Smartphone holder
Not all cars come with navigation, and many affordable models don't even come with a touchscreen. As such, you'll need to find a way to mount your phone. Sure, some of you might argue that you can just hold it, or pick it up whenever you need to take a look, but that takes your eyes off the road. Also, leaving stuff on the dash might be dangerous.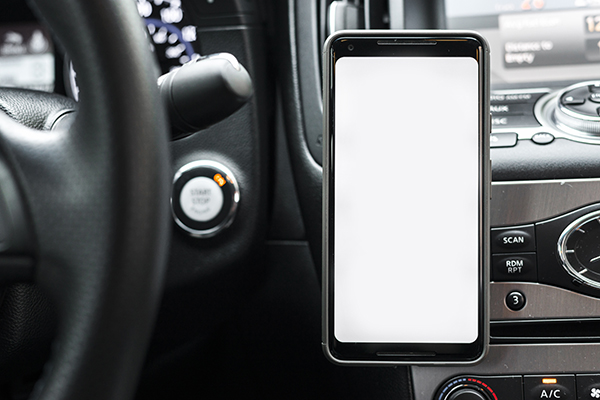 Navigation apps are great, but please don't take your eyes off the road for too long
For smartphone holders, we recommend something that'll adhere to the dashboard, and won't fly off on hard braking, or in the event of a mishap. This also goes for the said holder's ability to hold your phone itself because obviously dropping your phone might damage it.
4. First Aid kit
You heard that right. We encourage you to store a small first aid kit in your car's glove box. It isn't a car dashboard accessory per se but it is ideally stored in your glove box, which is still a part of your dashboard. Learn how to use it, and re-stock its contents if they get expired because life is full of surprises.
>>> Related:
II. Car dashboard accessories in the Philippines: Some considerations
1. Loose objects on the dashboard
As we've said, placing objects on your car's dashboard can be dangerous. Be it a notebook, your small bag, or phone, and coins. Everything loose can potentially turn into a projectile in the unfortunate event that your car gets involved in a collision.
Also, we do not encourage placing car dashboard accessories that might interfere with your visibility. Examples of these are small figurines, your favorite funko pop, a picture frame (yes some people have these in their cars), etc. In the same regard, we do not recommend sticking anything that might potentially become a projectile in any part of your car. It might stick now using that glue gun of yours, but it might not after a while.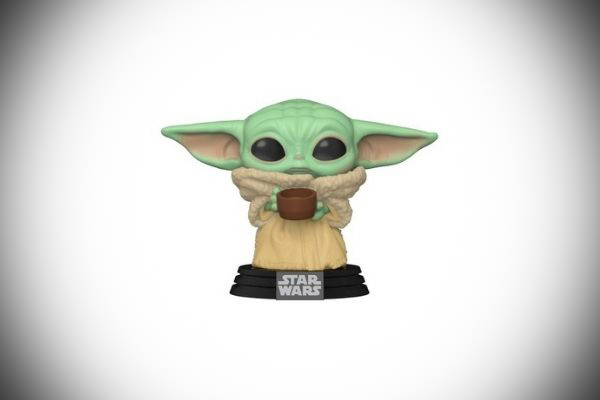 You don't want baby Yoda flying into your face after a vehicular mishap right?
2. Some car dashboard covers need regular cleaning
It's common for car air-conditioners in modern cars to filter the air it blows into your car. What it cannot do though is filter out the dust you bring in be it from your clothes or shoes. These dust particles will then collect on any surface they can stick to, and in many cases, car dashboard covers are the usual culprits whether they're made out of rubber, cloth, etc. As such, you'll have to regularly clean these to prevent your car from becoming a mobile dust bowl.
II. Recommended car dashboard accessories in the Philippines
Top 11 car dashboard accessories in the Philippines

| | | |
| --- | --- | --- |
| Product  | Key Feature  | Price  |
| Car Hooks Organizer Storage for USB Cable | Flexible on curved surfaces | ₱630 |
| KISSCASE Car Organizer Box Case | Easy to install | ₱117 |
| Lovecar101 Black Coin Holder | Easy to use | ₱96 |
| 360-degree car phone holder | 360 degree adjustable | ₱369 |
| halocar.ph universal car phone holder | Very affordable | ₱69 |
| CaBala Car Dashboard Anti Slip Mat | Have more room than just a mat | ₱327 |
| Vehemo car dashboard cover | Compatible for many vehicles | ₱500 |
| 12V Rotatable Dashboard Electric Fan | 360-degree adjustable | ₱215 |
| Marvel Car Decoration Ornaments | Serve multiple purposes | ₱299 |
| Baseus Automatic Car Sunshade | Made of aluminum | ₱1,249 |
| First Aid Kit Bag | Can fit in most gloveboxes | ₱325.6 |
1.  Car Hooks Organizer Storage for USB Cable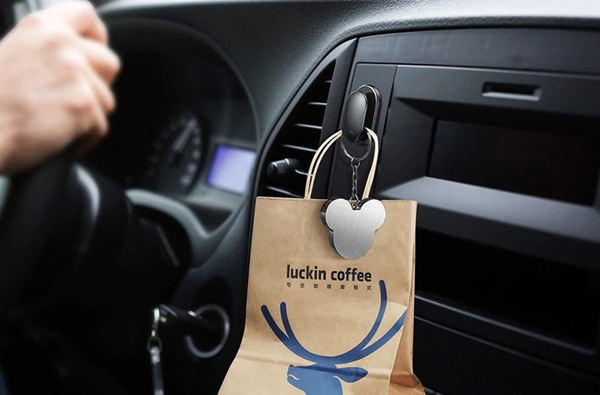 Wanna a tidy car? You definitely need this car hook. It will be able to hang junks like USB cables, headphones, keys, shopping bags and even store small objects. With the size of 1.2 cm in height and 5.3cm in length, it probably saves the most space inside the car. At the back of the hook, it is a 3M adhesive tape that is able to hang things up to 2kg. If you are worried about the marks after taking this off, then you shouldn't. 
How to use it? You just need to hit the button there and the hook will open. There is a bendable silicone pad on the back which allows the hook to be used on curved surfaces and all materials.
One more plus point for this is it has a hidden design that can match well with the car interior. Thanks to the design with no edges and corners, the user's safety will be enhanced and hazards caused by accidents will be avoided. 
Pros

Cons

Affordable

Easy to install

Space-saving

Flexible on curved surfaces

Only 2kg hanging ability
Made of ABS plastic
2. 

KISSCASE Car Organizer Box Case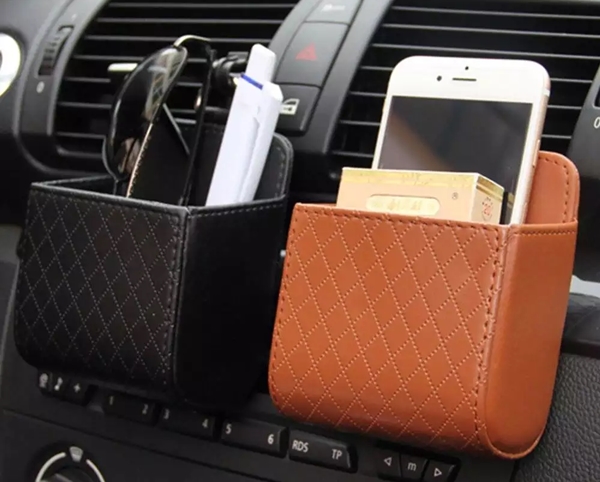 This car organizer box is made of man-made leather with 12cm height, 9cm length, and 5cm width, which can be attached to air vents. Inside you can put your phone, glasses, cigarettes, and so on. There are colors for you to choose from brown, gray, black, and beige. 
Pros

Cons

Affordable

Various colors

Easy to install

Not so good leather

Have no brand
3. Lovecar101 Black Coin Holder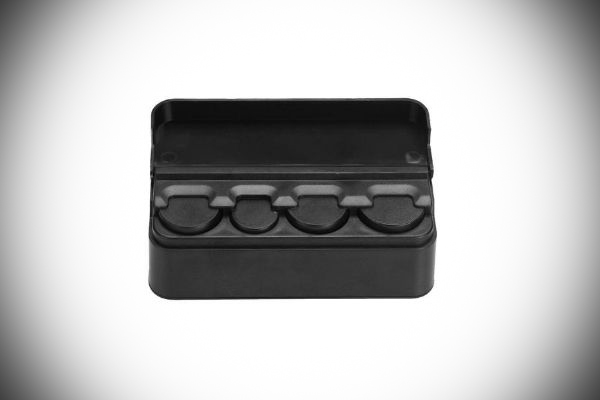 Sized at 11.7cmx2cmx3.8cm, the Lovecar101 coin holder is easy to use, classy looking, and it can fit in many car center consoles, and many car dashboard storage cubby holes. This dashboard accessories for cars can also hold a variety of Philippine coins namely five peso coins, one peso coins, and the new ten-peso coins.
Pros

Cons

Affordable

Stylish

Easy to use

Might not fit smaller coins
4. 360-degree car phone holder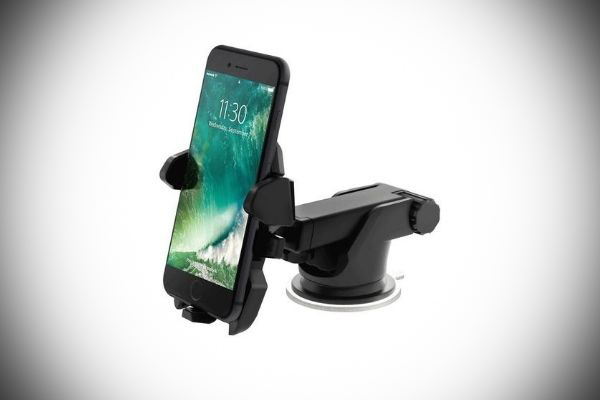 As its name implies, this car dashboard phone holder can be rotated, and its angle can also be adjusted. It comes in black so it wouldn't look out of place on the dashboards of many car models, and it's made out of durable plastic and silicone. To adhere to the dashboard, this product uses a super sticky pad, which assures that it won't just snap off.
Pros

Cons

Very sturdy looking

Pad is very sticky

Adjustability

A bit pricier than most dashboard phone holders
5. halocar.ph universal car phone holder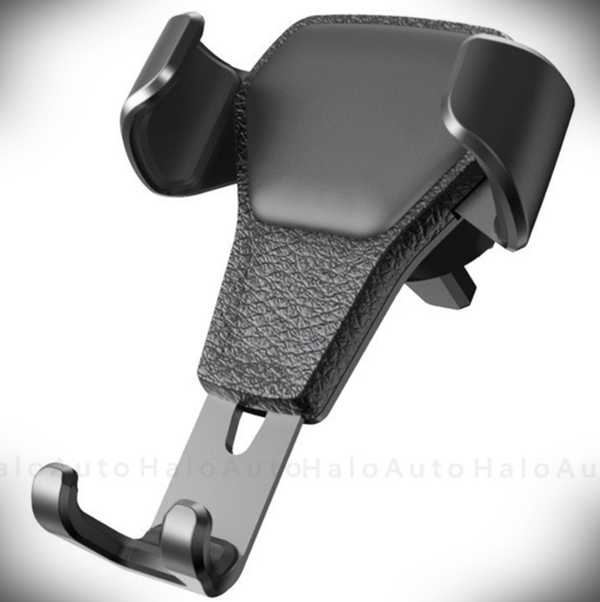 Affordable, relatively sturdy, and easy to install. This car dashboard phone holder clips onto your car's aircon vent and holds your phone snugly with its adjustable clamps. Can fit any car model and can hold any phone.
Pros

Cons

Very affordable

Can hold most phone models

Might block aircon airflow

Does not tilt
6. CaBala Car Dashboard Anti Slip Mat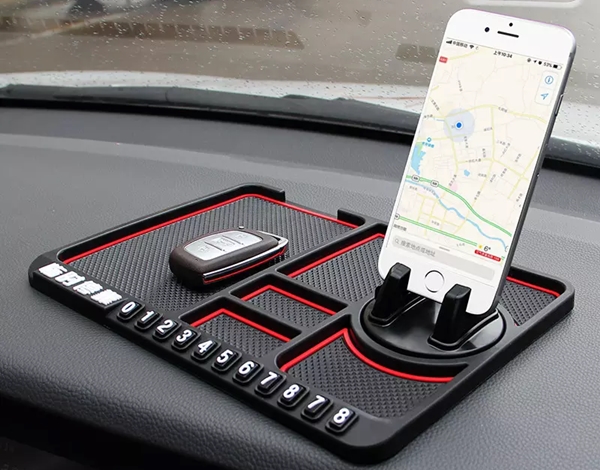 This antislip mat is made of PVC material which is anti-friction on the anti-slip surface. On this mat, you can have different spaces for different purposes, even a car phone holder is included there. There are 3 colors for you to choose from.
Pros

Cons

Made of PVC material
Have more room than just a mat
Affordable
Various colors

If you use the phone holder, it might cover some areas in your vision while driving
7. Vehemo car dashboard cover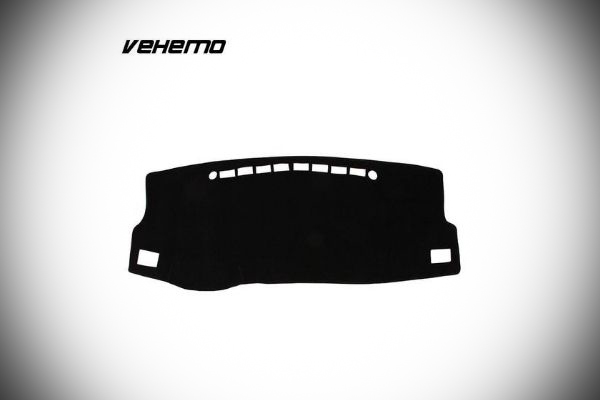 Made out of sturdy polyester, this car dashboard cover provides a non-slip covering that'll surely protect your dashboard from sun damage. Also, it doesn't collect as much dust as other fabric dashboard covers, and it can fit a variety of models (with some adjustments).
Pros

Cons

Compatible for many vehicles

Sturdy

High-quality
8. 

12V Rotatable Dashboard Electric Fan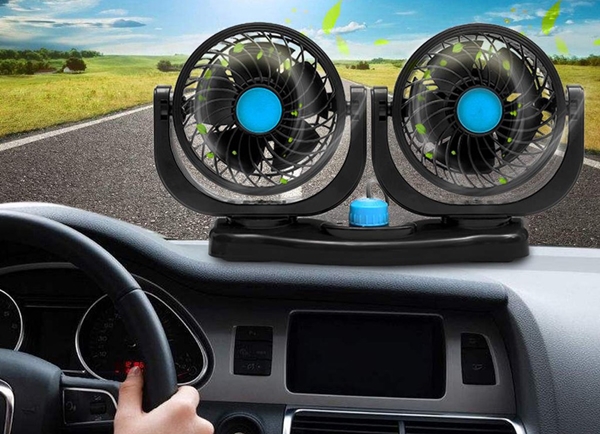 Is it too hot in Manila? Don't worry, you have a rotatable electric fan that can be put inside the car. It can adjust 360 degrees with the dual head at 2 powerful speeds. However, you should place it where it does not cover your vision. The best place for it is in the air ven, upper corner of the car...
Pros

Cons

Very affordable

Works with any car

360-degree adjustable
9. Marvel 

Car Decoration Ornaments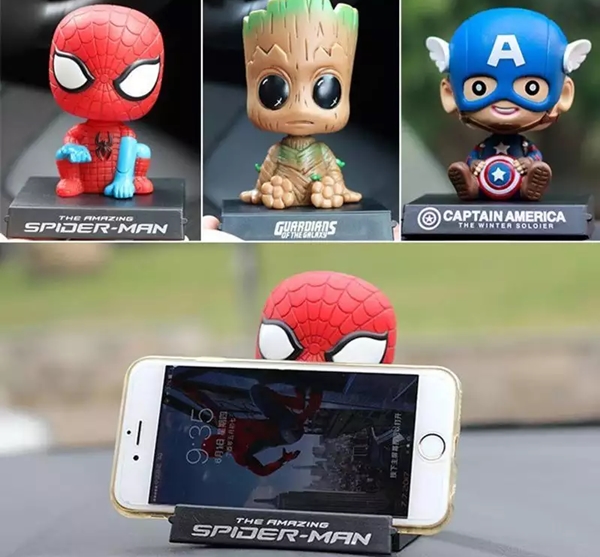 Not only being a decoration for your car, but it is also a phone holder. The 2-in-1 item might be the best in terms of space-saving. Vinyl is the material used to make this. 
Pros

Cons

Serve multiple purposes: decorate and hold phones
Space-saving

Quite high-priced to its quality
10. Baseus Automatic Car Sunshade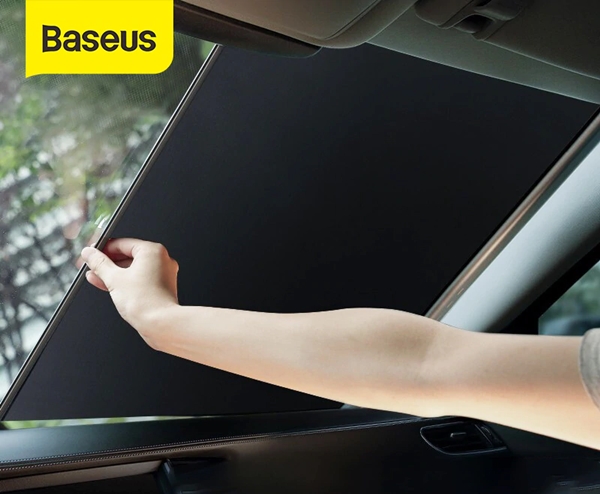 This dashboard accessory is probably good for hot sunny days in the Philippines due to the material it's made of, aluminum. It will cover the dashboard and its stuff. It is really easy to install thanks to the suction cup. It is also good if you attach it there when driving the car without taking this off because it is close to the edge of the glass and does not block the view.
Pros

Cons

Very convenient

Made of aluminum
Acceptable price

Probably suits SUVs but other car types.
11. First Aid Kit Bag Emergency Medical Survival Rescue Box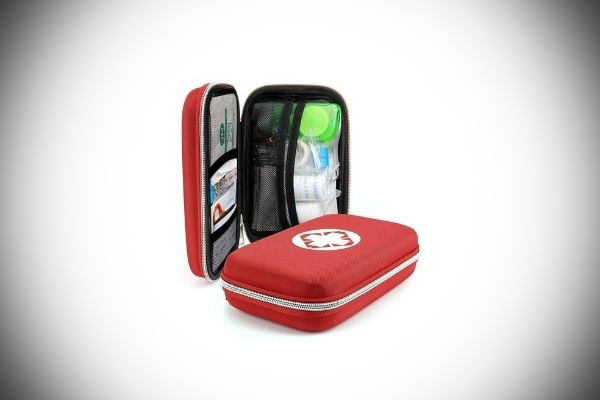 Contains PBT bandages, tweezers, scissors, alcohol wipes, an ice pack, a whistle, several safety pins, several band-aids, and the all-important triangular bandage. It is suitable to deal with minor scratches and light burns, and due to being small and handy, it can fit in just any car model's glovebox.
NOTE: This item is highly effective if you learn to use it first. There are many resources online for this and we highly encourage you to take your time learning basic first aid because, on the road, you'll never know what you'll encounter.
Pros

Cons

Very affordable

Can fit in most gloveboxes

Comes in a handy container

Does not have surgical gloves and thermal blanket
FAQ about car dashboard accessories
Q: Can I mount phone holders on the windshield? Is this safe?
A: Yes, in fact, one of our recommended phone holders can actually be mounted on the windshield. As for safety, this is relatively safe but just make sure that you properly installed the holder. You also need to take note of the regulations stated in Republic Act 10913 or the Anti-Distracted Driving Act. Under this law, it is stated that "GPS or cellphones may be placed or mounted below, at the same level, or on top of the dashboard, and even on the windshield, as long as the highest point of the device is not higher than four (4) inches from the dashboard." 
Q: Why do I need car dashboard covers?
A: Many car dashboards come in black color, and black is heat absorbent, and in the long run, this might damage the damage. A cover will prevent that, as well as keep it safe from scratches stains.
Q: Do you recommend making the dashboard more personalized with decorative items?
A: We do not encourage gluing on figurines and "healing crystals" or the like on your dashboard as these might interfere with your field of vision. They'll also become potential projectiles during a car crash.
Q: Do I need to regularly clean my car's dashboard cover?
A: Yes, we encourage you to regularly clean your car's dashboard cover to rid it of dust.
Q: Can't I just hold my phone while driving?
A: No, we do not encourage holding your phone while driving. You'll have one less hand on the steering wheel, and that might be dangerous. In fact, you shouldn't be using your phone at all, except for using it for its GPS function.
For more guides like this, keep reading here on Philkotse.com.


Cesar G.B. Miguel
Author