How to watch over your ride, even when you're on the go.
Your car being a substantial investment, it's certainly one of the last things that you would want to give out sooner than its expected lifespan. Considering the rising costs of car maintenance, the more complicated the repair, the costlier it becomes. Worst case scenario, you'll have a major headache on your hands. This is why being mindful of proper and timely maintenance procedures cannot be emphasized enough.
However, owing to our busy lives, there are instances when one just can't remember when the next supposed maintenance schedule is, and that could be a real bummer.  Yet it's important not to miss out on your car's spark plug replacement or wheel alignment, both of which are very important when it comes to keeping your car in tip-top shape.
Fortunately, technology makes it possible to save you from missing important maintenance appointments. The emergence of smartphone apps now allows us to keep track of important events we risk missing out on meetings, special occasions, commemorations, and of course, car maintenance schedules.
Philkotse.com lists down its recommended apps on both iOS and Android platforms, with the goal of helping you keep your car well-maintained.
1. Drivvo
Drivvo is a mobile app with a 4.7-star rating out of 5 in the app market. Some of its features include:
Keeping track of pertinent your records and expenses related to your vehicle.

A fuel-efficiency calculator that helps the car owner to save on fuel.

A maintenance calculator that can compute the cumulative costs so far in maintaining the vehicle.
How to Use the Drivvo App:
After installing it on your phone, the app prompts you to input the details about your car, such as make, model, fuel type, license plate, and Vehicle Identification Number.
To maximize the Drivvo experience, you will need to commit to the habit of logging in to the app regularly, recording every expense that you incur regarding your car. This includes fuel top-offs and maintenance checks.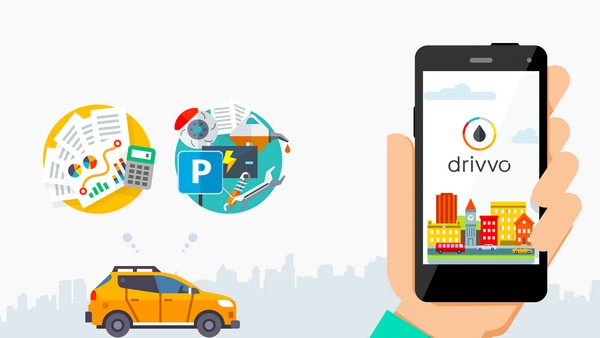 Drivvo is a great application as it can be downloaded in both Android and iOS-capable phones
The app is available in both free and premium versions. The free version is already functional by itself, but the paid version removes the apps for uninterrupted access to the features. It also enables cloud backup services, data synchronization between different devices, and improved customer support.
2. Car Maintenance Reminder Lite
Rated 3.9 stars out of 5, the app's name is pretty self-explanatory. Car Maintenance Reminder Lite's services include the following:
Send you updates about any future maintenance appointments that you may have.
Calculates the earliest maintenance appointment you need to attend to after the last.
The app can also produce information on your fuel efficiency, once you input the cost of fuel when you gas up and the mileage displayed on the odometer.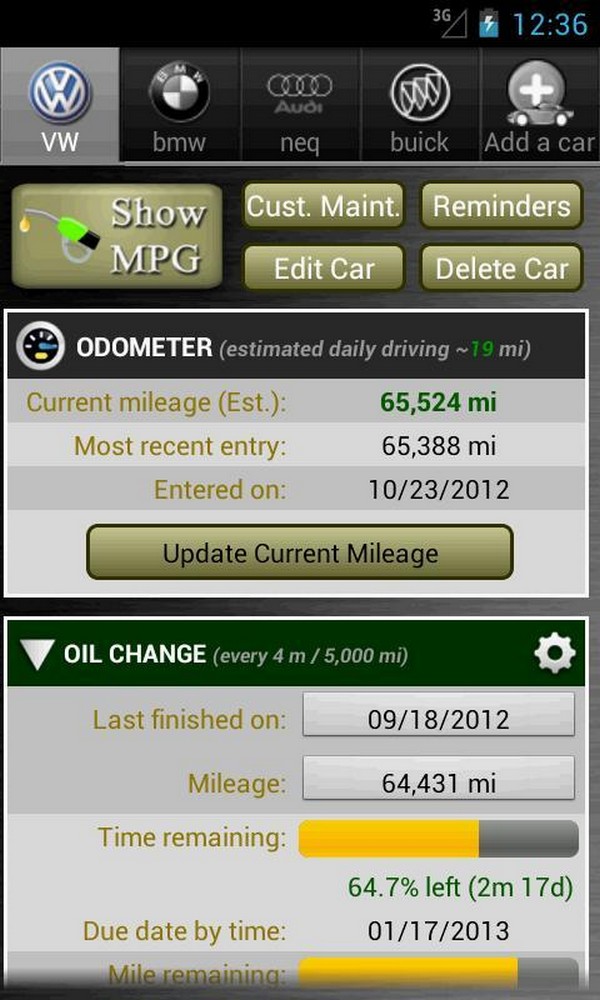 The Car Maintenance Reminder Lite's services can be accessible on devices that run either Android or iOS
How to Use Car Maintenance Reminder Lite: 
Log in the details about your car.
Adjust your preferred unit of measurement depending on your preferences, whether in English or metric units.
You can start recording your visits to the mechanic or auto shops, taking note on when the next possible appointment is.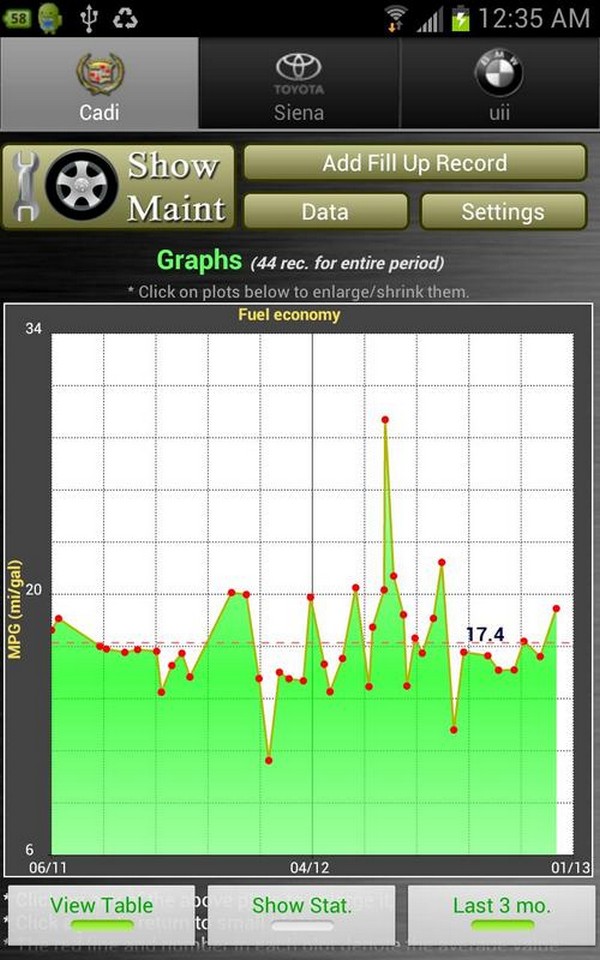 You can start recording your visits to your suking mechanic or auto shop
>>> Read more: PMS Car Guideline: Keeping Your New Car in Tip-Top Shape
3. Fuelio: Gas Log and Costs
Fuelio can give you the address and other details of the nearest fuel station as well as the updated fuel prices. This part of the app is only applicable is your phone's GPS is on and that you have access to an internet connection at the time.
You can also use this app's other nifty features like it's a function to calculate the mileage covered, calculate total service costs and so.
It can also gauge your car's fuel efficiency. You would only need to input the amount of fuel and the costs of your last top-off and then the succeeding refuel after that. It would also need your odometer details.
How to Use Fuelio:
Simply open the app after installation and input the details it requires.
Activate your phone's GPS when prompted. This enables the app to show you the fuel stations nearest to your location.
You can now use the app's interface to record your stats and generate comprehensive visual charts.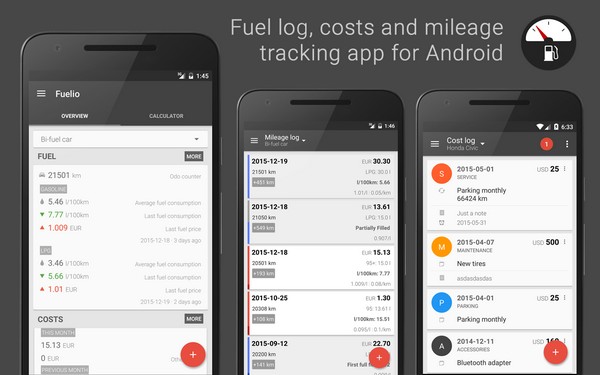 Fuelio requires diligence in recording your details, which pays off in the long run
4. aCar – Car Management, Mileage
aCar is a free app that has seen over a million downloads between Android and iOS. If you're wondering why the app is this popular, consider the following:
The app's user-friendly and intuitive interface makes it so easy to use, great for users who dislike complicated procedures.
It records specific parts of your car that has undergone maintenance procedures.
The app also has a reminder function, handy when it's time to perform maintenance on essential areas such as the wheels, engine, and braking system.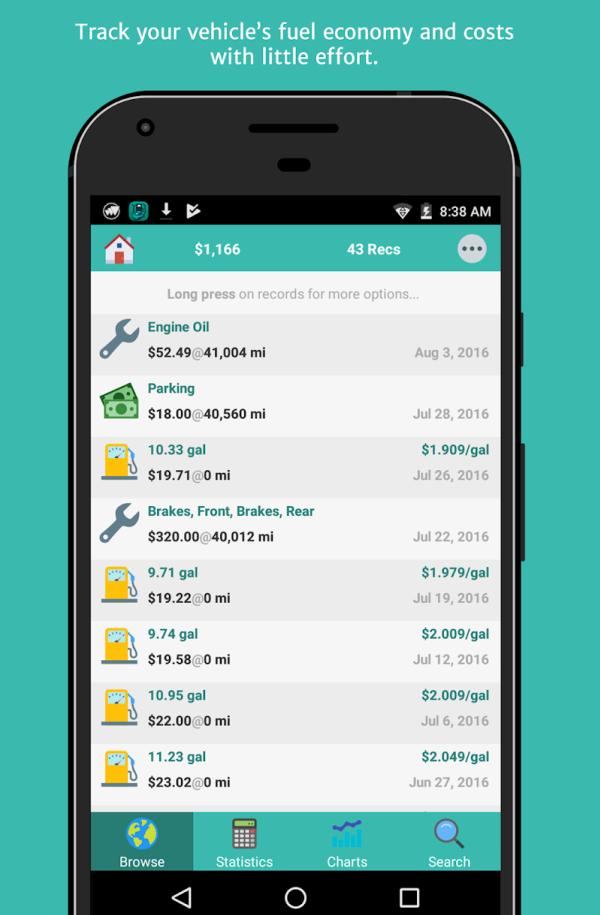 The app is easy to use due to its user-friendly and intuitive design
>>> Click to get more helpful tips and advice for your car maintenance


Hanna Sanchez
Author
Recent posts