In this article...
1. Geely Coolray vs Suzuki Vitara: A fresh-faced rookie and a veteran

2. Geely Coolray vs Suzuki Vitara: Exterior

3. Geely Coolray vs Suzuki Vitara: Interior

4. Geely Coolray vs Suzuki Vitara: Engine & Performance

5. Geely Coolray vs Suzuki Vitara: Safety

6. Geely Coolray vs Suzuki Vitara: Variants and Prices

7. Geely Coolray vs Suzuki Vitara: Conclusion
1. Geely Coolray vs Suzuki Vitara: A fresh-faced rookie and a veteran
The year is 2020. The term crossover is no longer associated with niche, weird-looking vehicles like the 1st-generation Toyota Rav4, the Nissan Cube, and the Honda Element.
Gone are the derisive looks that car enthusiasts will give you whenever you roll into the scene with your quirky looking whip. They're now very popular, and those very same people who have dismissed it have recognized them as a necessary evil to fuel the global car industry.
Well "necessary evil" is a bit too much so let's just say that while they're still not as popular amongst car enthusiasts, they're here to stay.
Enter the Suzuki Vitara. Its 1st-generation once had this reputation of being actually good for off-road activities because of its body-on-frame chassis and 4x4 drivetrain (for some variants), but alas, all things changed when the 2nd-generation FT/GT models were released.
It had shed off its glorious boxy countenance to become rounded with nary a sharp angle on its body and Suzuki even removed the recirculating ball truck steering unit and replaced it with something that made it handle like a sedan. Today, the Vitara, now in its 4th-generation, has completely transformed into a city going, subcompact, unibody crossover without four-wheel-drive, a very far cry from the robust and rugged nature of its predecessors.
In its present form, however, many love the Vitara for what it is. It's small enough to not be unwieldy in places like Metro Manila, and it's actually a very practical daily driver.
In 2019 however, the Sojitz Corporation acquired the distributing rights for Geely Automobiles here in the Philippines and the first model they introduced is the Geely Coolray.
Many crossover models from many car brands are now shaking in their britches and for good reason. That, of course, includes Suzuki who even decided to cease importing the GL+ and GLX variants of the Vitara because "Tax and pricing are no longer competitive to continue said variants" and "due to the influx of cutthroat competition of China brand" to instead replace them with another Vitara variant.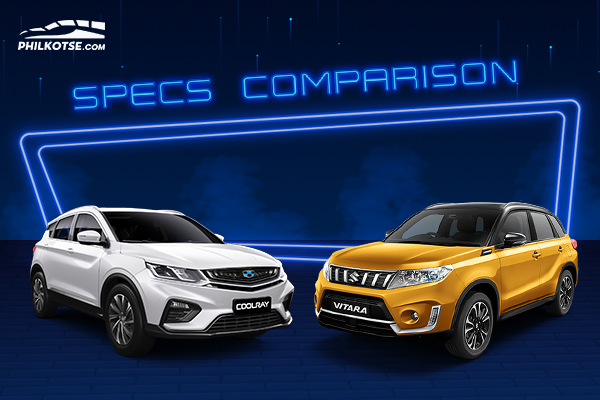 Step right up folks
Now, why is this? Why is the Geely Coolray such a threat to the Vitara? Let's find out with Philkotse.com by comparing the two.
2. Geely Coolray vs Suzuki Vitara: Exterior
Geely Coolray vs Suzuki Vitara: Dimensions

| | | |
| --- | --- | --- |
| Dimensions | Geely Coolray | Suzuki Vitara |
| Length (mm) | 4,330 | 4,175 |
| Width (mm) | 1,795 | 1,775 |
| Height (mm) | 1,609 | 1,610 |
| Wheelbase (mm) | 2,780 | 2,500 |
| Ground Clearance (mm) | 196 | 180 |
| Trunk Capacity (Liters) | 330 | 375 |
With Geely Holding's acquisition of Volvo, many current Geely models have begun to exhibit vast improvements in their design. With the 2020 Coolray, it has a wealth of cool exterior features like the very unique "expanding cosmos grille" flanked by a pair of very modern-looking LED headlights.
On the down low, it also has a very aggressive and very angular looking front bumper. When viewed from the side, it quiets down a bit with a standard crossover roofline. From the rear, however, the model gets busy again with a faux carbon rear diffuser and quad tailpipes.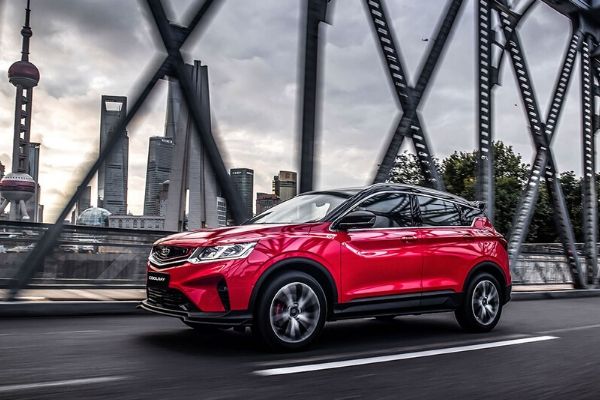 Fresh-faced and full of unique design cues
Overall, Geely Coolray for sale is very flashy and very modern.
In comparison, the Vitara, likewise, looks as well put together as other modern crossovers but a bit more subdued. It does have its own flair, though.
For starters, the two-tone color scheme is very sporty. The grille with the vertical slats also provides a more macho, utilitarian look which is a nod to how it's older generation models were.  From the rear, it sports a set of sharp-looking tail-lamps and a sporty looking rear diffuser.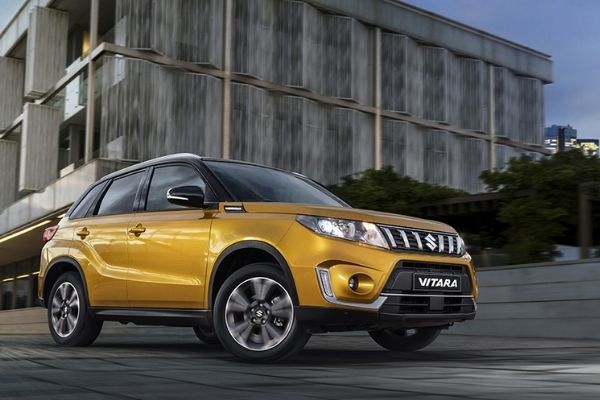 Just as fresh but many of its design cues are callbacks to its earlier versions
In terms of size, the Geely is a bit larger than the Vitara. It has more in the way of ground clearance and it does have a longer wheelbase meaning it has the potential of providing a better ride and better stability when traveling at speed. More on that bit later.
>>> Check out the in-depth review of these two crossovers:
3. Geely Coolray vs Suzuki Vitara: Interior
From the get-go, the Coolray's interior design is vastly different from the Vitara's. It's not only because they're from different brands but rather, it's because they have different themes.
Once inside the Coolray, what you'll find is a very futuristic and very premium-looking cabin with soft-touch surfaces and leather-clad seats.
And due to its wider and longer dimensions, it comparably has more in the way of legroom. There's also the jet throttle inspire shifter and the thruster-like shaped side air-con vents.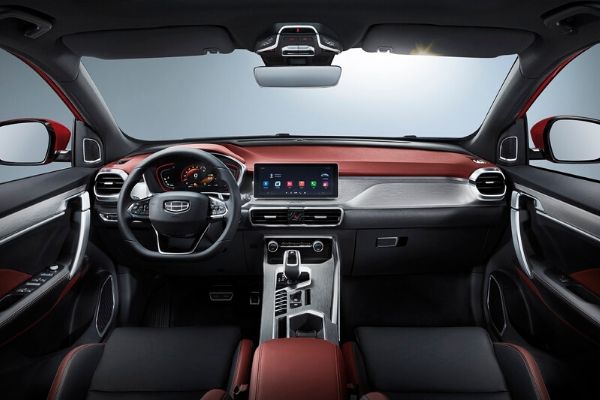 Fancy and yet...edgy
What we like about the Suzuki Vitara's interior, however, is that it's simple and more traditional than the Coolray's. We also really appreciate the physical dials and the presence of an actual physical handbrake. On the Geely's, the electronic handbrake works but other people might not appreciate that. Aboard the Suzuki Vitara, there are a lot of plastics and very hard surfaces, but everything looks well-arranged and logically placed. Utilitarian? Sure. Impractical? Well, far from it.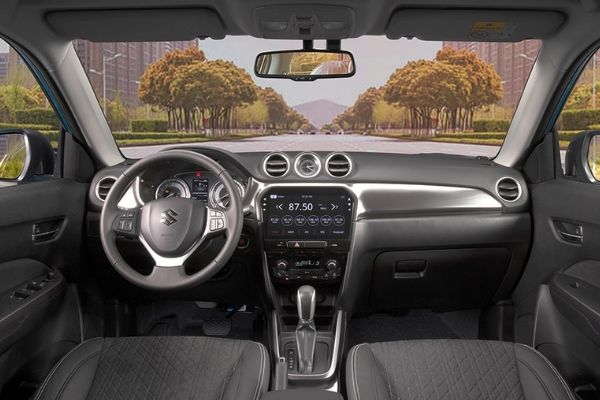 Sure, the materials are simple but larger drivers will find it more comfortable
Despite being longer than the Suzuki Vitara, the Coolray has a smaller trunk capacity with the seats in default configuration. And also, the front seats can be a bit tight for larger drivers due to the Coolray's gigantic center console. Aboard the Vitara, you'll have no such problems due to its tapered center console.
Another advantage of the Vitara's interior has is the touchscreen which is literally a 10-inch Android tablet stuck on the dash.
This eliminates the need to mirror your smartphone because it can do anything your phone can. Aboard the Coolray, its infotainment system is also a ten-inch wide touchscreen but it's a simpler unit with Bluetooth only. Yes, it does have phone mirroring but you still need to download the QD Link application.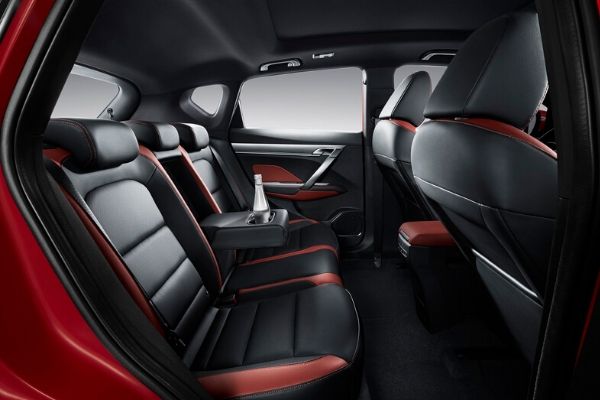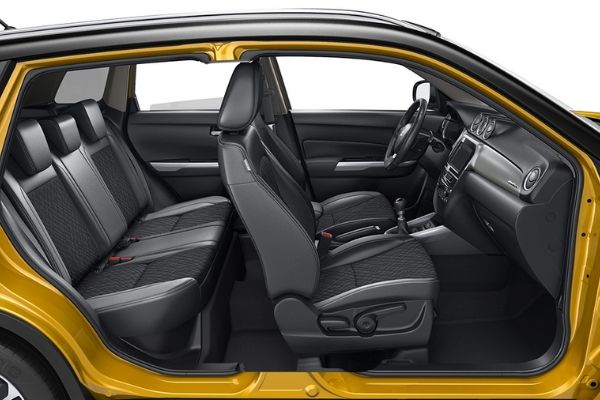 The Geely definitely has more room in the back
>>> For your further reference:
4. Geely Coolray vs Suzuki Vitara: Engine & Performance
Geely Coolray vs Suzuki Vitara: Engine

| | | |
| --- | --- | --- |
|   | Geely Coolray | Suzuki Vitara |
| Engine | G-Power 1.5-liter Inline-3 Turbocharged Gasoline w/ VVT | 1.6-liter M16A Inline-4 Gasoline |
| Displacement | 1,477 CC | 1,586 cc |
| Transmission Type | 7-speed Wet Dual Clutch Transmission | 6-speed Automatic |
| Max Output | 177 horsepower | 115 horsepower |
| Max Torque | 255 Nm | 156 Nm |
| Fuel Capacity | 45 Liters | 55 liters |
Based on the table above, the Geely Coolray 2020 definitely makes more in the way of power. That's despite its engine's smaller displacement and the fact that it only has three cylinders. Thanks to the power of forced induction, it can definitely get up to speed faster than the Vitara.
Apart from having more oomph, the 2020 Coolray also has more in the way of sound deadening. Like the Vitara however, you can expect the Geely model to exhibit some body roll when tackling corners but otherwise, both will assuredly handle as well as most sedans available here in the Philippines.
5. Geely Coolray vs Suzuki Vitara: Safety
Both of these model's top-of-the-line variants are equipped with dual front airbags, stability control, antilock disc brakes, rear parking sensors, front parking sensors, and hill start assist.
When it comes to high-tech safety equipment, however, the Coolray has more in the form of very advanced driver aids. It has an active park assist system which makes the crossover literally park itself and a 360-degree surround camera that is useful when parking the vehicle yourself in particularly tight spaces. Overall, it's a pretty smart car.
>>> Relatd: Which Geely Coolray should you buy? [Philkotse Guide]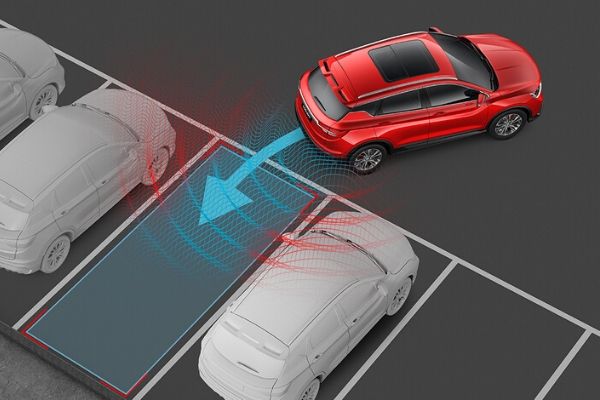 The active parking assist can definitely help those with..."impaired parking abilities"
6. Geely Coolray vs Suzuki Vitara: Variants and Prices
Geely Coolray Philippines price list

| | |
| --- | --- |
| Variant | Price |
| Geely Coolray 1.5 Comfort Turbo | Php 978,000 |
| Geely Coolray 1.5 Premium Turbo | Php 1,088,000 |
| Geely Coolray 1.5 Sport Turbo | Php 1,198,000 |
>>> Check out full Geely Coolray price list with monthly installment
Suzuki Vitara Philippines price list

| | |
| --- | --- |
| Variant | Price |
| Suzuki Vitara GL AT | Php 913,000 |
| Suzuki Vitara GL+ AT | Php 1,038,000 |
| Suzuki Vitara GLX AT | Php 1,158,000 |
>>> Get to the most updated price page of the Suzuki Vitara
7. Geely Coolray vs Suzuki Vitara: Conclusion
As many car reviewers have pointed out about the Coolray before, it's mystifying how they can keep making a vehicle with that amount of features and then selling it with that low a price.
Even the top-of-the-line variant of the Coolray, which comes with the active parking assist and many other nifty gizmos, is only priced at Php 1,198,000 which is far less than other models that come with a similar feature. So this begs the question: did they scrimp somewhere in some part that we can't see or is Chinese manufacturing really that efficient?
The Geely Coolray, however, is quite new to the Philippine market so we'll just have to wait and see.
On the other hand, the Vitara is familiar and its name has been plying Philippine roads since 1998. Even the five-year run (and counting) of the current 4th-gen Vitara means that it has already proven itself.
Suzuki knows this as they might be introducing a new Vitara variant to replace the ones they withdrew to continue its battle in the local crossover market.
So, are you willing to try out the new, high-tech, and more powerful vehicle? Or do you prefer the technologically simpler but tried and true veteran?
For this one folks, we'll leave it up to you.


Cesar G.B. Miguel
Author