In this article, we discuss what is mileage in relation to vehicles and how less or more of it will affect the price of a car.
One important issue for both car buyers and sellers, especially in the Philippines, is the topic of mileage. But is it really that important? A portmanteau of the words mile (the distance traveled) and age (referring to the age of the vehicle), mileage determines the total distance that the vehicle has traveled since it was purchased, and this can be a determinant of the car's overall value such as the present condition for its age, the selling price, depreciation, and potential things to watch out for, among others.
There's also gas mileage, a somewhat related term that refers to the average distance a car is capable of traveling on a single liter of fuel; this is usually expressed in kilometers per liter and is a gauge of the car's efficiency as far as fuel consumption is concerned. That, however, is a story for another time.
According to a New York Times article, the average driver travels more than 24,000 kilometers a year; of course, many vehicles and their drivers out there can easily exceed that number, especially those who engage in long-distance driving on a daily basis.
Should You Buy A Car With High Mileage
That number includes the typical daily routine of an average person working in a city, with the drive from home to work and back again. For people that don't have a typical desk job (such as medical representatives, traveling sales personnel, or bank executives constantly on the go), this figure goes even higher, ranging between 40,000 and 50,000 kilometers a year.
That's a lot of distance to cover, which consequently means more work for the car. How does this increased mileage affect a car's and value in the long term? Philkotse.com is here to help you find out!
1. Secondhand car mileage: How important it is?
Mileage has a major influence on a pre-owned car's going price. The lower the number reflected on a car's odometer, the more it retains its value. Why? This is because mileage can give one a good idea on the state of the car's components, with wear and tear usually more evident on cars that have been used for a longer period of time and over greater distances.
Less mileage might mean that the car has a greater likelihood of having its brakes, suspension, and engine in good working order. Do mind that this isn't always the case, so an inspection by a competent mechanic is still essential in determining a car's actual condition.
That said, taking note of a car's mileage gives you a quick assessment of whether or not the selling price is fair in relation to its condition. If not, then chances are someone is trying to rip you off.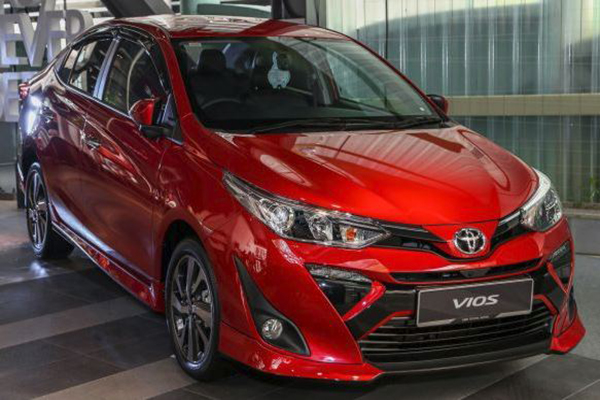 Company cars especially used by folks from the pharma industry tend to have a ton of mileage on them
2. What is the ideal mileage for a pre-owned car?
As mentioned earlier, 24,000 kilometers per year is considered the average distance for cars; in five years, this translates to around 120,000 kilometers. Anything above that might already be considered "high mileage".
In the context of the local secondhand car market, most vehicles seen in used car lots may look pristine, but factors such as exposure to floodwaters, proximity to coastal areas, and even uncleaned grime in the under chassis can still render them vulnerable to corrosion.
But while other considerations might factor in more prominently when it comes to choosing a vehicle, mileage remains a key aspect of a car's desirability for a prospective buyer.
>>> Related: What's the optimal mileage on a used car?
3. What is the relation between mileage and maintenance milestone?
Having a high kilometer reading on the odometer isn't always a bad thing, as there is also a caveat for low mileage cars. This is especially true for modern cars, many of which have easily hit the 150k mark. Despite the high mileage, modern cars have been engineered to be much more resilient than previous models, with some even going another 100,000 kilometers.
But regardless of the distance traveled, a car's value can still suffer if it has not had regular maintenance, has been driven recklessly on a daily basis or even damaged in an accident. This is why you always need to ask for maintenance records from the seller if you're interested in the car, and this usually comes in the form of the car's maintenance record booklet.
From this document, you can learn the details regarding all the maintenance work done on the car, as well as their corresponding dates. It also tells you if the previous owner followed the manufacturer-specified service milestones, which is a periodic schedule of maintenance procedures done in relation to the car's mileage.
Routine maintenance schedule

| | |
| --- | --- |
| Service | When to get it |
| Oil change | Every 3,000 miles/3 months |
| Power steering fluid | 3,000 miles/3 months |
| Hoses/belts/cables | 3,000 miles/3 months |
| Automatic transmission fluid | 6,000 miles/6 months |
| Lights | 6,000 miles/6 months |
| Wiper blades/fluid | 6,000 miles/6 months |
| Engine air filter | 6,000 miles/6 months |
A typical schedule for maintenance with respect to the amount of mileage reached
For example, a Honda Civic has a service interval of 7,500 kms, 22,500 kms, 37,500 kms, and so on; within this interval, the oil will be changed, tires will be inspected, the necessary adjustments to the engine will be performed, among other things. If a secondhand car you're eyeing doesn't have maintenance records, you'll need to closely inspect the vehicle, or better yet, bring a competent mechanic along with you.
If the maintenance interval isn't followed faithfully, even a low mileage secondhand car will have problems.
4. How to check a car's mileage?
Now this one is usually as easy as going inside and checking the car's odometer, that small rolling mechanical counter on the lower part of your speedometer that displays the mileage reading. Modern cars have digital displays, with some needing to turn on the ignition if you want to view the odometer readout.
References such as the Kelley Blue Book can also give a ballpark figure of how much a secondhand vehicle will typically sell for in the market, but it mostly covers models sold in the US, and it assumes usage under ideal conditions and the owner's adherence to the maintenance interval.
In most cases, getting an experienced appraiser to evaluate your car is a much more prudent option or you can learn some useful tips on how to unmask true low-mileage second-hand cars in the Philippines.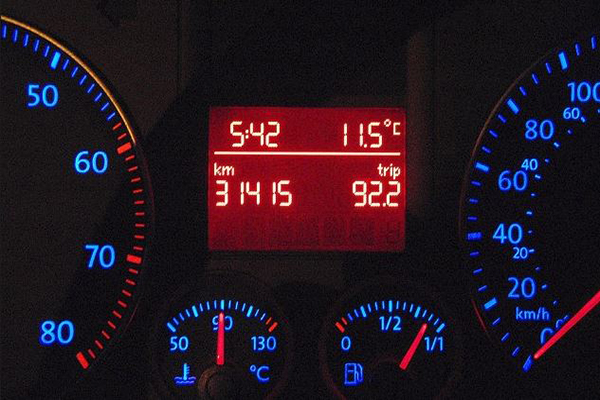 A digital odometer is easier to read and probably more accurate than the old analog ones
5. Odometer fraud
Some unscrupulous individuals actually tamper with odometers, making a vehicle appear to have fewer miles on it than it really does. This practice is referred to as "Busting miles" in the United States and "clocking" in the United Kingdom.
As odometer fraud can endanger the lives of not just the driver and passenger but every road user, the Land Transportation Office punishes this with imprisonment of not less than six months, a fine of up to Php 300,000 pesos, or both.
6. Are high mileage cars necessarily bad?
Like we said, high mileage modern cars (100k to 150k) can still be considered good, provided that the vehicle in question has received proper maintenance and its parts are still in good working order. In some cases, the brand and make of the car alone can influence a pre-owned car's value.
For example, cars such as the Toyota AE86 Sprinter Trueno, Land Cruiser FJ40, Nissan Silvia S13, and Nissan Skyline R34 are vehicles that can still command high prices in the market despite being their age and having significant mileage.
Some cars, like this Lexus LS400 owned by Matt Farah has reached 1 million miles of mileage.
To conclude, mileage is a good gauge in determining a car's price, and checking it out if you're eyeing the car of your dreams is a good habit to cultivate. And another good habit to have is to regularly visit Philkotse.com for the latest in car buying and selling tips.


Cesar G.B. Miguel
Author