It's not the car I wanted, but it's exactly what I need. 
Hello, Cesar here. A few months ago, just before the second enhanced community quarantine, I bought myself a used 2018 Suzuki Swift. So why a used Swift? Well, let me share with you why I chose that car and why I am content, and even happy with my choice.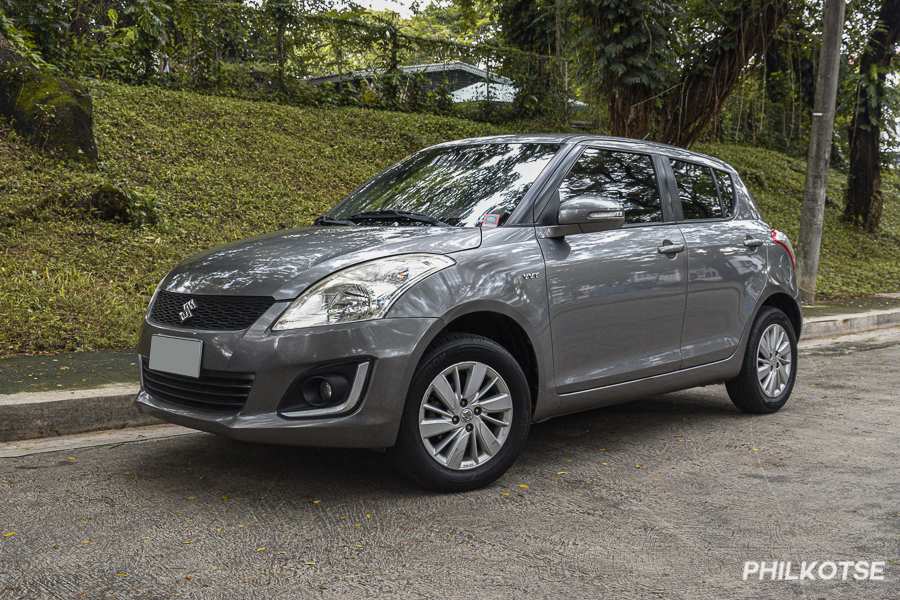 Here it is folks, my 2018 Suzuki Swift
Necessity outweighs wants 
Just like most future car buyers, I had a plan. Now this plan wasn't the most logical, as it involved saving up money to buy something fun instead of something practical. I was even prepared to commute for years on end just to get the car I wanted.  
To be specific, I originally wanted a Japanese two-door coupe. This meant something along the lines of the GT86, a good ol' NA Miata, or an MR-S. So yeah, these are the kinds of cars that tickled my fancy. Agile, low-to-the-ground cars are the furthest thing you can think of in relation to usability and practicality.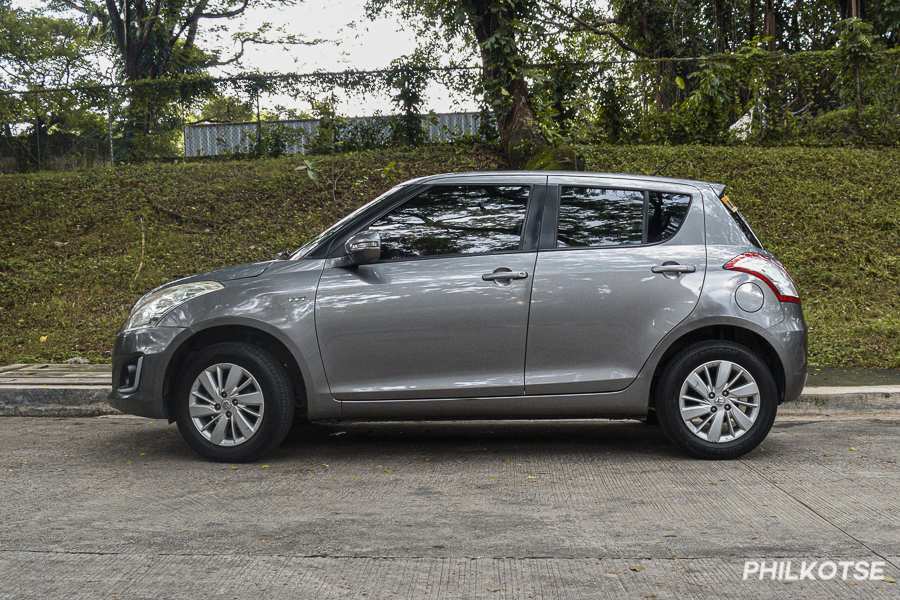 While not a sports car, the Swift actually handles great
In the words of the great Mike Tyson though, "everyone has a plan until they get punched in the mouth." In this particular case, the aforementioned punch came in the form of COVID-19. And boy, what a punch that was and still is. 
If you're living under a rock, COVID-19 is highly infectious and definitely deadly. So yeah, my old, possibly not very healthy self certainly had fears of getting exposed. On top of that, I realized the need for a car in getting my monthly groceries and other needs. 
Sure, existing Transport Network Vehicle Services (TNVS) has been reliable, but there were several times during the length of the pandemic (first ECQ) that it wasn't available. Being my paranoid self, I thought that if the proverbial crap hits the fan once again, I'd have to walk and lug around my groceries from the nearest mall. No one wants to deal with that for sure.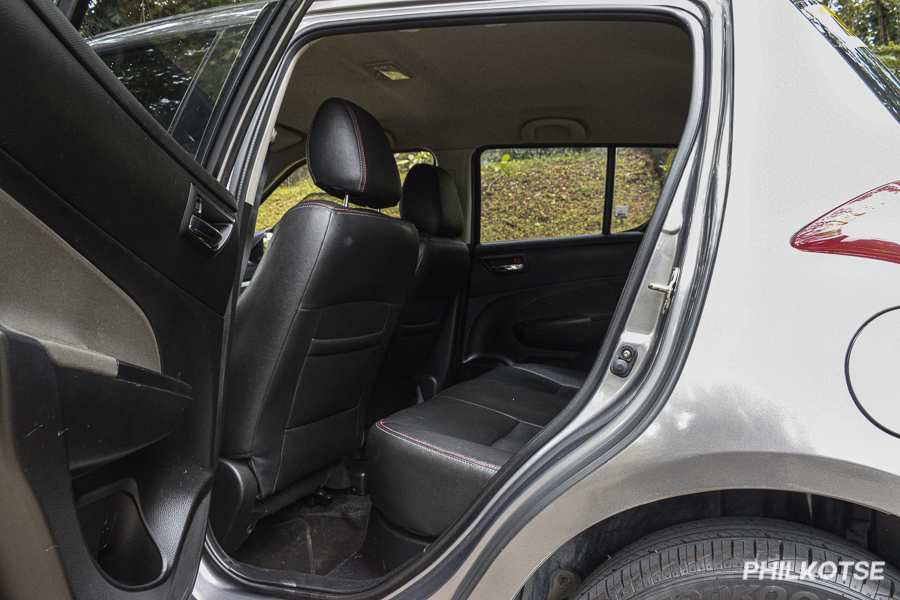 Of note, the rear seats doesn't have much legroom. For smaller folks though, its alright
But why a used Suzuki Swift? For starters, its total price fits exactly my budget like a glove. Then again, with the same amount I could've put the downpayment something brand-new. However, I didn't want to deal with interest rates and depreciation. In short, it was something that I could pay in cash for, and being a used car, the previous owner already shouldered the cost of depreciation. 
So, what's a 2018 Swift like in 2021? 
Simple but Sprightly 
In my particular case, the Swift that I bought was a facelifted second-generation AZG 2018 model with around 45,000 km on its odometer. For the Philippine market, this version of the Swift was released back in 2015, and it uses the same 1.2-liter inline-4 engine that the 2013 version used. At most, this engine makes 87 horsepower and 114 Nm. I of course chose the five-speed manual version because I like to row gears. 
With that kind of output, the AZG Swift 1.2-liter isn't a fast car by any stretch. Then again, I feel like its very light 960 kg curb weight makes it really agile and surprisingly stable when taking on corners. Plus, the engine is very thrifty too.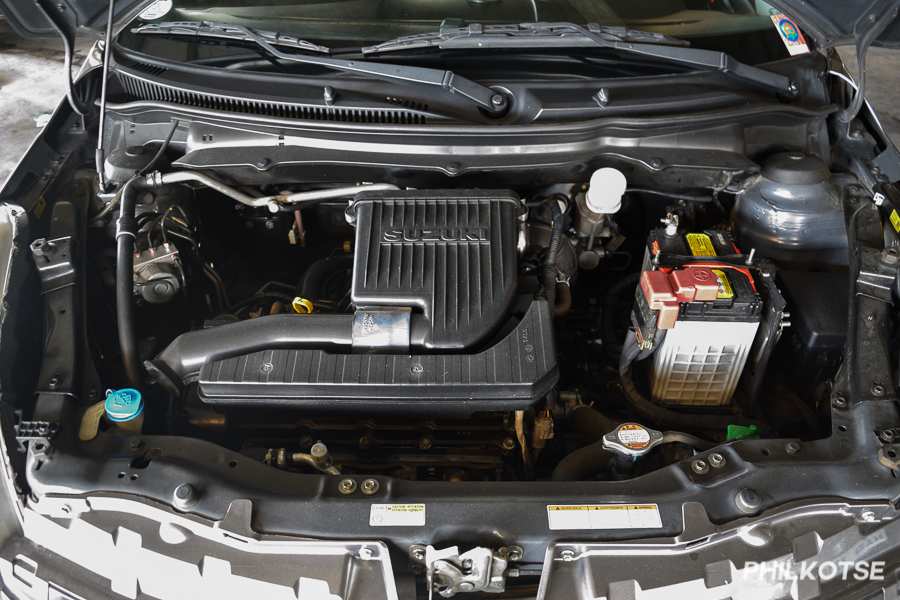 The 2018 Swift's 1.2-liter K12M inline-4 engine
Due to its size, I also have no trouble maneuvering in tight parking buildings and roads. Then again, the rear seats can be a bit short on legroom, otherwise the cargo space is more than enough especially with the 60:40 split-folding rear seats. Do note though that there are only two of us in my household, and since I bought this car no one has since used the rear seats. 
As an affordable car though, there are some things about the Swift that might put other people off. For instance, it doesn't have a lick of soft-touch surfaces at all. Its interior door cards, and the entirety of its dashboard are made out of hard plastic. It isn't plush, but then it's really easy to clean.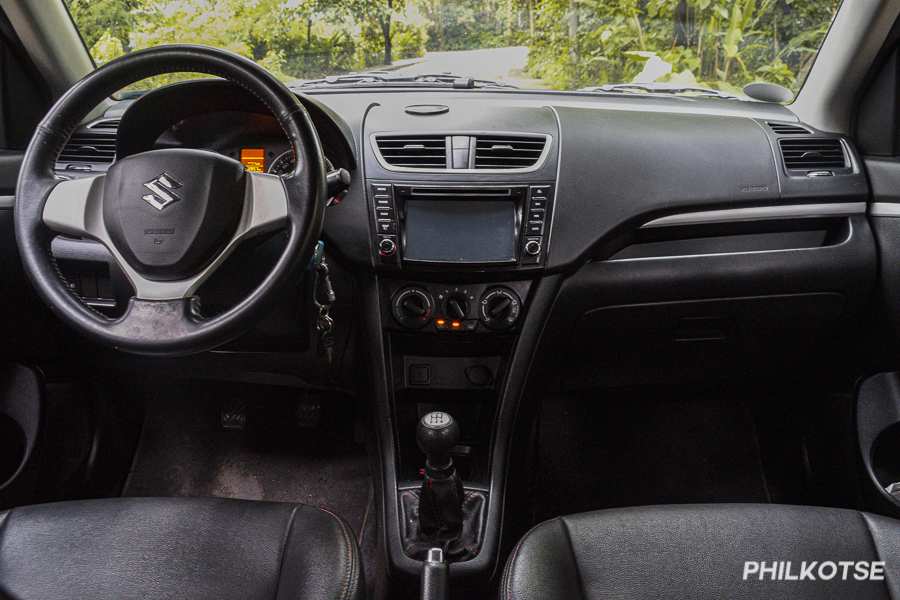 The steering-wheel has some discoloration, but otherwise everything works just fine
Being relatively low mileage, the car as a whole doesn't have that much wear and tear. The engine bay looks fresh, and the paint was decent enough for a three-year-old car. Although I had to replace the stock tires whose treads were getting shallow. Also, I took it for its 45k periodic maintenance schedule at Suzuki East Ave, where they replaced all of its filters, and oil. 
Again, I am happy with my used Suzuki Swift 1.2 MT. It is small enough to zip around town and not be bothered that much by traffic, but also large enough to carry my groceries.  
For more car news, car reviews, and car buying and selling tips, keep it here on Philkotse.com. 

Know more about Suzuki Swift 2022

The Swift is the Japanese small-car expert Suzuki's entry into the growing demand for reliable subcompact hatchbacks. For the Philippine market, the Suzuki Swift 2021- 2022 has one variant which is the Swift 1.2 CVT. It comes with a price tag of Php 844,000.
Powering the Philippine-spec Suzuki Swift is a 1.2-liter inline-4 gasoline engine. This four-banger can make up to 82 horsepower and 113 Nm of torque. The said engine is then paired with a continuously variable transmission (CVT) only. Power is then sent to its front wheels.
Size-wise, the Suzuki Swift 3,840mm long, 1,735mm wide, and 1,495mm in height. It also has a wheelbase length of 2,450mm, and a ground clearance of 120mm.
Locally, the Swift Philippines competes against the likes of the Toyota Wigo, Mitsubishi Mirage, Honda Brio, Kia Picanto, and the Mazda2 Hatchback.

Cesar G.B. Miguel
Author