Crossover cars under P1,000,000 in the Philippines you can buy today!
Sales of sedan are always high does not necessarily mean that Pinoy car buyers are not interested in any other vehicles. In fact, the demand for crossover cars in the Philippines has been substantially increasing in the recent years, proving a significant change in Filipino car shoppers.
This buying trend is not difficult to explain. Philippine streets are getting busier and tighter than ever due to the increasing number of vehicles. In such traffic condition, driving a full-sized SUV in big cities such as Manila might be an uneasy experience to many. While most Filipinos choose to drive sedan, there has been a growing number of people who find crossover cars a great solution to the heavy traffic in our country.
10 New Crossover Cars Coming in 2018 (Prices and Technical Specs Compared)
Crossover cars are smaller in size while compared with full-sized SUVs and undoubtedly look far sportier and more outstanding than sedan vehicles. In terms of driving experience, crossover cars can be a great partner for both daily in-town driving and occasional leisurely trips.
Philkotse.com has put together a list of 10 most affordable crossover cars in the Philippines. Our list is divided into two parts in which:
The first part will focus on crossover cars from as low as P795,000 to under P1,000,000 while;
The second part will reveal 6 best crossovers from just over P1,000,000 to less than P1,500,000.
Have a look!
1. Ford EcoSport 2018: P795,000
Preview Ford EcoSport 2018 ST Line
Recently, the Ford EcoSport 2018 facelift has been revealed in Europe with improved technology and more aggressive look, giving Filipinos more hints of what to expect in the PH-spec version. Before being introduced to European market, the EcoSport has already been launched in Asia Pacific and North America in April 2017 and November 2016, respectively.
Even though the Blue Oval haven't confirmed about the Ford EcoSport 2018 official release date in the Philippines, taking home a 2017 model for Christmas is not a bad idea at all. In addition to an attractive appearance and a handful of enhanced technologies, the EcoSport impresses Pinoy car buyers mostly by its affordable price. The base model can be yours for only P795,000.
For better insight into this vehicle, click here to read our full review.
The Ford EcoSport 2017 price in the Philippines

| | |
| --- | --- |
| Variants | Price |
| Ford EcoSport 1.5 Ambiente MT | ₱795,000 |
| Ford EcoSport 1.5 Trend MT | ₱855,000 |
| Ford EcoSport 1.5 Trend MT Black Edition | ₱868,000 |
| Ford EcoSport 1.5 Trend AT | ₱905,000 |
| Ford EcoSport 1.5 Trend AT Black Edition | ₱918,000 |
| Ford EcoSport 1.5 Titanium AT | ₱1,008,000 |
2. Suzuki Vitara 2018: P938,000
First debut in 1989, up to now, the Suzuki Vitara has gone through almost 3 decades with 4 generations. The name Suzuki Grand Vitara had been around since the car was born; however, starting from the fourth generation, it has been dubbed "Suzuki Vitara".
2018 Suzuki Vitara (facelift) | Walkaround | Frankfurt Autoshow
Officially hitting our shores in November, the all new Suzuki Vitara 2018 has stirred up the Philippine auto market with a number of impressive refinements. The most significant improvement, among all, is that the Japanese carmaker has decided to move the crossover out of the A-segment to become a B-segment vehicle. By doing so, the Vitara has now entered the fierce competition with strong rivals such as the Nissan Juke, Mazda CX-3 and Ford EcoSport.
In the Philippines, a base variant of the Suzuki Vitara will set you back at P938,000.
More details will be found in our in-depth review for the all new Suzuki Vitara 2018.
Suzuki Vitara 2018 Price in the Philippines

| Model | Price |
| --- | --- |
| Suzuki Vitara GL+ | ₱938,000 |
| Suzuki Vitara GLX | ₱1,048,000 |
3. Nissan Juke 2018: P980,000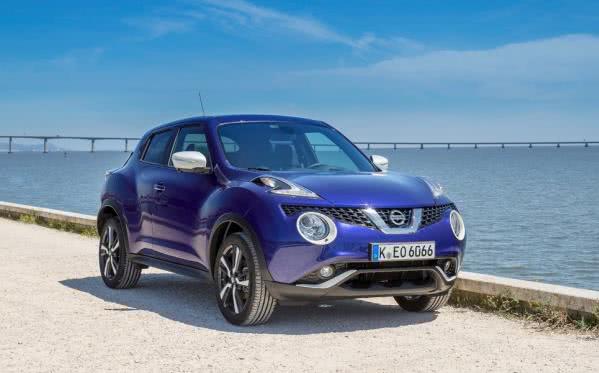 The Nissan Juke owns an outstanding look that turns head whenever it goes
The Nissan Juke 2018 is a head-turner compact hatchback which comes equipped with  a host of enthusiasm while keeping its engine over 4,000 rpm. Driven by a 116-hp 1.6L engine, the Nissan Juke pushes out 154 Nm of torque. As the Juke is designed to be a small crossover, interior space is not one of its strong points. Tall passengers might feel uncomfortable during long trips. However, with a price tag of P980,000, the Juke is absolutely an excellent choice for those who often drive alone around the city and don't frequently travel out of town.
>>> Click here to find our comparison between the Nissan Juke and the Subaru XV
Nissan Juke 2018 Price in the Philippines
Model
Price
Nissan Juke 1.6 Upper CVT
P980,000
Nissan Juke 1.6 CVT N-Sport
P1,039,000
Nissan Juke 1.6 CVT N-Style
P1,080,000
4. Honda BR-V 2018: P998,000
The existing BR-V was first showcased at the 2015 Gaikindo Indonesia International Auto Show. One year later, the car officially arrived in the Philippines. Since then, the Honda crossover has gradually won the hearts of Filipino drivers thanks to its great interior and driving comfort, demonstrating convincingly the meaning of its name – a Bold Runabout Vehicle. Want to know more about this crossover in terms of spec and performance? Look through our full review here.
The All-New Honda BR-V
Built as a 7-seat crossover with a sleek and masculine appearance, not to mention a bargain price of less than P1,000,000 for the base variant, the Honda BR-V 2018 is definitely a highlighted vehicle in its class.
Honda BR-V 2017 Variants & Prices in the Philippines

| Model | Fuel Type | Price |
| --- | --- | --- |
| 2017 Honda BR-V 1.5 S CVT | Gasoline | ₱998,000 |
| 2017 Honda BR-V 1.5 S CVT Modulo | Gasoline | ₱1,044,000 |
| 2017 Honda BR-V 1.5 V Navi CVT | Gasoline | ₱1,128,000 |
| 2017 Honda BR-V 1.5 V Navi CVT Modulo | Gasoline | ₱1,194,000 |
Our second part unveiling the list of best crossover cars in the Philippines priced from P1,000,000 to under P1,500,000 can be found here.
Stay tuned to catch up with more useful car buying tips on Philkotse.com!