This post is for those who are looking for cars for sale but not sure how much of a car they can actually afford.
How much should you budget for a vehicle? How can you get the right car that not only fits your price range but also fulfills all your basic demands? What if you can actually go for a more expensive car than what you thought you could afford?
Let Philkotse.com helps you determine how expensive of a car you can buy based on your actual income.
Obviously, the answer to these questions depends on various factors. In this article, Philkotse.com will give you a hand in case you are feeling lost in the massive pool of cars for sale in the Philippines.
1. How much should you spend on a car based on your earning?
Visit Car Purchasing Tool from SMEtoolkit.org and take the following steps to find the answer to this question:
Predict the maximum down payment you are willing to go for. We put a down payment of P70k for instance.
How long would you like to pay off your car? We select the 48 months option.
Decide on how much you could spend each month to pay for your car. P12,000 seems to be realistic enough.
Assume an interest rate that you can qualify for on a loan. Let's give it a 9%.
Fill in the current sales tax of 12% in the Philippines
Click Calculate and see the result
The tool suggests that you should be able to afford a car that costs around P490,000.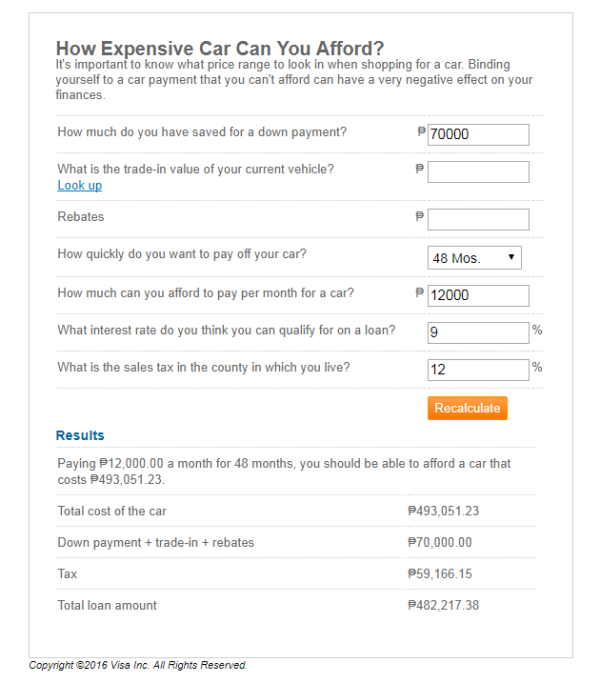 Once you have come up with an estimation of how much car you can afford, the next step is to look for cars for sale that is not out of your price range yet still satisfies all your essential needs.
2. Which car should I buy with a budget of under P500k?
2.1. If you are looking for new cars for sale
Take a quick look at the list of 10 brand-new cars of different segments under P500k, your choices can be narrowed to the following 6 models:
The Chery QQ3 2018 (P499,000)
The Haima 1 2018 (P499,000)
The Lifan 320 2018 (P498,000)
The Lifan 520 sedan 2018 (P498,000)
The Suzuki Alto 2018 (P429,000).
2.2. If you are looking for used cars for sale
With a budget of less than P500,000, let's start the car search by going to some reliable websites to buy and sell cars such as Philkotse.com. With the helpful filter function, we can easily sort out a list of all second-hand cars for sale meeting our needs and budget.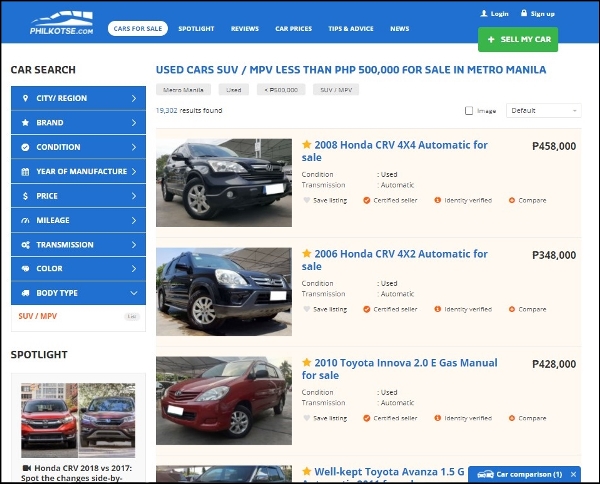 Use the search menu on the left to look for used SUV cars for sale on Philkotse.com
3. Verdict
As websites to buy and sell cars are always updated with hundreds of new listings every day, remember that it might take you hours, even days, to finally come up with a shortlist. The more specific your criteria are, the easier it gets to find the best possible fit, provided that the site offers proper filter search tool to adapt your criteria.
Looking for cars for sale is never an easy task yet we hope our small tips today have helped your car buying process a bit less challenging.
True Way of Determining How Much Car You Can Afford

Recent posts