Now that the City is an import model, will it have an effect on the rates?
The all-new Honda City was one of the anticipated new Philippine releases of 2020, sporting bigger dimensions that dwarf even those of the ninth-generation Civic. Nevertheless, it continues to be slotted into the subcompact car category.    
All-New 2021 Honda City Philippines First Look: Better and smarter than ever
Now on its fifth generation in the country, this new City also marks the first time that our market is importing the model from Thailand. Philippine-spec City units had been assembled at Honda's Santa Rosa, Laguna, facility since the model premiered here in 1996.
Along with the change comes a revamp in the City's trim levels. The E, VX, and VX+ designations are officially gone in lieu of the V and S variants, the latter available in both base manual transmission and CVT options. There's also the range-topping RS trim that sports LED headlamps, black trim pieces, and sportier alloy wheels, among others.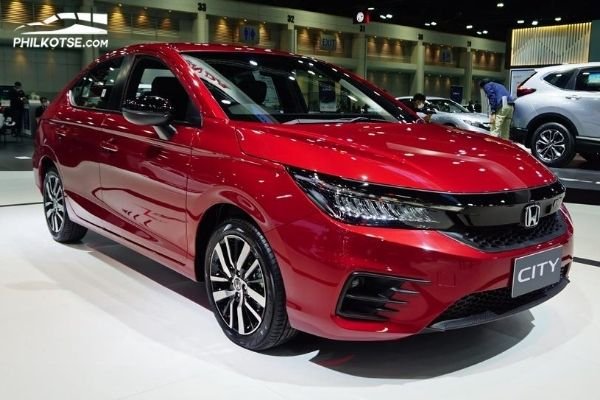 The new City is now an import model from Thailand
Perhaps the only disappointment (and a big one, at that) is the fact that we'll have to make do with a 1.5L gasoline engine, as the punchier 1.0L turbocharged mill failed to reach our shores.
However, the new City is very much still a formidable contender in the subcompact segment, especially with the addition of Apple CarPlay and Android Auto. How much does it cost to own a City, if you were to get one today? (Note: the computation shown here are just estimates. The actual amount may vary.)
>>> Related: 2021 Honda City Old vs New: Spot the differences
Honda City 1.5 S M/T
The base City variant comes with 15-inch alloy wheels, a 2-DIN audio head unit, and the lone 6-speed manual transmission in the entire lineup. With a curb weight of 1,083 kg., it's also the lightest in the range, which should also mean it has the best power-to-weight ratio.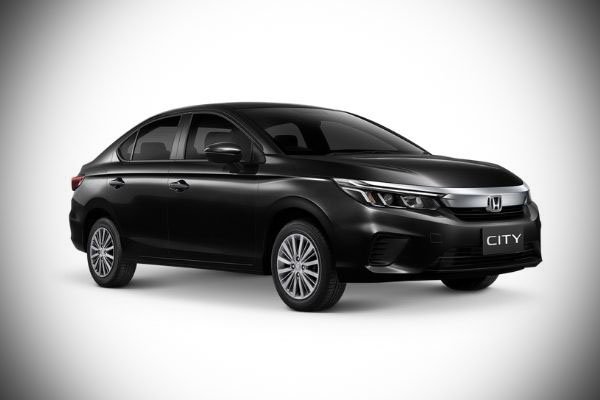 The base City already looks sporty 
Carrying a sticker Honda City price Philippines of Php 848,000, the entry-level City is offered at Php 16,354 a month for the next 60 months with a 20 percent down payment or Php 169,600. If you feel that you can do with a shorter payment term, the monthly amortization rises to Php 23,717 for 36 months on the same down payment.
Doubling the down payment to 40 percent translates to a monthly fee of Php 17,788 for 36 months, or Php 12,265 for the maximum term of 60 months.
>>> Related: Honda City: Expectations and everything we know so far
Honda City 1.5 S CVT
If you don't want to row through the gears, the Honda City CVT variant is for you, with fender-mounted turn signal lights, body-color door handles, black interior, and a urethane shift knob. Other features include a keyless entry system and a 12-volt front accessory socket.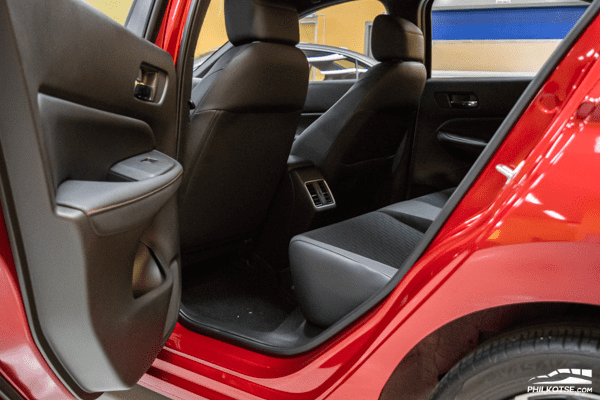 All City variants boast generous legroom for rear occupants
The 1.5 S CVT is priced at Php 888,000 for cash buyers. When opting for financing, a 20 percent down payment or Php 177,600 will cost you Php 19,988 in monthly installments for the next 48 months, or Php 17,125 for 60 months. Moving the initial deposit to 40 percent or Php 355,200 cushions the monthly fee to Php 14,991 for 48 months, and even lower at Php 12,844 for 60 months.  
Honda City 1.5 V CVT 
Stepping up to the Honda City 1.5 V CVT gets you 16-inch alloy wheels, body color power-folding side mirrors, and smart entry. Ivory interior trims, a fabric armrest, and leather shift knob are also standard, as is a multi-view rear camera.
The asking price for this variant is Php 978,000. For a 30 percent down payment or Php 293,400, the monthly due boils down to Php 23,934 for 36 months or Php 19,262 if you opt for 48 months. If you're confident enough to fork over half or Php 489,000, the monthly goes down to Php 17,095 for 36 months or even Php 11,788 for 60 months.
 >>> Related: 2021 Honda City debuts: Sleek design, more tech toys, initial pricing
Honda City 1.5 RS CVT
The range-topping City variant boasts a complete equipment loadout, from fog lights, a leather steering wheel with tilt and telescopic adjustment, and an 8-inch audio touchscreen with Apple CarPlay and Android Auto. The RS also comes with a complete array of front, side, and curtain airbags.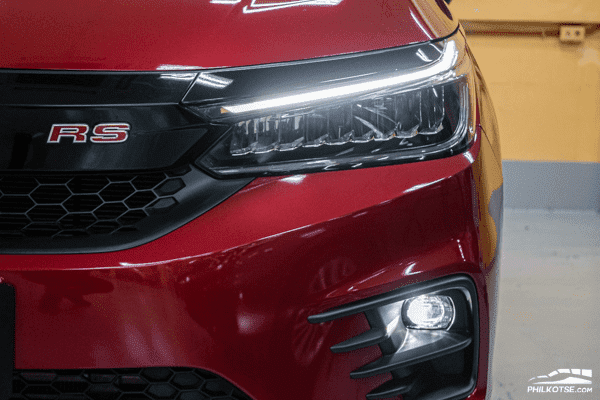 LED headlamps are standard on the City RS
Retailing for Php 1,058,000, the Honda City RS is offered with a Php 12,752 monthly amortization for 60 months, on a down payment of 50 percent or Php 529,000. A more modest deposit of 30 percent or Php 317,400 entails monthly payments of Php 25,891 for 36 months, Php 20,837 for 48 months, and Php 17,853 for 60 months.
Of course, these estimated rates are still exclusive of other costs such as maintenance, fuel, and annual vehicle registration.
Find more tips that add up to a great car ownership experience at Philkotse.com.

Know more about Honda City 2023

The 2024 Honda City is a subcompact sedan. In the Philippine market, its four variants are City E, City S, City V, and City RS—the prices for these range from Php 973,000 to Php 1,128,000.
Size-wise, the refreshed City for 2024 is 4,580mm long, 1,748mm wide, and 1,467mm in height. The RS trim is a bit longer at 4,589mm. All trims then get a wheelbase length of 2,600mm and a ground clearance of 134mm.
Under its hood is a 1.5-liter inline-4 gasoline engine capable of making up to 119 horsepower and 145 Nm of torque. Power is then sent to its front wheels via a continuously variable transmission (CVT).
Locally, the Honda City competes against the Toyota Vios, Mitsubishi Mirage G4, Mazda3, Nissan Almera, Hyundai Accent, MG 5, etc.


Joseph Paolo Estabillo
Author