It discusses diesel cars roaming the Philippine roads that Pinoy drivers love to drive this 2018!
It is really a big-deal to stretch out budgets nowadays and finding ways to save is becoming more prevalent in the the lives of Juan Obrero especially when it comes the type of fuel they are pumping their tanks with.
Although cars today widely run on gasoline, there are those who really clamour on the savings that they get on diesel fuel and Philkotse.com will talk about diesel cars in the Philippines that can really help you save on your daily fuel cost.
1. All-New Ford Everest 2018 - [P1,518,000 - P2,288,000]
Landing a spot on the list is an American multinational automaker Ford Motor Company with its real body-on-frame SUV, Ford Everest 2018.
Reaching another level of class, combined with the ruggedness of its robust size, it offers a balanced on-road and off-road capability that stays true to how it is advertised. Its refined premium interior, modern technology, and stylish design balance its rugged looks and so you can easily take it to Filinvest Corporate City in Alabang with ease without being alienated by the glossy surroundings.
Afterwards, you can drive further down South and see the countryside in Laguna. This SUV has a 255mm ground clearance so it can easily track different types of terrains.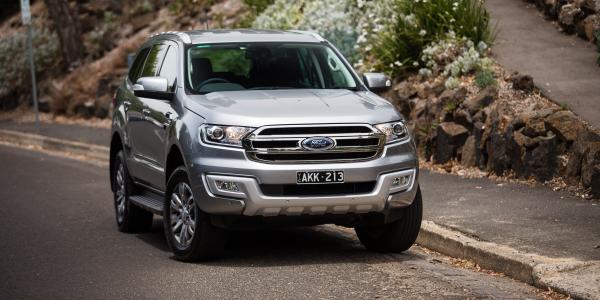 Ford Everest 2018 is an SUV built on body-on-frame chasis
Its rugged exterior offers a bulky front with its Signature LED Daytime Running Light, tagged with the trapezoid in front that is positioned pside-down, exudes a hefty presence that is tough to miss. At the same time, its roomy interior gives more space to every Juan Obrero compared to its previous models.
Also, more room will astonish you as you fold flat the 2nd and 3rd row seats to fit a maximum of 2010-liter cargo. The spacious interior holds more than 30 smartly organized stowage spaces and boasts multiple outlets for a modern-day family to utilize.
SPOTTED ! 2018 FORD EVEREST FACELITFT SPOTTED TESTING
Two engine options are available in the Philippines:
The 3.2L Duratorq 5-cylinder TDCi engine with a torque of 470 Nm and a horsepower (hp) of 200;
The 2.2L Duratorq 4-cylinder TDCi engine with a torque of 385 Nm and a horsepower (hp) of 160.
Both are paired with a 6-speed transmission for both automatic (AT) and manual (MT). It also introduces the latest generation SYNC®3 integrated systems and entertainment system, Anti-lock Brake System (ABS) and Electronic Brake-force Distribution (EBD), airbags, Hill Start Assist, and Electronic Stability Program (ESP) plus Roll Stability Control (RSC).
More insight into this vehicle can be found in our Ford Everest 2018 review.
2. All-New Honda CR-V 2018 Diesel Variant - [P1,658,000 - P2,125,000]
Another vehicle taking a spot on our list of the best diesel cars in the Philippines is the Honda CR-V 2018. This Japanese public multinational corporation that is famous for manufacturing aircraft, cars, motorcycles, and  powerplant equipment, has the initials of 'Comfortable Runabout Vehicle' become the name of its flagsip entry in the SUV department, CR-V.
Although not really an SUV in its truest sense, this unibody Crossover has proven to be a good buddy for Pinoy drivers and has withstood roaming the Philippine roads for decades. So don't think you'll get too much attention when you drive this car along North Luzon Expressway and take it up North since this beauty is no longer new to Pinoys.
>>> How much does it cost to own a Honda CR-V 2018?
2018 HONDA CRV DIESEL SX, 7 SEATER | PHILIPPINES | VLOG
Checking the history of CR-V in the Philippines, the first iteration was built in Santa Rosa, Laguna and was launched in 1996. Arriving at first in the country with an AWD system, it needed no switch to displace power to the rear wheels.
It also had a double wishbone suspension on four corners which gave the first generation a dynamic dash and with its 2.0L engine started with 126 PS that eventually became 147 PS. Fast-forward to the present time, it now has 5 undeniably fully-loaded generations under it and for the first time in history, CR-V has now a diesel variant.
The diesel-engined Honda CR-V offers 3 subvariants:
Honda CR-V S Diesel 9AT;
Honda CR-V SX Diesel 9AT AWD;
Honda CR-V V Diesel 9AT.
It is paired with a 1.6 i-DTEC turbodiesel engine with a nine-speed AT plus Electronic Gear Selector.
3. All-New Kia Soul 2018 - [PhP995,000 - PhP1,285,000]
Owning a spot on the list is Korea's second largest car manufacturer - Kia Motor Corporation's All-New Kia Soul 2018. This hatchback exudes an on-the-go vibe that fits an active lifestyle of a yuppie or a starting family.
Backed by the 2014 iF Product Design Awardee, Kia Soul was definitely a highlight in the compact hatchback market globally. With its Crossover style, the stunner becomes a tall hatchback in site of its compact size. You definitely won't worry much when your western colleagues need a lift in Bonifacio Global City because it has some extra head room compared to the usual hatchbacks around.
At the same time, tracking the outskits of BGC won't be too much of a worry since Soul's compact size can easily fit in almost any road.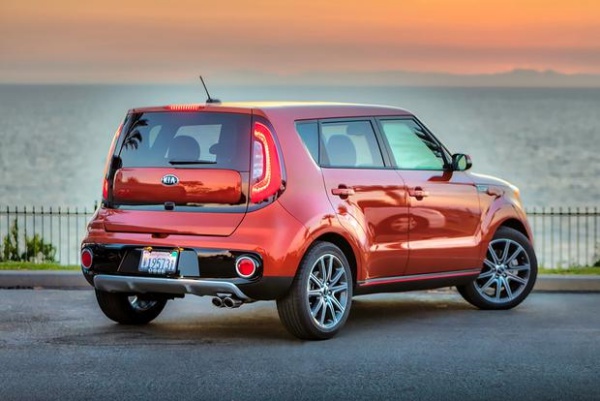 Kia Soul 2018 is a compact but tall hatchback
In terms of the interior of Kia Soul, it can pack 5 passengers with ease and still have have some room for cargo and other things at the back. It also brags a modern iPhone connectivity with digital entertainment that can support the mood of its passengers.
This compact hatchback boasts a 1.6L VGT CRDi inlne 4 Cylinder diesel-powered engine that is paired with a 6-Speed automatic transmission (AT). If you are an average car enthusiast or a newbie when it comes to cars, Soul is a good pick for you because of its affordability, agility and spaciousness.
Diesel engines do not just end under the hood of sedans. They give us different variations like the bulky real body-on-frame SUVs, compact SUVs or unibody Crossovers, and Hatchbacks. Gone are the days that gasoline is more preferred than diesel. Apart from the many known advantages of diesel than gasoline that are now presented, it is more affordable for both the immediate and the long run.
Philkotse.com will always be here to help you scrutinize things concerning your vehicle and try to put clarity on the table.
>>> See more top lists of diesel cars in the Philippines:


Michael Morales
Author
Recent posts