Pickup vs Minivan in the Philippines: What will you go for?
Among the many cars available in the market, a pick-up or minivan is an obvious choice for families. The Auto 5-point shootout: Pick-up and Minivan will help in deciding which is preferred.
1. What is a Pick-up and Family van?
This article on Philkots.com is about determining which grades better than the other. Now, to clear it up for non-gearheads and let's begin to define what kind of cars, they are!
1.1. Pick-up truck (passenger)
For beginners, a pick-up truck is utilitarian vehicle that has higher clearance than most vehicles. Pick-ups are better than most cars because of their ruggedness and multi-use. More people are opting for pick-ups that are luxuriously upgraded with everything for a safe drive!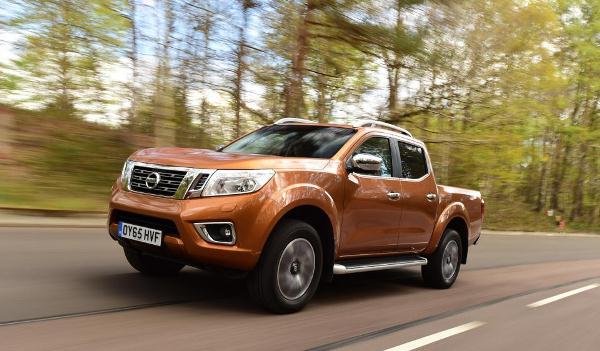 A pick-up truck is utilitarian vehicle that has higher clearance than most vehicles
Pros And Cons:Owning A Truck Vs Car
>>> Read more: 10 things to consider before buying a used pickup truck in the Philippines
1.2. Family Minivan (car-van hybrid vehicle)
The 80's saw the development of cross-breed vehicles with features of a van and a car. Later on the minivan became popular because it had more room than cramped cars, and could drive like a car too. Minivans were functional "small vans" but car makers decided to add more upgrades that defines the "Top of the Line Minivan" sold today. They are multi-purpose with enough room, better safety features, plus better interiors that exceeds comfort in sedans or compacts.
>>> Related: USED TOYOTA NOAH FOR SALE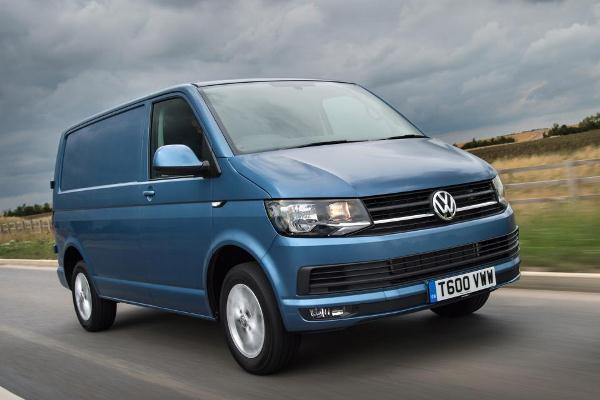 Vans are multi-purpose with enough room, better safety features, plus better interiors that exceeds comfort in sedans or compacts
This more or less defines what a pick-up or minivan is, but there are other finer differences that need clarifying too!
>>> Also check out: Top 5 best family minivans in the Philippines in 2018
2. Comparison and contrast: Pick up and Family Minivan
Our pick up and minivan comparison on Philkots.com is about the similarities and differences that both share, but have finer points to focus on.
Pick-up Truck vs Minivan
Pick-up Truck
 Minivan
Safety Features
Most "pick-up trucks" are passenger cabins which are attached to a rigid frame, along with the truck bed which is for cargo. A "body on rigid frame" has its shortcoming in safety features. The lack of some passive safety devices like airbags, side-airbags but most premium pick-ups has those.
Uses a "uni-body frame" that has many passive safety features, that's built into it to. Built into it are dual airbags, side airbags that protect all sides, so injuries are reduced when an accident happens. A minivan emphasizes safety from ground up, unlike other cars.
Passenger Comfort
The cab of a pick-up is comfortable but newer models have more elbow and leg room, but still limited by the cab design. Current pick-up models have better cab interiors, with improvements in elbowroom and legroom.
This is "perfect 10" because minivans are comfortable, with accommodations with more room than other cars. Minivan seats that are for passenger comfort at its best! With fancy rotating captain seats and reclining seats for passengers that are very comfortable.
Performance
They are built with power in mind and can tow more weight than any another vehicle, except those larger than it is. Under the hood is a V6 or V8 engine, or smaller compact engines that have torque and power when needed. Most terrain is negotiated with AWD or FWD drives, other cars would have a hard time compared to them.
Tweaked mostly as a city people hauler; this has good fuel efficiency than most pick-ups and better for city roads than any other terrain. Most top of the line minivans will have a displacement of 2000, up to 3000 that depends on the brand and model though. Some crossovers offers AWD as a feature with a higher clearance, for negotiating alternative terrain if needed.
Suspensions
Pick-up suspension is the best because they for city streets to the mountain woods, to go anywhere! High clearance in the undercarriage makes it immune to floods, low brush, and obstacles which would stump most vehicles from crossing it. Some even use custom-high performance suspension parts for the most arduous off-road terrain
The suspension of a minivan is like a car's but better, so it has similar performance to cars in general and best suited for city roads. Certain cross-overs are adopting AWD for added performance when the terrain changes a bit. Though some of them have some increases in clearance, still are not as high as AUVs or SUVs, and pick-ups.
Price
Pick-up trucks will cost depending on the model, features and add-ons that it has. Getting a two-wheel drive type, it will cost less but if an AWD or 4WD is preferred then it will cost more. Some special edition models have upgraded specifications over the standard model, which drives the price a bit more. Pay low, then you get the standard meal but get high and you've got a buffet!
Top of the line models will fetch top-dollar and good specs, but going lower will get the base model although features are getting standard with little difference. Best line models will have some upgrades like AWD and better infotainment system and even upgrades in some mechanicals too.
Now, these five points sum up everything about them, how they stack up but we're not finished yet!
>>> Useful car buying tips in case you have not yet decided which type to go for:
3. Five best features how do they stack: Pick up and Minivan
Now, the best part and that is how both options do well in the "5-point auto shootout: Pick-up and Minivan", and which feature will stand out when compared against each other. Let's begin!
3.1. Safety features
A pick-up truck is big and sturdy but the structure is not a single body like a car. A truck will protect but some limitations, because it is not unibody does have more passive safety constructed into it.
Minivans are equipped with a unibody structure and has lower center of gravity, so it won't turn over easily. Premium minivans have any safety features built-in to protect the occupants more.
3.2. Passenger comfort
Pick-up trucks are getting better in comfort but they are tuned for heavy loads, when nothings loaded they tend to be jumpy. Improve cabins are better now, but compared to other vehicles it can be a bit iffy!
Minivans are the kings of comfort, with adjustable chairs that are meant for long seating and other extras like great in-car entertainment too! It's a soft ride for minivans that is a good thing, for long distance driving.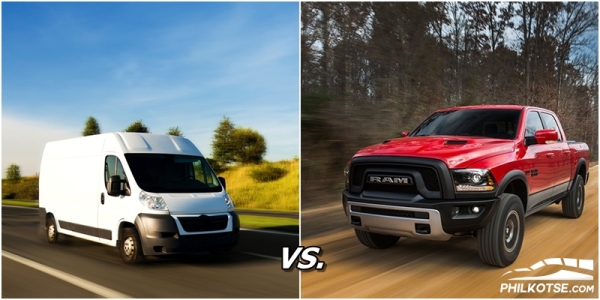 Which feature will stand out when compared against each other?
3.3. Performance
If power is needed, then a pick-up truck will score best with 4WD and AWD, for accessing any terrain with ease! Climbing hills and traversing hard terrain is what it does best, and they are heavy duty to the max.
Minivans are performers too but they do best in the city or some mild terrain, when equipped with AWD. But not all, will have AWD as standard and they have high performance with 2000 cc or more engines.
3.4. Suspension
Truck suspension can handle most roads, whether in the city or out in the woods that's why it's popular for some country folks. It hard to crack this kind of heavy duty suspension and it's sturdier except for SUV's are the same.
Minivans have road tuned suspension for best driving without the bumps. Some models are trying to crossover in SUV type suspension but still tuned for road driving, with a higher under carriage.
3.5. Price
They are expensive vehicles and are specialized, because of this price can be a toss-up between a pick-up and a minivan. Base models will vary but as options increase, sometimes minivans are more expensive because they are luxury vehicles compared to pick-ups.
We're close to getting to know what is the winner of this car mano-y-mano match!
4. The least desired feature of a Pick-up or a Minivan
Not everything is sunshine with "the 5-point auto shootout: pick-up and minivan", because both have bad features which stand out despite the sweet features both offer! Now, to enter the dark side and see what makes a pick-up truck a real deal breaker!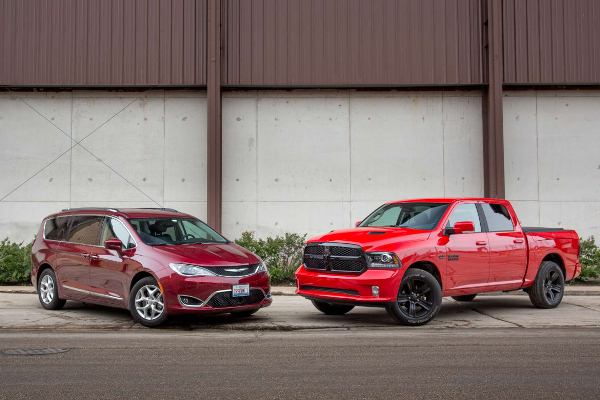 Both of minivan and pick-up truck have strong points and weak points when out head to head
The fuel economy on trucks are not that good! A variety of trucks can be picked out, but many of them like big pick-ups have bad fuel economy! Of course, smaller trucks use less that mid-sized or large ones, but they still consume more fuel.
A minivan is great for families whether big or small, but they can cost as much as an SUV! Think of it as a halfway house of features that work, but it's not enough when high clearance and all terrain mobility is what it lacks!
 Deal breakers, here they are and will they be that bad to reconsider either of them?
5. Verdict: Pick-up truck vs Minivan
Now we sum up everything in the "5-point auto shootout: Pick-up and Minivan"! It really depends on how these vehicles ranked when safety, comfort, performance, suspension, and price were factors on how to grade them. Both of them have strong points and weak points when out head to head, here is the result! The minivan trumps the pick-up anytime, because it seats more people and is comfortable compared to a pick up.


Norjan Ismail Abbas
Author