With the latest update, Waze faces some issues that default its users to longer routes. So here are a few settings you can do to fix those matters.
If you use Waze a lot, then you'll know that it has gotten a set of recent updates. In September, it received the ability to provide lane guidance as well as proactive traffic updates. While those might be useful, large updates like these will undoubtedly come with some bugs. To address that especially the GPS issues, Waze also released the Beta Build 4.67.04. For some reason however, the problem still persists to a certain degree. 
About Waze
Waze is a free GPS navigation application that provides real-time traffic updates and a lot of other cool features. Waze works by sharing real-time info with regards to traffic conditions, road structure, weather conditions, blocked roads and even recent accidents with pinpoint accuracy.
This information is collected and then analyzed to provide other Waze users with an optimal route to their destination.
Here are some possible solutions to help you fix your Waze problems.
1. Waze latest update bugs: Longer route than normal
Recently, especially if you use Waze on the regular, you might have noticed that the said app might not be working right. This is due to their latest update which causes you to choose a rather longer route than normal.
This is caused by Waze's latest update that takes restricted areas and roads into consideration. Supposedly, this feature is supposed to aid you in avoiding spots where there are number coding or where vehicles aren't allowed at all.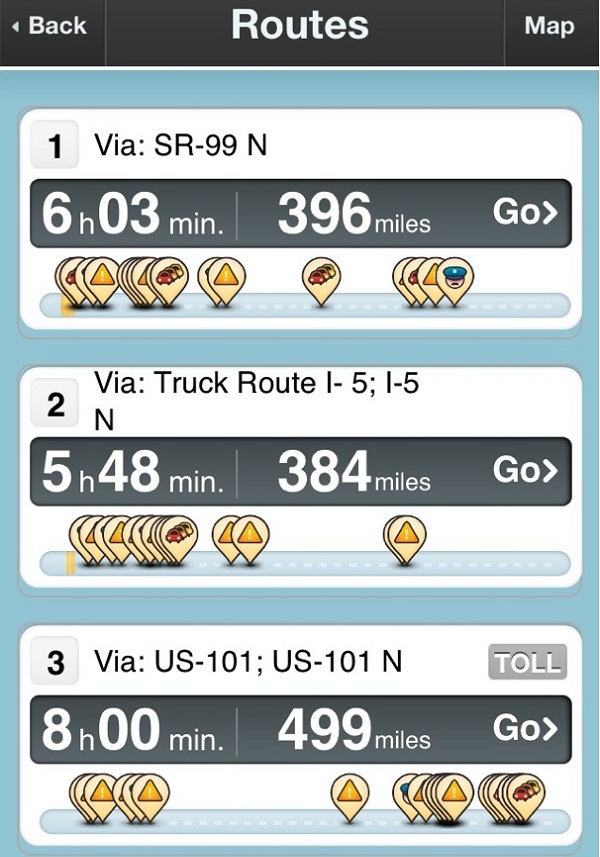 Waze is undoubtedly useful but sometimes it screws up. Doesn't that make you mad sometimes?
How to fix
Go to your Waze app's settings, then driving preferences, then vehicle details. Under vehicle details, enter your license plate to tell the app which day you are coded. This might not work all the time though as there are still users of the app who have done so yet are still routed to longer, impractical routes.
So until the next update, others have set their vehicle type from "private" to "taxi" instead. This might give you the best route in terms of travel time.
However, this fix is temporary and we might as well have to wait for the Waze devs to fix the bugs their latest update has incurred.
>>> In case you are getting troubles with Waze, try these alternatives: Apps (other than Waze) to help you survive driving in the Philippines.
2. Other common Waze problems: GPS Issues
There are times that Waze is not able to pinpoint your exact location on the GPS. When this happens, you see a message reading No GPS Showing approximate location. In other cases, the Waze app isn't even connecting to the GPS or Waze GPS not working. To address those, here are some steps to help you fix this slight annoyance.
Fix for ANDROID
Go to your device's settings, select Security and Location then Location. Select Location.
If it's not on, turn on "Use Location".
Next, proceed to App-level permission and then toggle on the Waze app if it's not toggled on already.
Tap Advanced, then Google Location Accuracy and then turn on "Improve Location Accuracy".
And then for the last part, select Scanning and then toggle Wi-Fi scanning and Bluetooth scanning on. If you're using an Android device with Android 8.1, make sure to select Mode and then pick High accuracy.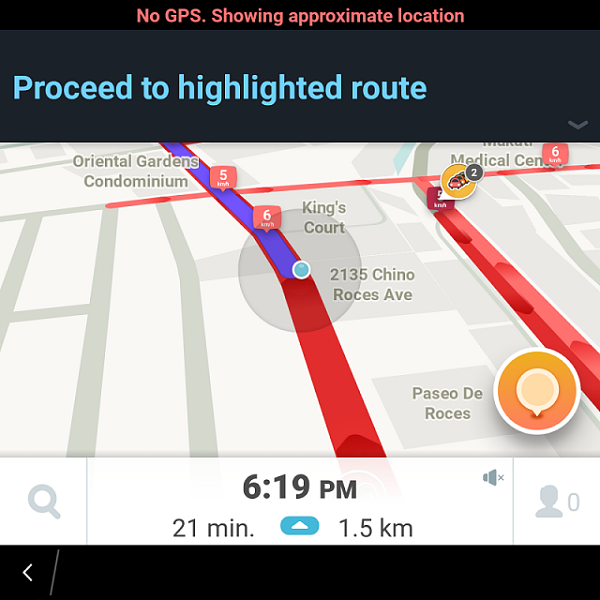 No GPS. Waze shows the approximate location
Fix for iOS
First, turn on Location Services for your Waze app. This can be done under Settings then Privacy and then make sure that it's turned to "Always" or "While using the App". If that still doesn't help:
Go to your iPhone's Settings, then Privacy, and then select Location Services and then toggle it off.
Hard reset your iPhone.
Go to Settings, Privacy and then Location services and turn it back on.
As of the current time, Waze is aware of the problem regarding the Delay in Points as it is called and that they are working to resolve it.
Waze no GPS connection
As of the last major update, there were some instances where people who updated to Android 11 cannot connect the Waze app to their GPS. To fix this, Google has promised to fix this. In the meantime however, the said company released the 4.67.0.4 Beta Build version of the app. 
If that doesn't fix the issue, here's what you should do:
For ANDROID
Go to settings
Go to wireless and network and disable all connections
If it isn't selected yet, change your preferred network to 2G/3G
Restart the phone
For iOS
Go to settings
Go to cellular then cellular data options.
Disable your 4G connections
Restart the phone
Enable your network connection then launch Waze. Check if the GPS works.
If Waze is still not connecting to GPS, then you can also clear your phone's cache. You can do this via your phone's app manager. The last resort of course is to reinstall the Waze app. 
3. Waze can't find route
If your Waze app gives you a "routing server timeout" or "no route found" message, then it's probable that the server couldn't handle your request. As such, the Waze app will stop calculating a route.
To address this, you can try breaking your route into smaller segments. This way, the server can handle it better. Also, do check the status of your network connection.
4. Waze voice navigation not working
For those who aren't aware, "ok Waze" is no longer available. You'll have to tap the microphone logo near the search bar instead. If that doesn't work, then here are some things you can check;
Check Sound output
Tap Waze settings
Tap voice and sound
Make sure "play sound to phone speaks" is unchecked.
Close the app and restart your phone for good measure.
If that doesn't work then clear the Waze app cache.
If all the above still doesn't work, then try reinstalling the Waze app.
5. Waze not updating points
According to wazopedia.com, there are times that the Waze server itself has problems. This of course results in many issues including instances where your waze points are not updating. 
Typically however, your waze points are retrieved via download from the Waze points table. This is done once a day. 
If you restart your Waze app for whatever reason, then the app will download the current points again. Without the aforementioned updates, it will appear that your points have disappeared. If you're concerned about this, don't be. Wait for a day, and the Waze server will likely update your Waze app again to show the correct amount of points you have.
>>> Click here for more useful tips and advice for smart driving.


Cesar G.B. Miguel
Author