The Yellow Edition Bi-tone is adding some extra brilliance to the Yaris' range this summer.
Taking a glance at the new Toyota Yaris Yellow Bi-Tone Edition finished in an unmissable yellow and black color scheme, we can quickly realize the car closely resembles a Chevy Camaro supermini from some movies or a Volkswagen Beetle.

Toyota reveals it is the first Yaris to be painted in Yellow Burst color, matched with black roof, front pillars, grille and side sills. Further, the rear privacy glass and a new set of smart black and silver 16-inch alloy wheels correctly complete the bi-tone exterior design.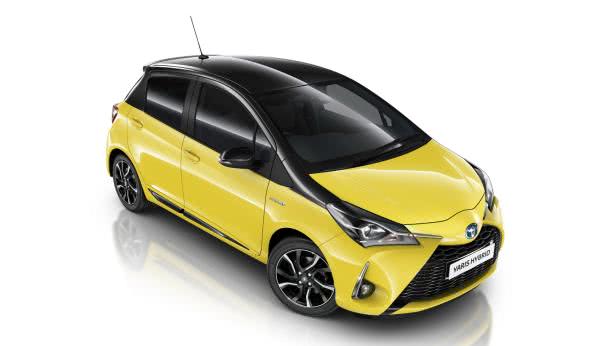 The new Toyota Yaris Yellow Bi-Tone Edition finished in an unmissable yellow and black color scheme

Although the Japanese car maker hasn't revealed any images of the interior, it is said that the distinctive color theme will continue to dominate the cabin. Accordingly, the cabin is fitted with Yellow Burst trim details in the gear shift, air vents in addition to yellow hemming for the black carpet mats.
Moreover, the
latest Toyota Yaris
 is also equipped with a new two-tone back and dark grey cloth upholstery design combined with ribbed cushion and shoulder sections. Also, other standard features include daytime running lights, Toyota Touch 2 touchscreen-controlled multimedia system, DAB reception, cruise control and Toyota Safety Sense active safety systems.
As regards powertrain, two engine options will be offered: an all-new 1.5-liter VVT-iE petrol unit and an efficient 1.5-liter petrol-electric hybrid. The 1.5-liter petrol engine can deliver 110 bhp and a peak torque of 136 Nm.
The Yaris Yellow Edition Bi-tone is now available for sale with starting prices of £17,595 for the 1.5 petrol variant and £19,845 for the hybrid.
>>> Check out our list of cheap Toyota Yaris for sale
Know more about Toyota Yaris 2021

Toyota Yaris is another subcompact hatchback offering from Toyota. It is a perfect vehicle for individuals with an active lifestyle because of its youthful vibe. The current version of this subcompact hatchback looks stylish and modern compared to its predecessor. The redesigned front exudes a premium and very trendy look. Inside, the five-seater Yaris features a 6.75-inch touchscreen entertainment display, and a 60:40 foldable rear seat to make additional room for the already spacious 326-liter cargo space. This subcompact hatchback is known for providing exceptional in-cabin comfort levels. The spacious cabin, particularly at the rear part, is massively impressive, considering the car size. The seats also offer under-thigh support and great cushioning. ABS with brake assist and brake distribution, complete set of airbags, and immobilizer with alarm are a standard feature in the Toyota Yaris. Toyota Yaris provides two engine options. The first option is the smaller 1.3-liter with an output of 98 hp and 124 Nm of torque. The second one is a bigger 1.5-liter unit that produces 106 hp of power and torque of 140 Nm. It comes in a total of two variants with base variant price at Php 973,000.