The Italian automaker's flagship finds ready and willing buyers here.
Maserati Philippines has quietly launched the Italian luxury automaker's flagship, the MC20 mid-engined sports car. Defying expectations of whether such a model would sell amid a challenging economy, the first three units have already gone to three buyers.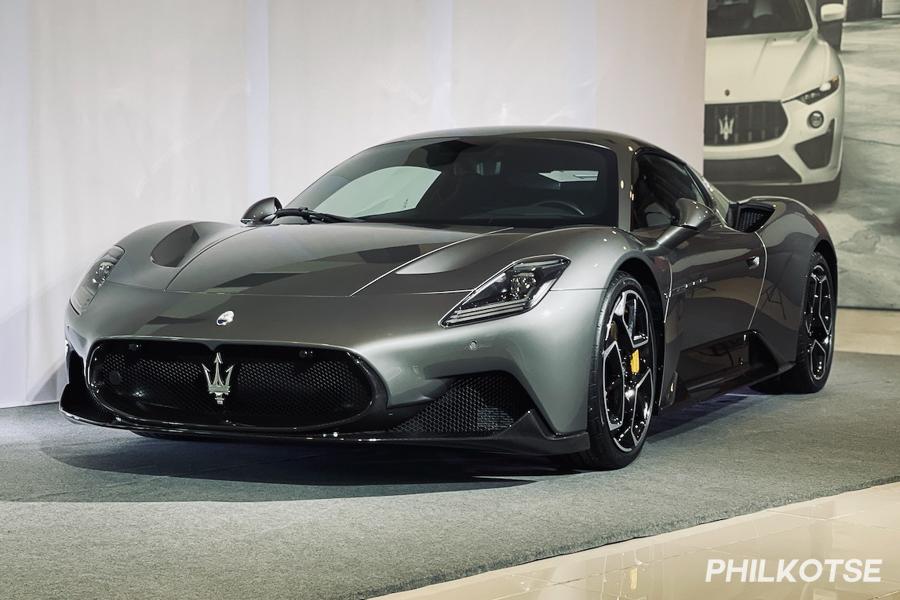 Two years after its world debut, the Maserati MC20 is finally here 
The MC20 made its global premiere in September 2020, a seemingly tall order given the height of the COVID-19 pandemic. But Maserati was not about to let anything get in the way of its halo car's debut. The model's name is shorthand for Maserati Corse (racing) 2020, signaling the marque's return to supercars following the MC12's year-long run in 2004-2005.
Exterior
If the MC20 was already visually impressive in pictures, it becomes even more breathtaking when viewed in the metal – or plastic, in this case. See, the MC20's body uses a carbon fiber shell with front and rear aluminum subframes. Dimensions stand at 4,669mm long, 1,965mm wide, and 1,224mm high on a 2,700mm wheelbase.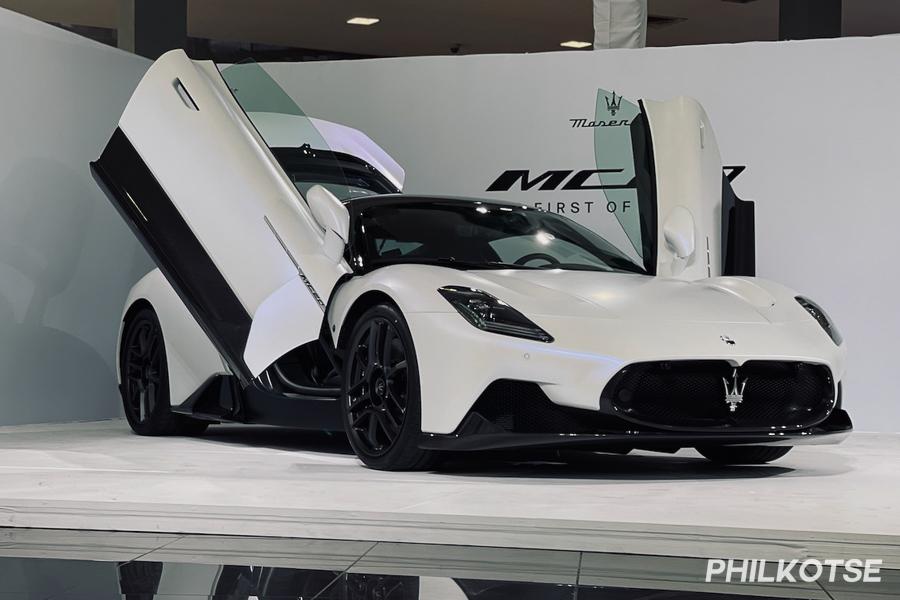 Generous amounts of carbon fiber combined with the sleek styling yield an aerodynamic wonder
Two large vents flank the hood that flows into a massive mesh intake, where a 3D render of the Maserati trident floats while surrounded by an array of sensors and a full-width carbon fiber front lip. Completing the fascia is a pair of LED headlamps with daytime running lights within a vertical housing.

More ducting is present along the sides, just behind the front fenders and beyond the doors leading to the rear haunches. The LED tail lamps out back have a vertical orientation, sitting above the rear bumper that integrates twin exhaust tips and a large diffuser.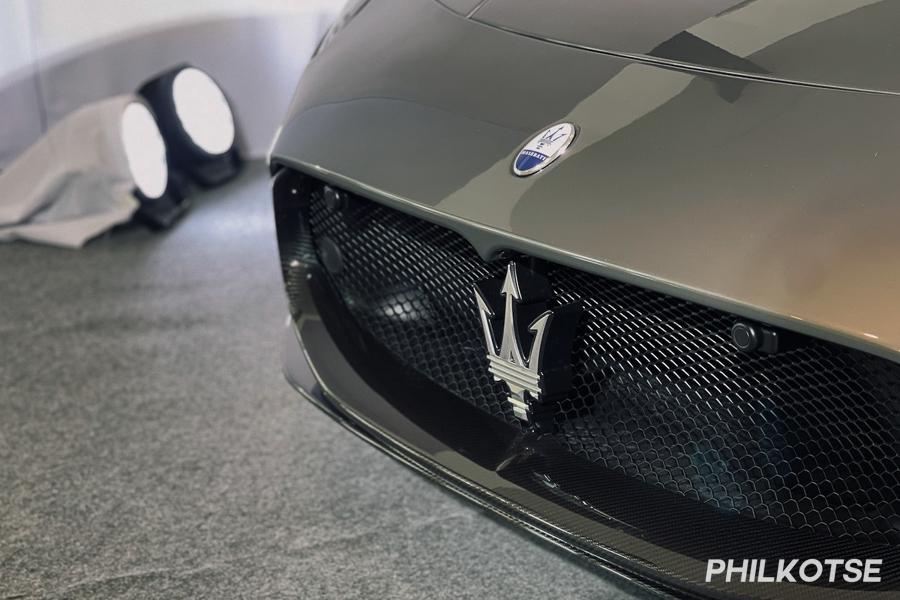 Unlike the vertical slats on the rest of Maserati's offerings, the MC20 has a mesh background for the corporate emblem
Maserati says that the MC20's aero design renders a rear spoiler unnecessary, with the extensive use of carbon fiber making the car weigh just under 1,500 kgs. This despite the 20-inch alloy wheels that can be found on all four corners.
Interior 
Lifting the butterfly doors leads to a low-slung cabin that can be something of a tight fit, but once you've settled down inside, you'll find even more things to appreciate about the MC20. There's the combination of leather, Alcantara, and carbon fiber, all surrounding occupants on Sabelt seats.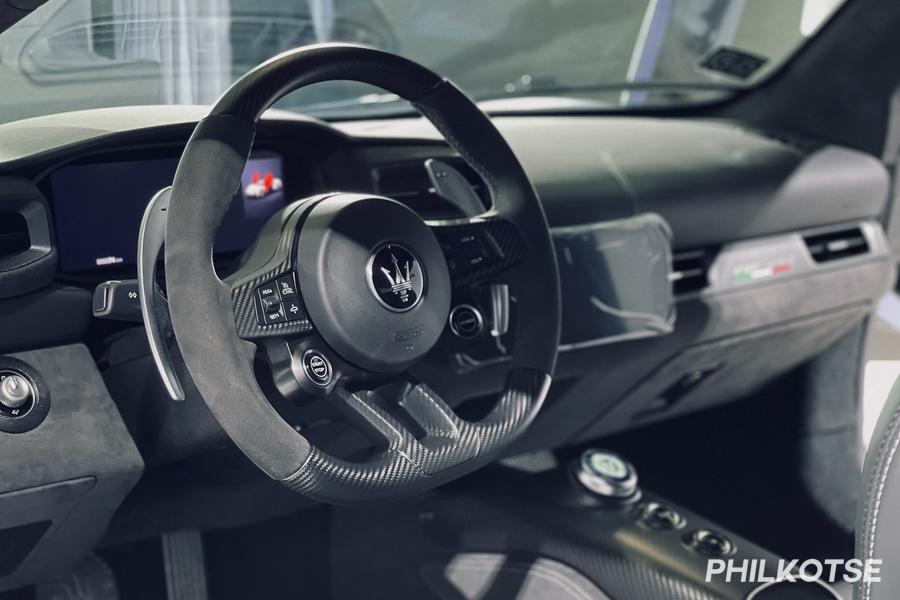 More carbon fiber can be found inside along with premium leather and Alcantara material
Tech & Safety
Both the instrument panel and touchscreen infotainment system are represented by twin 10.25-inch screens, the latter coming with wireless Apple CarPlay and Amazon Alexa voice commands while patched to an available Sonus Faber sound system. The rearview mirror shows what's behind the MC20 with surprising clarity, because it's actually a monitor for the secondary rear camera mounted above the third brake lamp.   
Engine & Drivetrain
The engine cowling behind the passenger compartment features a subtle trident motif, and lifting it exposes the heart of the MC20: an in-house developed 3.0-liter Nettuno twin-turbo V6 capable of 621 horsepower and 730 Nm of torque, thanks to Formula One-derived Twin Spark technology that also reportedly improves fuel consumption.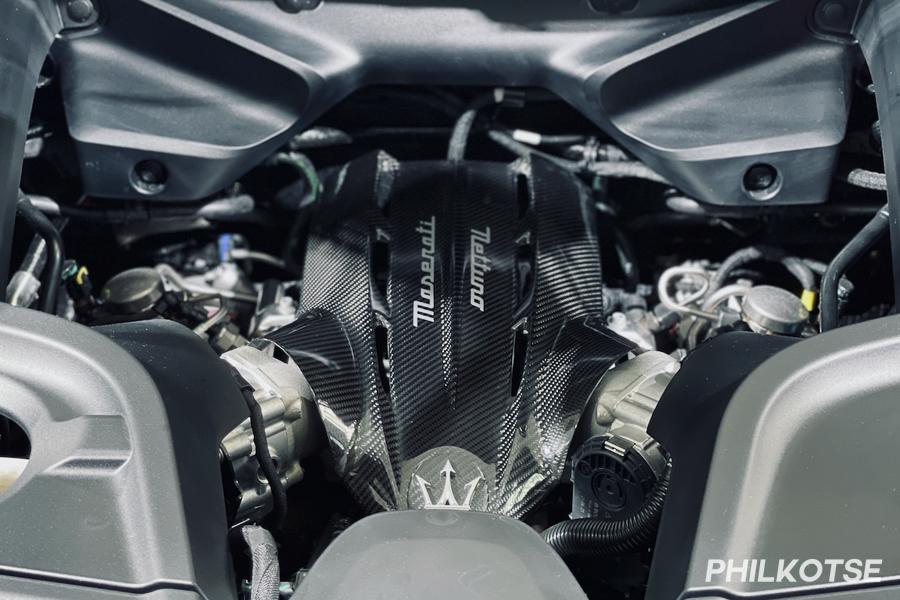 The MC20's 3.0-liter Nettuno V6 power unit comes with Formula One tech
Gear shifts are done through an 8-speed Getrag dual-clutch gearbox, with controls comprising buttons on the center console and more familiar paddle shifters on the steering column. The powertrain is reportedly responsible for launching the MC20 from a standstill to 100 kilometers per hour in just 2.9 seconds, with a top speed of 325 kilometers per hour. Delivering even more thrills are four driving modes comprising Wet, Sport, Corsa, and GT settings.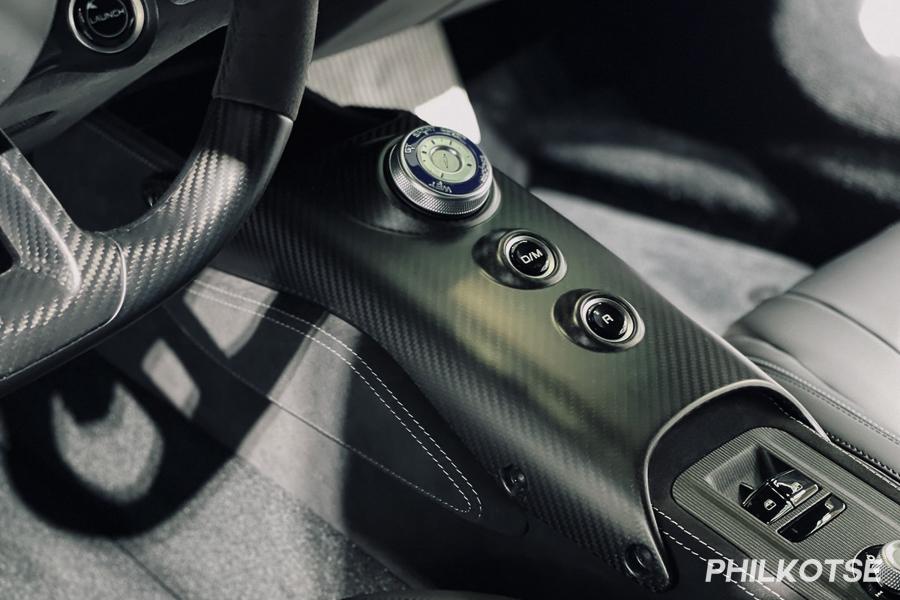 Controls for the transmission and drive modes are mounted on the center console
As we mentioned, all three units brought here are already spoken for to the tune of a princely sum that we're not at liberty to divulge, partly because each MC20 is a bespoke order priced according on the customer's preferences. For those with deep enough pockets, it's still chump change compared to owning a piece of Maserati history, never mind if the wait list spans between six months and one and a half years.

Now, we set our sights on the MC20 Cielo's arrival, which Maserati Philippines says could be next year.       
Look out for more eye-popping local releases at Philkotse.com.

Know more about Maserati

If you are in for a luxury vehicle, then the Maserati should be one of the choices. It was created in December 1, 1914 in Bologna, Italy by the Maserati brothers (Alfieri, Ettore and Ernesto) who are all involved in automobiles. Before creating cars, the Maserati's first products were spark plugs and later on created tools for aircraft engines.

Joseph Paolo Estabillo
Author