Honda PH will launch its all-new CR-V powered by a diesel engine sometime this month.
What has been on the news is that Honda PH will launch its
all-new Honda CR-V
in our market this month. The arrival of the new compact crossover marks the first time the Japanese car brand will be unveiling a diesel motor in the country. Well, the fifth-generation CR-V will reportedly be a brand-new 7-seater SUV powered by a diesel engine.    
This all-new compact crossover is expected to arrive by August 9. Petrol versions will be unveiled sometime this month.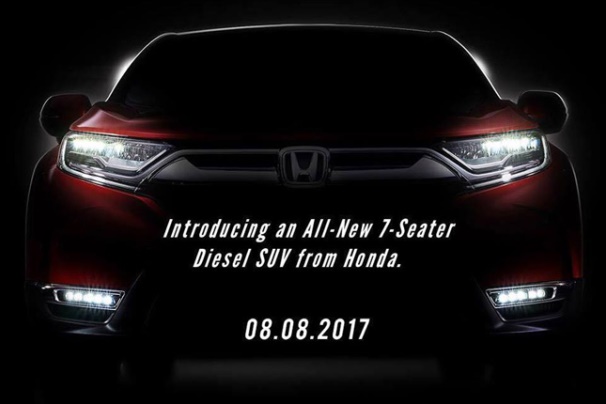 Honda PH will launch its all-new Honda CR-V in our market this month
Back in April, we witnessed the glamorous debut of the
all-new crossover SUV
at the 2017 Bangkok International Show.  At that time, many questioned what special CR-V our country will have when it's our turn to unveil this comfortable runabout vehicle. While Honda has yet to reveal any specific information regarding the engine, what we do know is that Thai-spec units pack is led by a 1.6-liter diesel turbo that delivers an output of 160hp and 350Nm and paired with a nine-speed
automatic transmission
.
>>> See related post: 
Top 5 of the best diesel SUVs in the Philippines
All-new diesel-powered Honda CR-V to come soon
With more attractive appearance, the third-row seat, an all-new diesel engine, and large capacity for hauling cargo, the fifth-generation crossover SUV is indeed an impressive vehicle that isn't offered in most SUVs in its class.    
So, other than the greater CR-V powered by an all-new diesel engine, do you think the variants with gasoline engine will also make its way here? Latest updates on upcoming Honda cars can be found in our
Complete guide to the Honda Philippines' local lineup
.

All New Honda CR-V 2017
Know more about Honda CR-V 2023

The 2024 Honda CR-V is a midsize crossover SUV. For the Philippine market, it has three variants: the V Turbo CVT, VX Turbo CVT, and the RS e:HEV (hybrid) e-CVT.
The latest version of this Honda model has two different engine options. For the top-spec hybrid trim, it uses a 2.0-liter gasoline four-banger paired with a dual motor and lithium-ion battery. The combustion component alone produces up to 145 horsepower and 183 Nm of torque. The electric-powered component meanwhile, can churn out 181 horsepower and 335 Nm of torque.
Aboard the V and VX trims meanwhile is a 1.5-liter inline-4 engine that can churn out 187 horsepower and 240 Nm of torque.
Only the VX gets all-wheel-drive, while the rest are front-wheel-drive. All trims then use a continuously variable transmission (CVT), but the one on the hybrid trim is an electronic CVT (e-CVT).
In terms of dimensions, the all-new CR-V is 4,691mm long, 1,866mm wide, and 1,681mm (1,691mm for VX) in height. Both the hybrid and the V's wheelbase then spans 2,701mm (2,700mm for VX).
Locally, the Honda CR-V competes against the likes of the Mazda CX-9, Cherry Tiggo 8 Pro, Kia Sorento, Hyundai Santa Fe, Peugeot 5008, etc.