It's a race ready sedan that you can drive daily. 
Last year, Hyundai released the modern-looking seventh-generation Elantra. Now in 2021, the Korean marque has recently pulled the covers of the said model's new N version. Now as a Hyundai N model, this new sedan strikes a great balance between comfort and performance. But instead of being just fast and sporty-looking, it has some features that will pretty much make it a viable track car. Let's check it out.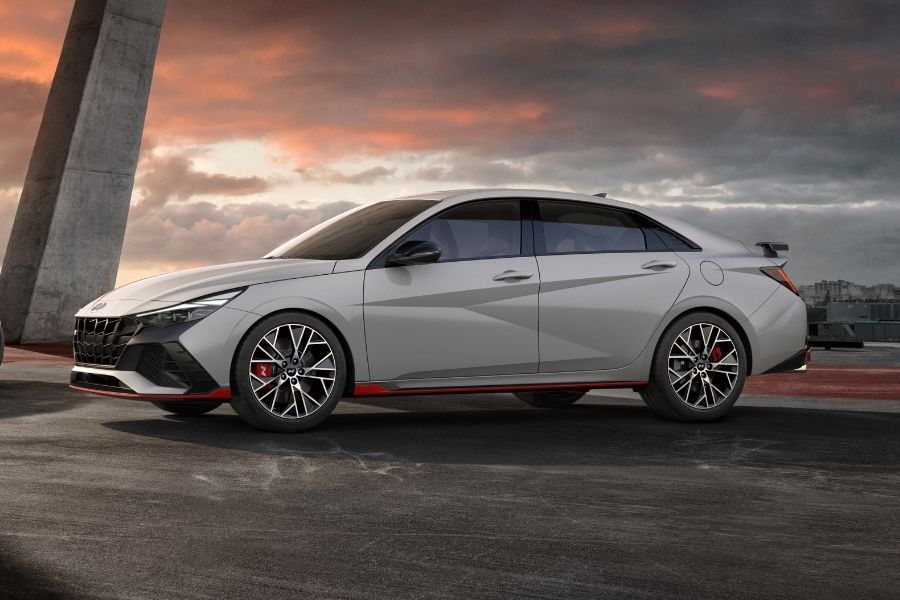 The 2022 Hyundai Elantra N
Exterior 
On the outside, the Elantra bears a slightly different front fascia from its regular non-N brother. It looks sharper, and as Hyundai itself has put it: was inspired by the design of a "racing helmet." The black elements on the grille look wider than the regular model, and it also gets a low-slung lip spoiler.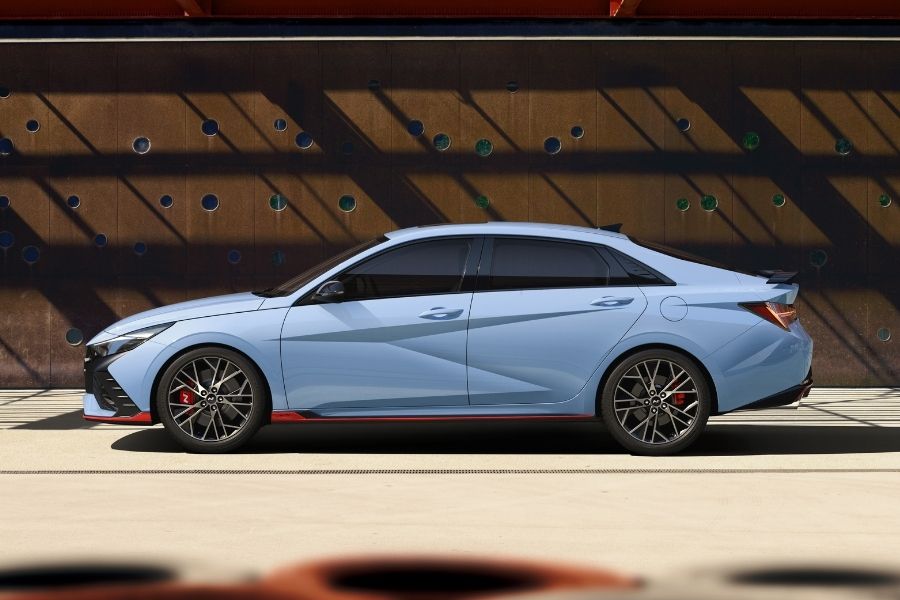 The Elantra N from the side
Framing the front and sides of the car is a red-colored sill extension. This is also specific to N models, and it provides an interesting contrast to whatever color the main body of the car dons. The side, of course, bears the same angular-looking character lines, and the rear gets a subtle-looking spoiler. Below that is a large diffuser that houses a pair of large exhaust pipes.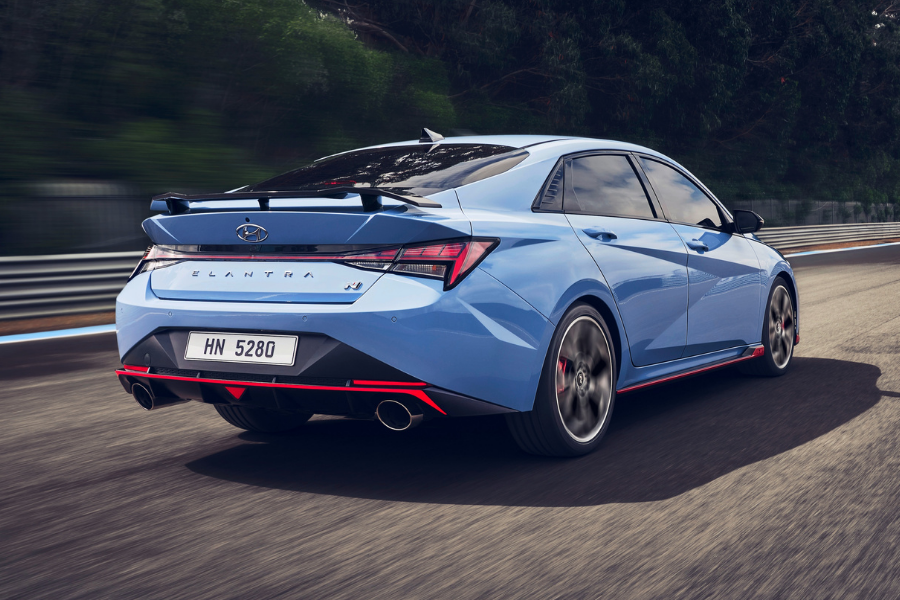 The Elantra N from the rear
Interior 
As for interior improvements, the 2022 Hyundai Elantra N provides reinforced bolstered seats to keep you planted during spirited driving. Of note, there's also an optional N bucket seat.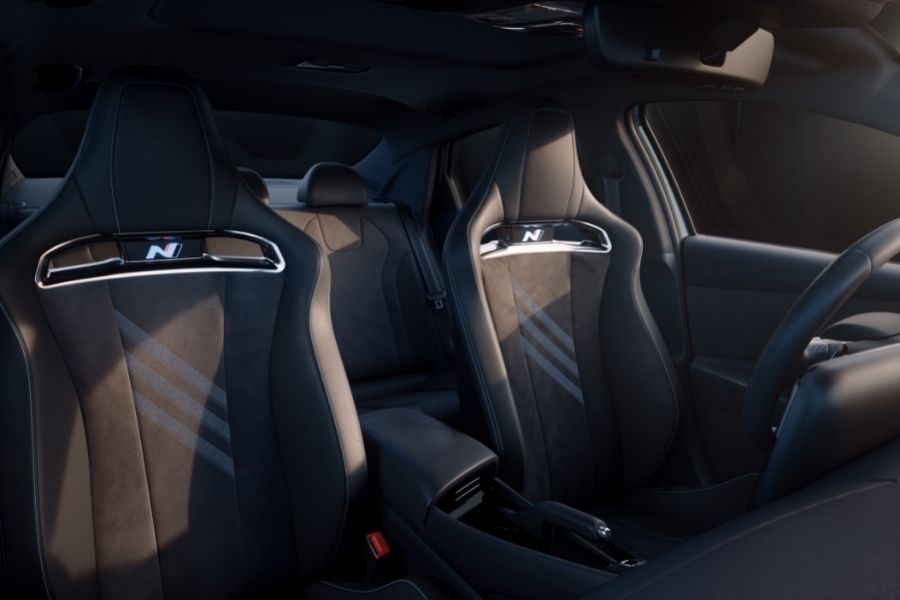 The Elantra N's interior with the optional bucket seats
The steering wheel also looks different, in that it appears sleeker and more compact than the one on the regular Elantra. It has paddle shifters, and some additional control buttons for some N-specific features that we'll discuss in the engine and performance section. 
Other than that, the Elantra N as a sedan can fit up to five occupants. And so far, it looks like it can be a practical and comfortable daily ride that can handle a speedway. 
Tech & Safety 
While the arrangement inside looks similar to the seventh-gen Elantra, its 10.3-inch infotainment system can display lap times. It can also detect if you're on a race track, and so provide a real-time position on the said race track. And yes, the aforementioned 10.3-inch touchscreen also has Apple CarPlay and Android Auto.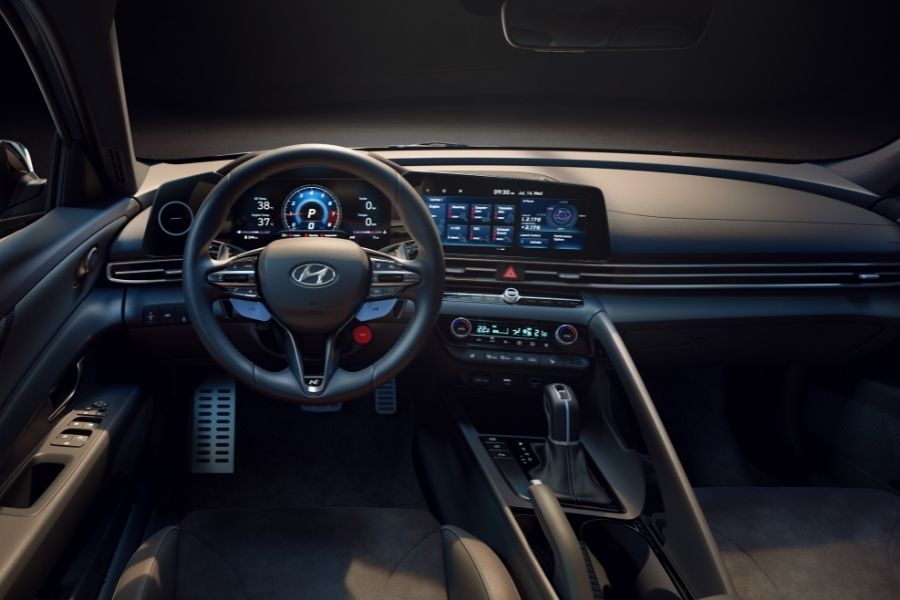 The 10.3-inch screen on the Elantra N is also found on the top-spec Elantra Limited for the US
While Hyundai is yet to provide further details on the 2022 Elantra N's safety kit, we can expect it to be similar to the regular Elantra in that regard. To be specific the US-spec Hyundai-made, non-N sedan has several driver-assist features like blind-spot detection and collision avoidance, forward collision avoidance, pedestrian detection, among others. 
Engine
Under the hood of the Hyundai Elantra N is a 2.0-liter turbocharged inline-4 gasoline engine. At most, this four-banger can churn out 276 horsepower and 392 Nm of torque. The said model is a front-wheel-drive vehicle, and it will be available with a six-speed manual or an eight-speed dual-clutch automatic transmission. Moreover, it also has launch control. 
The said automatic can be manipulated manually using paddle shifters. The said gearbox also has what Hyundai calls the "N Grin Shift Function," which can bump up the car's maximum output to 286 horsepower temporarily.  With those features, Hyundai said that the Elantra N can achieve zero to 100 km/h in 5.3 seconds. 
Other than the beefy engine, the Elantra N also has a lot of features to provide optimal handling. Its front axle gets a limited-slip differential, and it has larger brakes sized at 360mm for better stopping power. Its suspension system was also made to be stiffer thanks to using a dual compound for its parts. Although, it can also be quiet and comfortable when not tearing up a race track.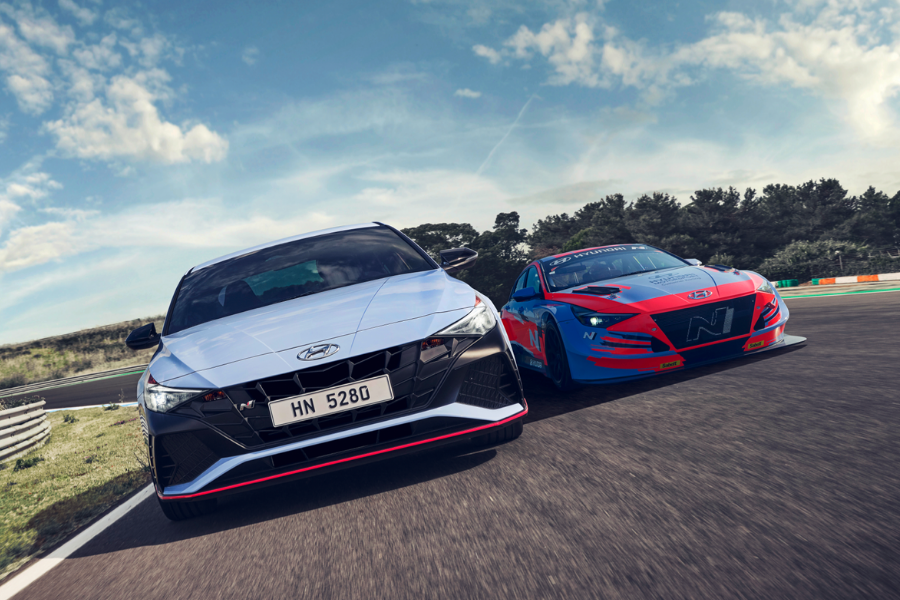 With all those features, the Elantra N might do well on an actual race track
To further improve performance, Hyundai also fitted the new N model with an integrated drive axle. As the name hints, the drive shaft, wheel hub, and bearing are combined into one unit. By applying this technology, the Elantra N is 1.7 kg lighter than the normal Elantra, whilst having more strength to endure the rigors of a race track. 
For now, Hyundai is yet to release any details regarding the Hyundai Elantra N's pricing. It is certain though that it'll be hitting the US market sometime in the future. We are sure however that with all those features, the Elantra N can indeed function as a fun to drive daily car. At the same time, it also has the potential to perform well on a race track. 
With all that said, would you want to see the new Elantra N here in the Philippines?  
For more car news, keep it here on Philkotse.com. 
Know more about Hyundai Elantra 2021

The Hyundai Elantra is a refined and striking compact sedan admired by Filipinos. Its modern and elegant styling fits the taste of young professionals and small families opting for a reliable and practical vehicle. Either you use it going to work or a trip out of town, this four-door vehicle is guaranteed to perform perfectly. Two variants are available locally: the Hyundai Elantra 1.6 GL MT and the Hyundai Elantra 1.6 GL AT. You may choose from Phantom Black, Polar White, Platinum Silver, Marina Blue, and Fiery Red.

Cesar G.B. Miguel
Author
Recent posts