Instant karma comes quick to those who don't play nice on the street.
We all know it's not an easy task to keep cool and stay calm during traffic congestion in the Philippines. Driving on Metro Manila's streets, where there are always full of constant honking of vehicle horns and ill-behaved motorists who don't feel like following traffic rules, is an even more daunting task. However, it's an "uneasy task", not an impossible one. If we learn how to control our rage, life would be a little more peaceful for everyone. 
This guy in the story we are going to share failed to keep calm and he soon regretted it.
>>> Check out the top 5 accident-prone roads and highways in Metro Manila
On July 25, an editor of the Manila Bulletin named Art Samaniego Jr. posted a status on his Facebook, telling how a car almost hit him while he was trying to park his car along Recoletos. Later, he got cursed at by the driver of the other car even when he did apologize and say sorry. However, it is the unexpected ending of the story that makes it go viral with over 22,000 likes and nearly 5,000 shares. This story is a direct proof of "what goes around comes around".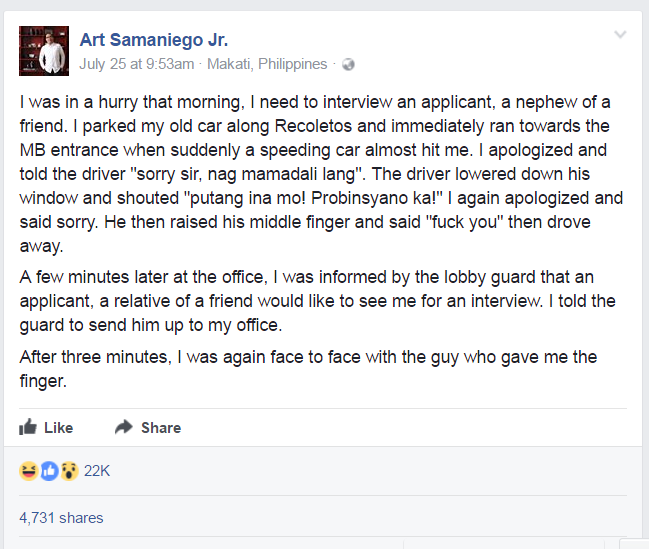 Road rage shows karma strikes in time 
The post by Art Samaniego Jr. has been making the rounds on social media. Many are curious to know what happened to the impolite and unlucky applicant. It's a funny story yet a valuable lesson on why we should keep our temper under control and play nice on the road.  
Let's take a look at how facebook users share their thoughts on this topic:  
"Small world, isn't?" -  Jam Ong

"BETTER BE GOOD ALWAYS..." - Harriette BuhayoRoseos
"I assume he had a pale look upon seeing you" - Joed Alejandro
"Lol hehee what did he say?" - Charles Paw

"I suppose you are interviewing him, while he is squirmingon his seat!" - Rizalinda A. Dimalanta

"Just imagine the shock on that guys face :) harharhar" - Carlo Tabilog

"Sorry sir but this is really a What The F moment!" - PerryHecita
"I am more excited to know what happened next, sir.." - Baby Iriss Fuenteblanca Biliran

"Karma at its fastest! You reap what you sow. :-)"  - Philip Bacani
Road rage and anger on the road cannot help you stay level-headed. Keep cool behind the wheel is a responsibility to yourself and your fellow road-users.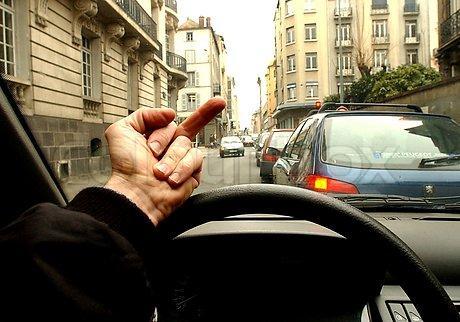 Instant karma comes quick to those who don't play nice on the street

Crazy Road Rage, Bikers vs Angry People, Fights, Karma 2016