Nissan breaks ground to build their first dealership in Bacoor, Cavite and other latest news tidbits relating to Nissan.
1. The new Nissan dealership in Bacoor City
Like other major car manufacturers here in the Philippines, Nissan is seeking to further expand the reach of their business by building new dealerships all over the country. As such, Nissan, together with the LICA Auto Group has begun to work on their first-ever dealership in Bacoor, Cavite.
The groundbreaking ceremony was attended by numerous luminaries including Alde Pagulaya, a Bacoor City councilor. Also in attendance are several Nissan Philippines executives like the company's General Manager for sales, Rolando Navaro, General Manager for aftersales, Margarita Delfinado, General Manager for Dealer Network Development, Abner Berdos, and the Nissan Philippines President and Managing Director, Atsushi Najima. Present also from Tetra Sales and Services Inc is its Managing Director, Rene Limacaoco and others.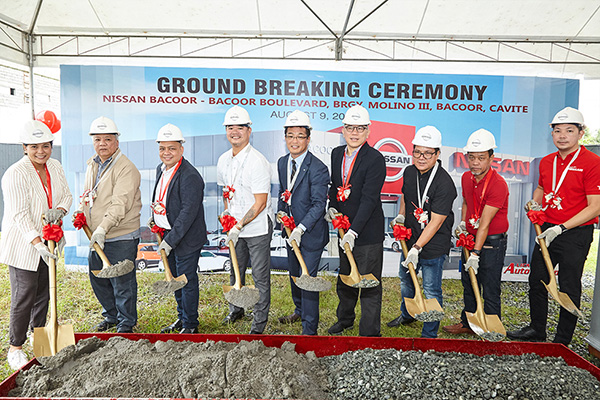 Several Nissan execs, Bacoor City officials, and Tetra Sales and Services execs hold their shovels at the ready
The ceremony will mark the start of the construction of a large 1,512 square meter facility complete with a showroom and a service center. Once finished, the new Nissan Bacoor dealership that will help to serve Nissan owners and their vehicles who are based in and around Cavite. Note also that Nissan Philippines also recently opened a new dealership located in Valenzuela City.
In a statement during the groundbreaking event, Nissan Philippines President and Managing Director said that the ceremony is a sign that Nissan is committed to continuing to provide Filipinos their excellent car models and of course to introduce the future of mobility.
He also, that the New Nissan Bacoor dealership will enable their company to provide its customers from the south with better access to their aftersales services as well as their new and innovative products.
>>> Find your nearest Nissan dealerships right here!
2. Other news from Nissan: Saikawa resigns
On the more international side of things and a bit contrasting to the good news above, Nissan CEO Hiroto Saikawa, if you remember was hard at work to investigate former Chairman Carlos Ghosn's activities, in a twist of great irony is himself now accused of receiving excess pay. Compounding that fact is the slow progress on his investigation on Ghosn.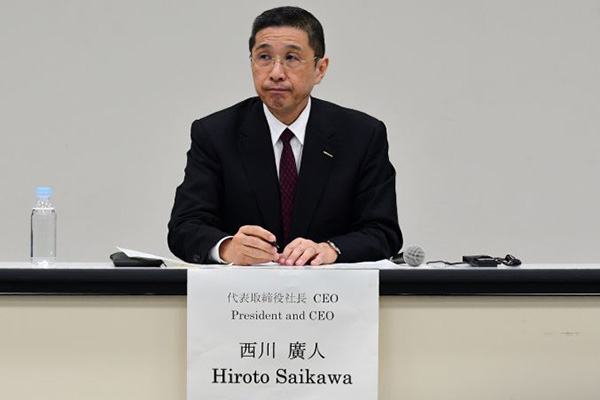 Saikawa resigned after it was found out he was improperly overpaid
Effective September 16, Saikawa has been set to resign after being asked to do so by the board of directors after a lengthy discussion. Saikawa accepted and his post will be temporarily filled in by Chief Operating Officer Yasuhiro Yamauchi. The official replacement for Saikawa will be announced by Nissan around October.
3. More news: People are liking the Nissan Juke 2020
On a more positive note, the news of all-new Nissan Juke with 2020 version was received fairly well by netizens all over the world and praised for leaving behind its really weird and divisive former design.
For the all-new 2nd generation 2020 Juke, it has become sportier and gone are the strange set of bulbous looking set of lights that jutted out from the body and the front fascia's overall design which quite frankly, made the old Juke look like a frog.
Being different from the previous Nissan Juke, the entire front end of 2020 version has re-designed dramatically and now has a V-motion type grille that really looks good on the much more streamlined front fascia.
It also appears that the new Juke has grown in size and its overall silhouette looks really rakish, sleek and not awkward at all! And yes, the boot space has grown tremendously too!
Under the hood is a turbocharged 1.0-liter three-cylinder that can make up to 115 horsepower. In other markets, there are two transmission choices; a six-speed manual and a seven-speed dual-clutch automatic. And yes…the CVT has been ditched.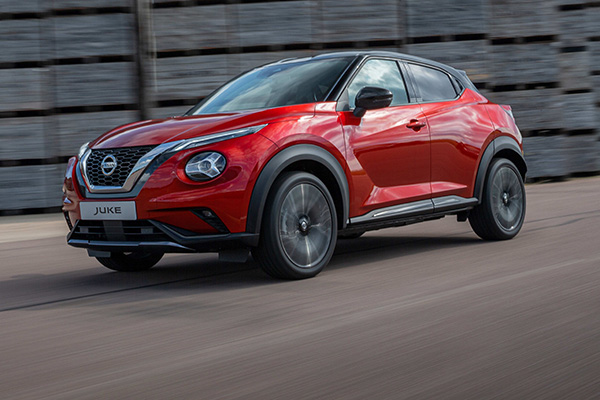 We think it looks vastly better than the old one. A very welcome change indeed!
For more details of the Nissan Juke, however, keep posted here on Philkotse.com for a more in-depth review, or rather, pre-view of the new Nissan Juke 2020. And who says sequels can't be better than the original?

Know more about Nissan

Nissan Philippines has a total of eight models in the market, excluding one upcoming vehicle which is the Nissan Magnite. The price list of Nissan vehicles in 2023 ranges from Php 779,000 to Php 4,698,000 for the cheapest Nissan Almera and most expensive Nissan Patrol, respectively. Meanwhile, the Nissan GT-R's price in the Philippines is available upon request so visit Nissan dealerships for inquiries. Nissan's best-selling models in the Philippine market are as follows: Nissan Navara, Nissan Urvan, and Nissan Terra.
At Philkotse.com, we provide you with the most up-to-date Nissan Philippines price list, along with promotions from all dealers, the best monthly installment programs, prepaid, and cash discounts in the Philippines market.

Cesar G.B. Miguel
Author