The Nissan Leaf Open Car was built in purpose of being a show car.
The 100,000th Nissan Leaf has just found its home and the auto brand has planned for a launch of the Nissan Leaf Open Car to mark this milestone. Now the one-off electric has been officially unveiled as an open-top Leaf.
Bad news is it's not likely to transform into a production model since Nissan still shows no signs of it. The Nissan Leaf Open Car was built in purpose of being a show car at a forum open in Tokyo in which the event circulated around Zero-emission society. The open-top vehicle, apart from the targa top, features some changes including a 2-door body style and the higher rear seating.
>>> Read more: Nissan Leaf EV 2018 ready to be launched in Thai market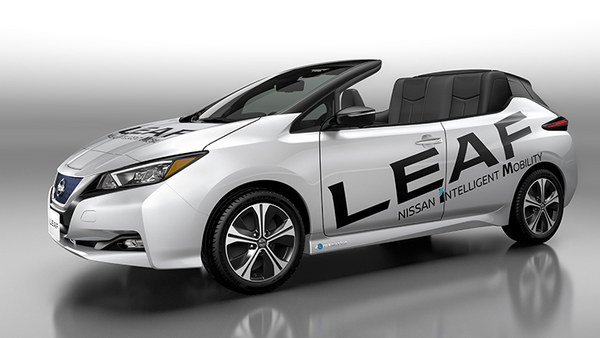 The Nissan Leaf Open Car was built in purpose of being a show car
Video: Convert Nissan Leaf Open Air Detector | Cars.com | Car Review
Details are something that the open-top Leaf fans are really in need of; in spite of the lack of details, we are positive that it gets power from the similar engine as the Nissan Leaf. With the electric motor producing 320 Nm and 148 HP and a high-performance 40kWh Li-ion battery, the model is capable to operate a range of 378 km.
>>> Check out latest auto news on Philkotse.com

Know more about Nissan LEAF 2022

The Nissan LEAF 2022 Philippines is a 5-door hatchback fitted with an all-electric powertrain. It is offered in the Philippines with one variant only which is priced at Php 2,798,000. Powering this electric vehicle (EV) is a synchronous electric motor capable of generating 148 horsepower and 320 Nm of torque. A 40-kWh lithium-ion battery is used, which aids the model's 311 km range. Only a single-speed gear reduction system is utilized to exclusively send power to the front wheels.
Dimensions-wise, the LEAF has a length of 4,490 mm, a width of 1,788 mm, and a height of 1,540, with ground clearance and wheelbase rated at 155 mm and 2,700 mm, respectively. This is the first and only commercially-available EV in the country. But in the all-electric options, the alternatives of Filipino car buyers include the Porsche Taycan, Hyundai Ioniq EV, and BYD E6.
Recent posts