To provide better accessibility to Suzuki products, a new Suzuki Dealership will be built in Tagum City, Davao.
1. Suzuki Tagum: Soon to open!
A few days ago, Suzuki Philippines Inc held a groundbreaking ceremony in Tagum City, Davao. This is great timing indeed for the company as it would further their momentum as was seen from their record-setting 2,000 vehicles sold in four consecutive months this year.
Also note that Mindanao is becoming a large automotive market, and for Suzuki, having more dealerships there that are equipped with sizable showrooms along with the capability of handling scheduled maintenance jobs and other after-sales services is a worthwhile strategy indeed.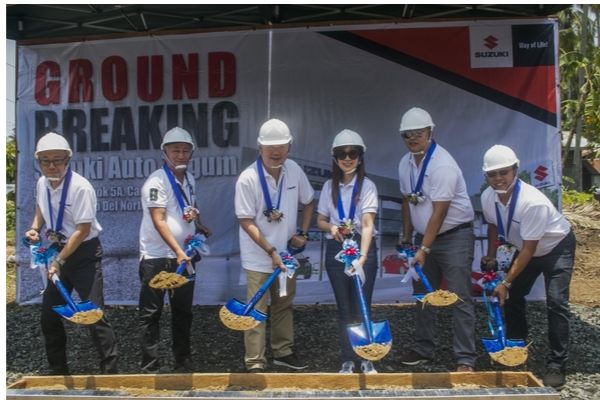 Leading the groundbreaking ceremony were Keiichi Suzuki and several other Suzuki Ph executives
From Philkotse.com's perspective, Tagum is also a very ideal location for Suzuki's new dealership as it was hailed as one of the most competitive cities in Davao for the year 2018. For a city, this award means a healthy, dynamic economy, an efficient government, and great infrastructure. For a dealership, that means more and more people who are in the market for new cars.
Also, note that Suzuki Philippines just recently launched the all-new 2020 Suzuki Carry which in recent years has seen great success nationwide but in particular in Visayas and Mindanao.
2. Better access to high-quality Suzuki products
In a statement during the ground-breaking event, Keiichi Suzuki, the director, and general manager of Suzuki Philippine's automobile division said:
"As we break ground for what would be the new Suzuki Auto Tagum, we reaffirm our promise to make our best-valued and award-winning products and services more accessible to more Filipinos and let them experience the Suzuki way of life."
The new Suzuki dealership that will rise in Tagum is scheduled to be completed around March next year and it will be operational a few months later on May 2020. 
If you want a new or used Suzuki model for yourself, please check out our Suzuki for sale for Suzuki cars Philippines.


Cesar G.B. Miguel
Author