MMDA released instructions for people during the 2017 ASEAN Summit
Delegates from all over Southeast Asia are flying for the 2017 Association of Southeast Asian Nations (ASEAN) Summit, which will be held from yesterday, April 26, until Saturday, April 29. As these delegates will need access to seamless travel from one meeting venue to another and April 28 has already been declared a
special non-working holiday
, the metropolis's streets cannot readily provide without intervention.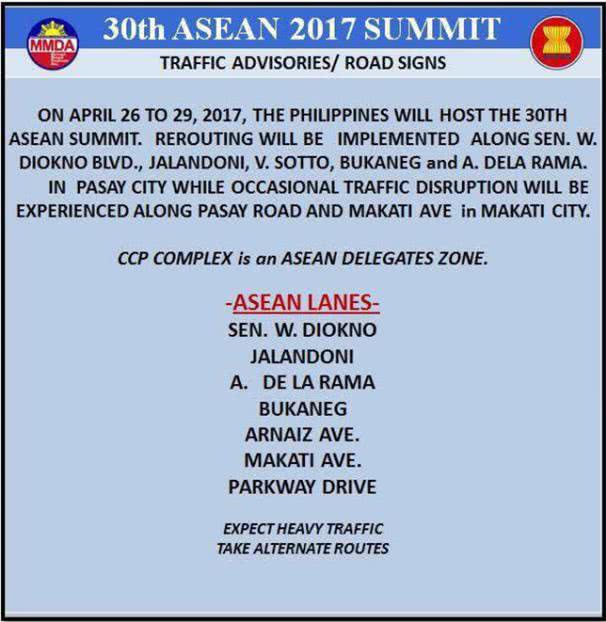 30th ASEAN 2017 Summit Traffic Advisories/ Road Signs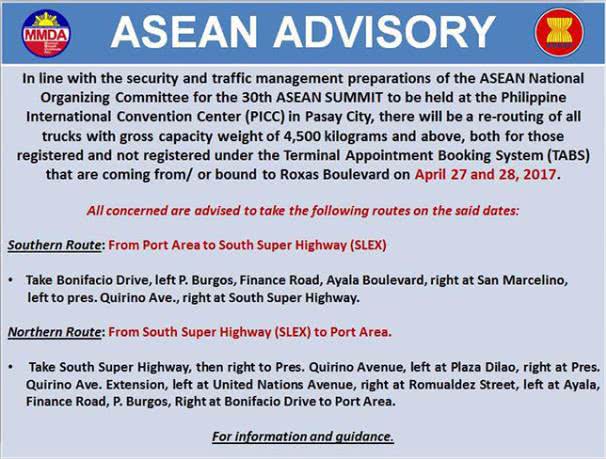 Instructions from MMDA
The Metropolitan Manila Development Authority
(MMDA) released a plan to accommodate the summit and serve people.  
Instructions from MMDA as follows:
The Cultural Center of the Philippines (CCP) is a venue for the event. 
MMDA has also lifted the number coding scheme on the 28th of April for Metro Manila, apart from the cities of Makati and Las Piñas. 
The traffic authority posed that the rerouting will be full force along W. Diokno Boulevard, Jalandoni Street, V. Sotto Street, Bukaneg Street, A. dela Rama Street, Arnaiz Avenue, Makati Avenue, Parkway Drive and the surrounding areas. The said roads are designated ASEAN lands, which means traffic will only be opened once the vehicles of the ASEAN leaders have passed. 
If you're headed north along Roxas Boulevard, you must turn right Roxas Boulevard to EDSA, Arnaiz Avenue or Buendia, left at Taft Avenue, then left at UN Avenue or Finance Road to your destination. 
If you're headed south along Roxas Boulevard, take a left at P. Burgos, Kalaw or UN Avenue, then go right Buendia or EDSA. From there, turn left at Roxas Boulevard towards your destination. 
Motorists exiting Paseo towards Arnaiz Avenue must turn right Benavidez St. where a counterflow lane has been prepared. From there, they must then take a right to Trasierra, then left to Gamboa, then a right to Rufino all the way to Pasong Tamao/ Javier. Otherwise, they must take a U-turn to Amorsolo or Rufino, the right to Fernado toward their destination.
>>> View more: 
MMDA considers charging private motorists on EDSA
Vehicles taking Esperanza St. must take Paseo right to Ayala towards EDSA, if Esperanza Street becomes saturated during lockdown 
MMDA also regulates all trucks with a gross weight capacity of 4,500kg and above. Trucks coming from Southern Route must take Bonifacio Drive, turn left at P. Burgos, Finance Road, Ayala Boulevard, then right at San Marcelino, left to Quirino Avenue then right at South Super Highway. Trucks coming from the Northern Route, take the South Super Highway, make a right to Quirino Avenue, left at Plaza Dilao, right to Quirino Avenue Extension, left at United Nations Avenue, right at Romualdez Street, left at Ayala Boulevard, Finance Road, P. Burgos, then right at Bonifacio Drive to the Port Area. 
>>> View more: 
MMDA to allow midnight truck deliveries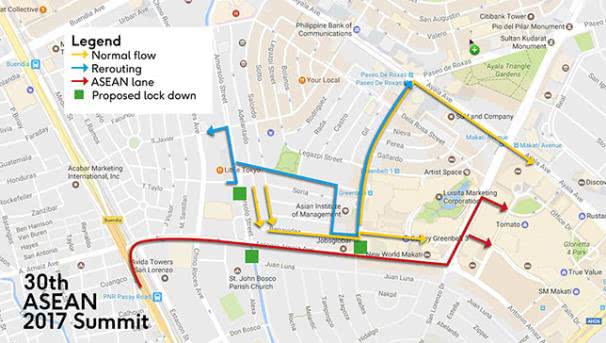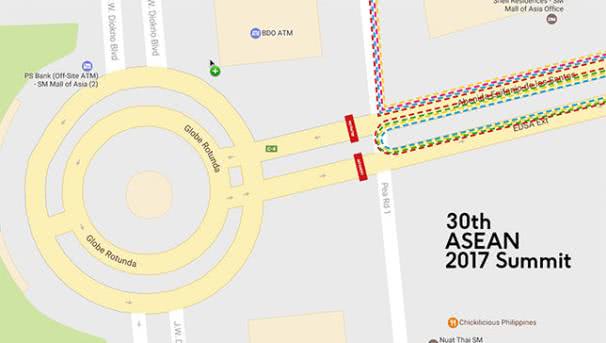 Philippines to host ASEAN Summit 2017